2016 Audi TT RS Coupé review
A new Audi TT RS has arrived. It's lighter, faster and promises better handling, but does it make a more convncing case for itself next to the revitalised Porsche Cayman S and well-established BM...
We like the Audi TT. So much, in fact, that it's our 2016 Coupé of The Year. Now, having tried the petrols and diesels lower down the range, as well as the sportier TTS , it's time to try the new range-topper: the TT RS.
It's available as either a hardtop Coupé or an open-top Roadster. Both cars come with the same 2.5-litre turbocharged five-cylinder petrol engine, which is now lighter than it's ever been and pumps out a mighty 394bhp. This power is sent to all four wheels via a seven-speed dual-clutch automatic gearbox, giving some seriously impressive performance figures.
The Coupé we're here driving is even faster than the Roadster, rushing from 0-62mph in a claimed 3.7sec. It'll then carry on to 155mph, unless you want it unleashed further by Audi for an extra cost, in which case the top speed increases to 174mph.
The TT RS certainly has its closest rivals, the Porsche Cayman S and BMW M4, licked for straight-line pace, then, because are both slightly slower in a straight line. However, are those rear-wheel-drive rivals more fun to drive and therefore better sports cars?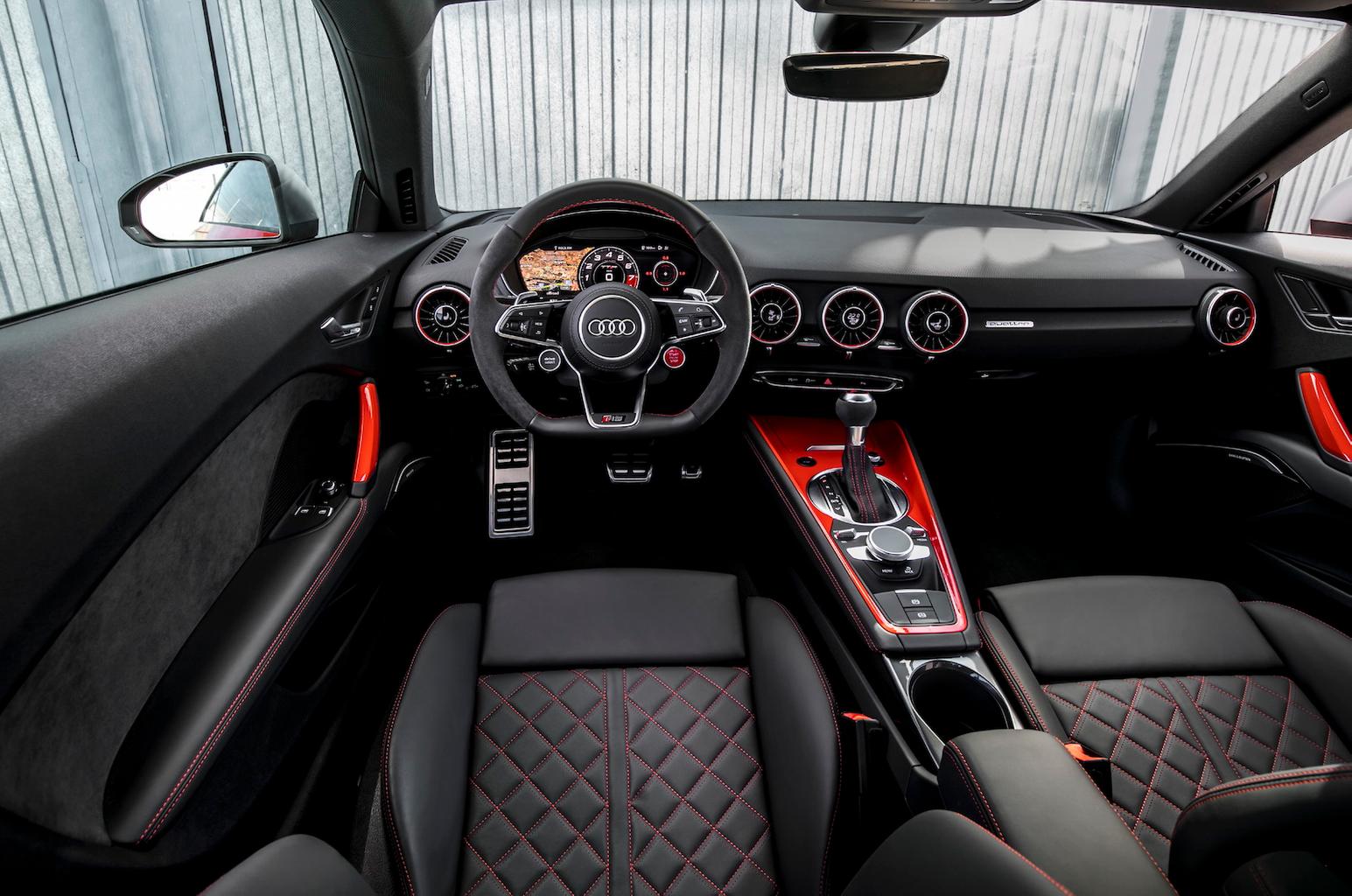 What's the 2016 Audi TT RS like to drive?
The TT RS's quattro four-wheel drive system can shuffle up to 100% of power to the front or rear wheels as required, helping transfer all of the car's power onto the road's surface with devastating effect – in wet or dry conditions.
It really is supercar fast, and the automatic gearbox is usefully responsive when you're driving hard. Ticking the sports exhaust option box is tempting, but Audi's five-cylinder sounds superb even through the standard tailpipe.
Although the TT RS might be quicker than a Cayman S or an M4, it won't impress keen drivers quite as much. The Audi's steering isn't as communicative or precise as either rival, and while a massive amount of grip means the TT RS can cover ground at a staggering rate, it never feels as delicate or rewarding as its key rivals.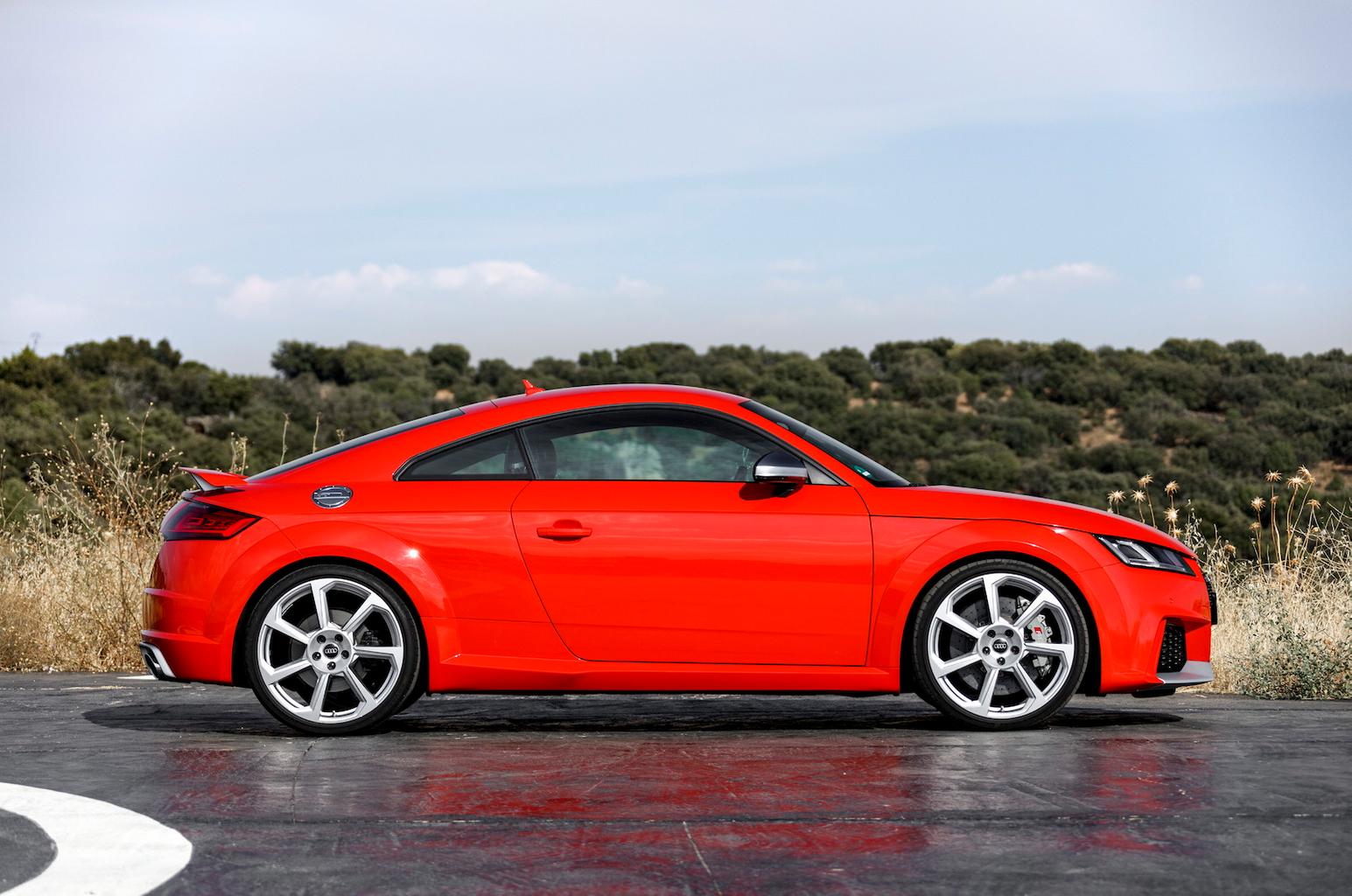 Every RS comes with a new part-Alcantara steering wheel, which is much like the one you'd find in Audi's flagship performance car, the R8. On this wheel, among other things, are two large round buttons – one to start the engine and another to flick between driving modes. The adaptive dampers (if fitted), steering, gearbox and throttle are all made more aggressive when switching to Dynamic mode, and it's here that the RS feels best when driven hard.
The TT manages a convincing split personality, though. Our car didn't feature Audi's optional adaptive dampers, but was fitted with standard 10mm-lower springs and optional 20in alloy wheels. The ride was firm but never crashy along our admittedly largely scar-free Spanish test route. UK roads will obviously prove more of a challenge.
Aside from some tyre roar up at motorway speeds, the RS is quiet enough at the legal limit, too. There's very little wind noise, and switching to Comfort mode keeps exhaust boom to a minimum.
What's the 2016 Audi TT RS like inside?
It's a case of close but no cigar for both Porsche and BMW when trying to match the Audi's interior. We were already mightily impressed by lesser TTs' soft plastics, chrome accents and beautifully damped switches, and it's more of the same here. Every TT RS also comes with Audi's trick digital climate controls worked into the vents, which are very user-friendly.
There's generous room for two adults in the front, and the standard heated electric sports seats (with adjustable lumbar support) are supremely comfortable, yet also supportive when corning hard. The rear seats are best left to a couple of bags, though, because even a 12-year-old child will start to complain on a long journey. A BMW M4 is roomier is the back.
Behind the TT's rear seats is a decently proportioned boot. It isn't particularly deep, but is long and square, and with the standard split-folding rear seats, it's more practical than you might imagine. It's definitely more so than a Cayman's boot, although an M4's is slightly bigger.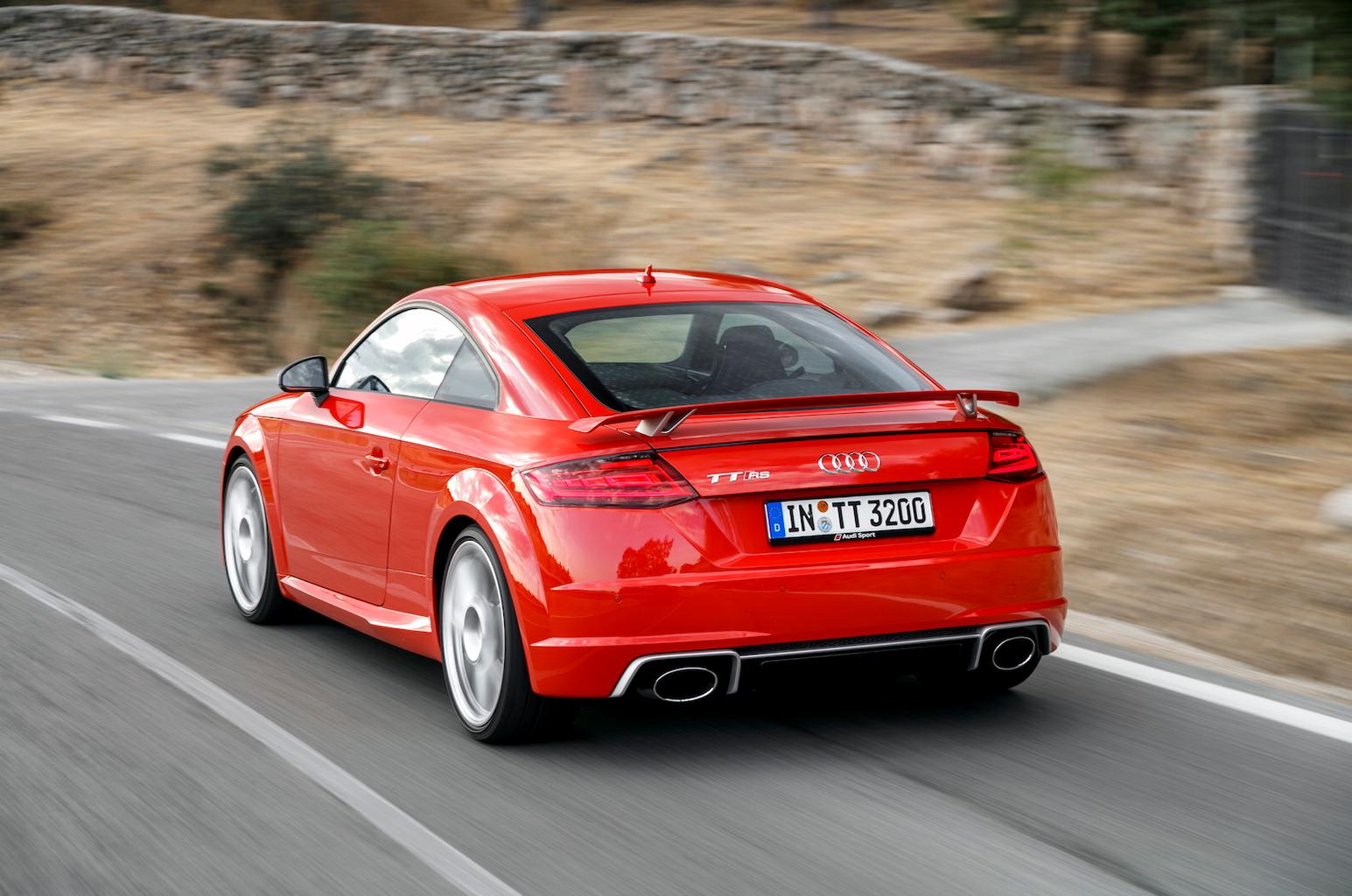 All RSs get Audi's Virtual Cockpit behind the steering wheel, where you'd normally expect to find analogue instrument dials. It's effectively a 12.3in screen which, as well as displaying your speed and engine revs, also acts as a hub for all of the infotainment functions – the stereo, Bluetooth and sat-nav. Thankfully, the system is easy for the driver to use. You control it by twisting and pressing a big rotary dial between the front seats, and there are also some handy shortcut buttons to take you directly to specific functions.
Should I buy one?
Let's be clear: if you want one of the the best handling cars on sale – and that's the point of sports cars – then the Porsche Cayman remains a better option. A BMW M4 needs to be driven extremely hard before it comes alive, but it too will reward keen drivers more readily than the new TT RS.
However, on a cold, soggy British B-road in mid-February, we'd wager the TT RS would embarass both of those cars. It grips harder, is able to transfer its power to the road more effectively in all conditions, and is therefore capable of covering ground astonishingly quickly. It's just that you won't be having as much fun as in some similarly priced rivals.
Even so, the TT RS looks good value next to the M4, and is better equipped than the only-slightly cheaper Cayman S. The Audi makes a stupendously good noise, has a class-leading interior, a brilliant infotainment system and is quiet and comfortable enough to make using it every day a genuine possibility. As such, it's still an extremely compelling package.
---
What Car? says...
Rated 4 out of 5
---
For all the latest reviews, advice and new car deals, sign up to the What Car? newsletter here
---
Rivals:
---
2016 Audi TT RS
Engine size 2.5-litre turbo petrol
Price from £51,800 (Roadster £53,350)
Power 394bhp
Torque 354lb ft
0-62mph 3.7sec (Roadster 3.9sec)
Top speed 155mph (optionally 174mph)
Fuel economy (official combined) 34.4mpg
CO2/BIK band 187g/km/34%