2016 Ferrari GTC4 Lusso review
We drive the new Ferrari GTC4 Lusso, the Italian brand's replacement for the four-seat FF grand tourer...
It's unusual for a facelift to involve a name change, but welcome to the Ferrari GTC4 Lusso, which is effectively a rebadged and refreshed Ferrari FF.
Ferrari's four-seater coupés are usually powered by V12 engines but, before the FF, they weren't four-wheel drive. The GTC4 continues the FF theme, but there have been a few mechanical changes to the near-quarter-million pound coupé.
Most notably, power is increased, because, as if 651bhp wasn't enough before, the 680bhp it makes now is. The V12 engine is still a naturally aspirated 6.3-litre unit – no turbos here – and it drives through a seven-speed dual-clutch automatic gearbox. At least, it does to the rear wheels. There's also a small gearbox at the front, which delivers some power to the front wheels – but only up to fourth gear.
For the first time there's also four-wheel steering, which can angle the rear tyres with or against the fronts slightly, to increase agility or stability.
Externally there are a few design changes – a bigger grille, resculptured rear end with twin tail-lights each side, a new diffuser and a new spoiler to improve the aerodynamics. There's also a new infotainment system inside the redesigned interior.
And, finally, the price has gone up, although it was high enough in the first place that this won't deter most buyers.
What is the 2016 Ferrari GTC4 Lusso like to drive?
For all the changes, the GTC4 largely picks up from where the FF left off.
The driving experience is dominated by that 6.3-litre V12 which, although it idles more quietly than it used to – as better suits the nature of the car – it remains an electrically responsive, terrific-sounding thing.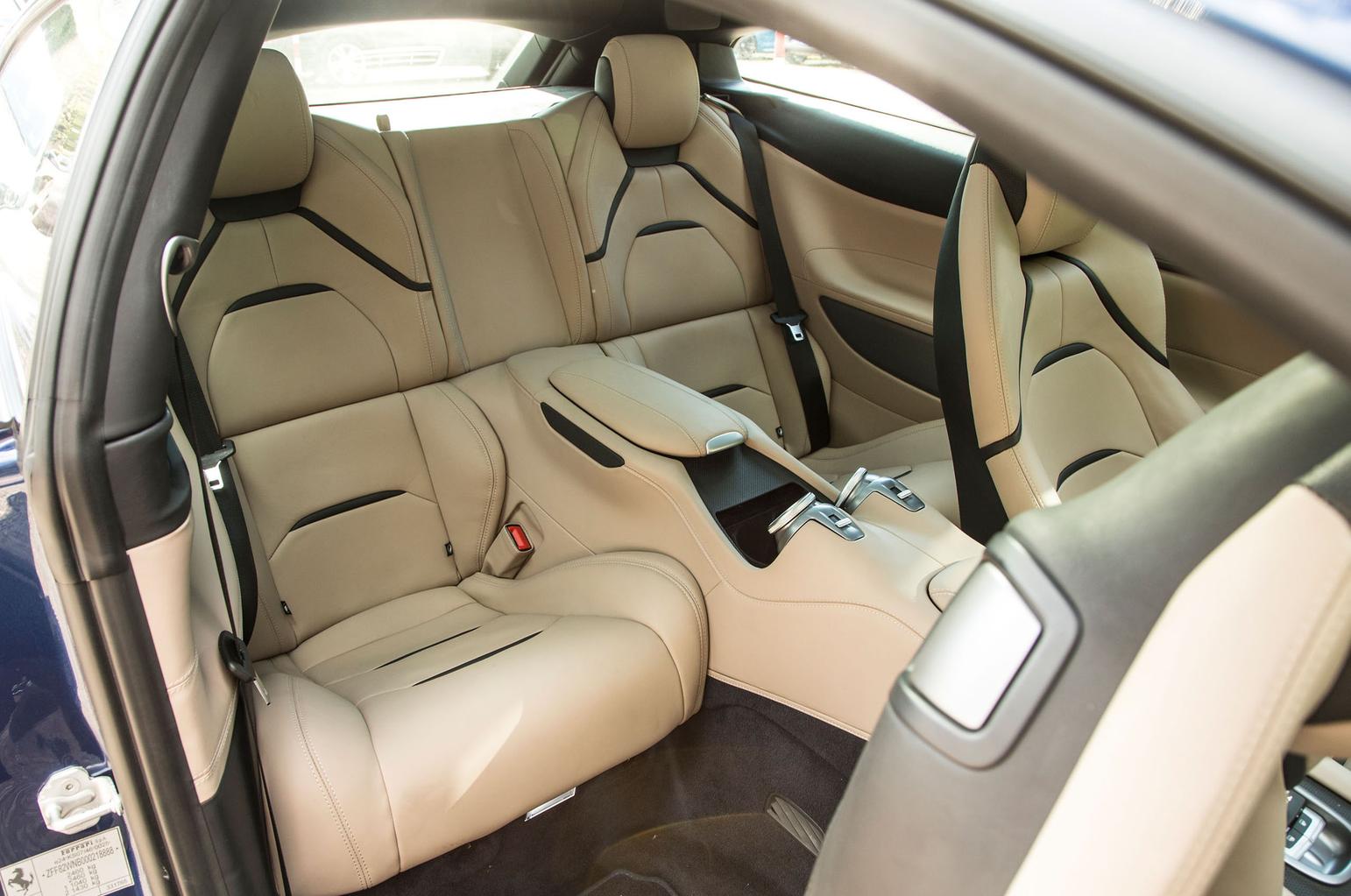 Unlike a turbocharged engine you have to rev it to make really quick progress, but that's no hardship. The seven-speed gearbox is similarly responsive too, making upshifts with no discernible delay.
The ride is surprisingly comfortable. The GTC4 has adaptive dampers with two settings, but neither gives a harsh ride, and whichever drive mode you choose – there are a few, which affect gearbox and engine response and the abruptness of stability control – you can stiffen or soften the suspension separately.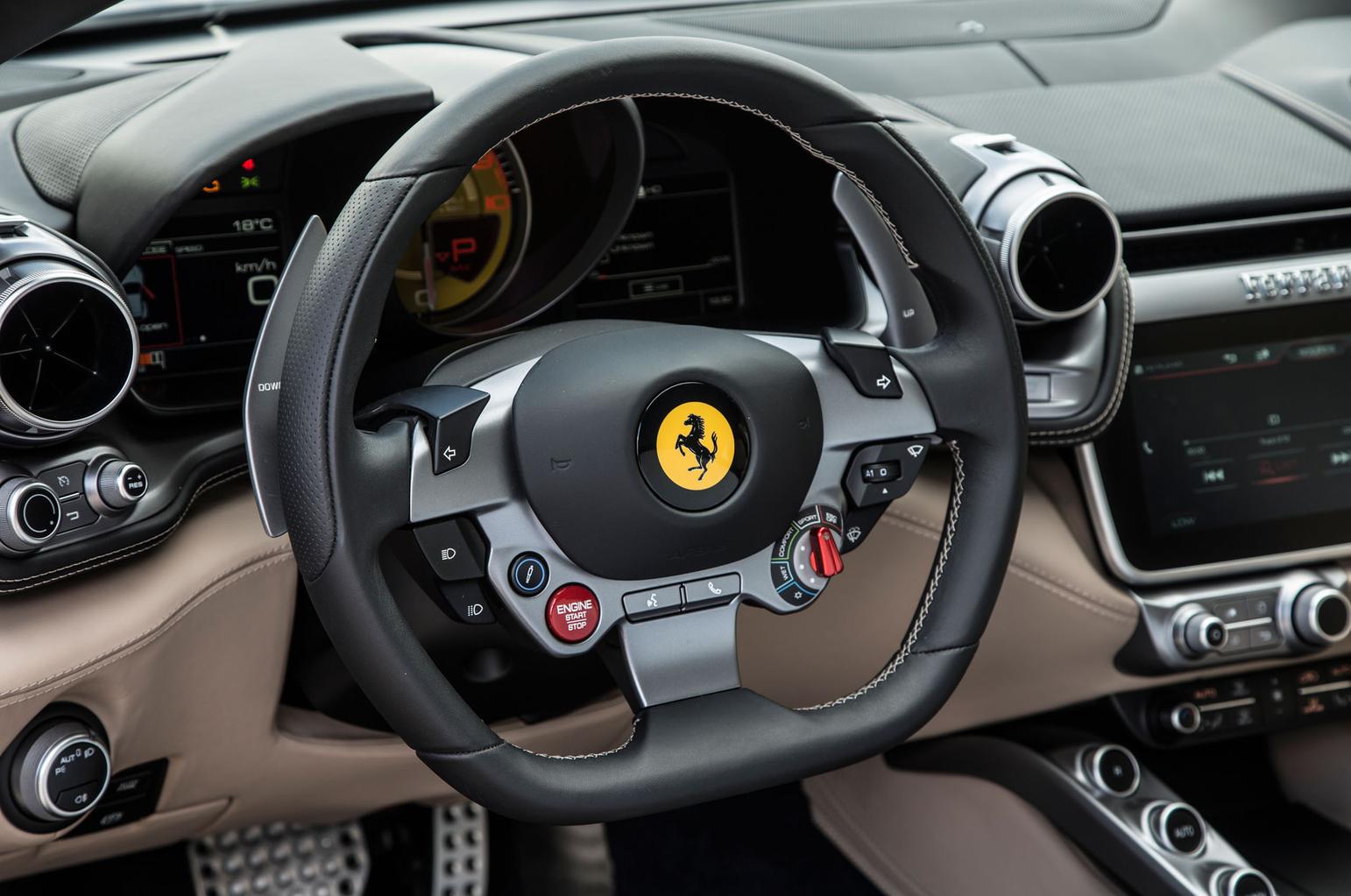 And the GTC4 even steers in a more relaxed fashion than most Ferraris. Most have extremely quick steering, but the GTC4's is a touch less frenetic, so it feels more stable at high cruising speeds. In normal driving the four-wheel drive and four-wheel steering systems are barely discernible: they just help out without you noticing.
What is the 2016 Ferrari GTC4 Lusso like inside?
Given it looks so low, the GTC4 Lusso accommodates people surprisingly well. It's a genuine four-seater, in which a six-foot-tall passenger would be able to squeeze in behind a similarly tall driver. The rear seats aren't the widest in the world, but they are heavily sculpted and comfortable.
The business end of things is still the front, though, where the driver gets a revised steering wheel with much improved ergonomics – the indicators, wipers and light switches are much more logical, while instrument dials are clear and there's now a wide touchscreen in the centre of the dashboard.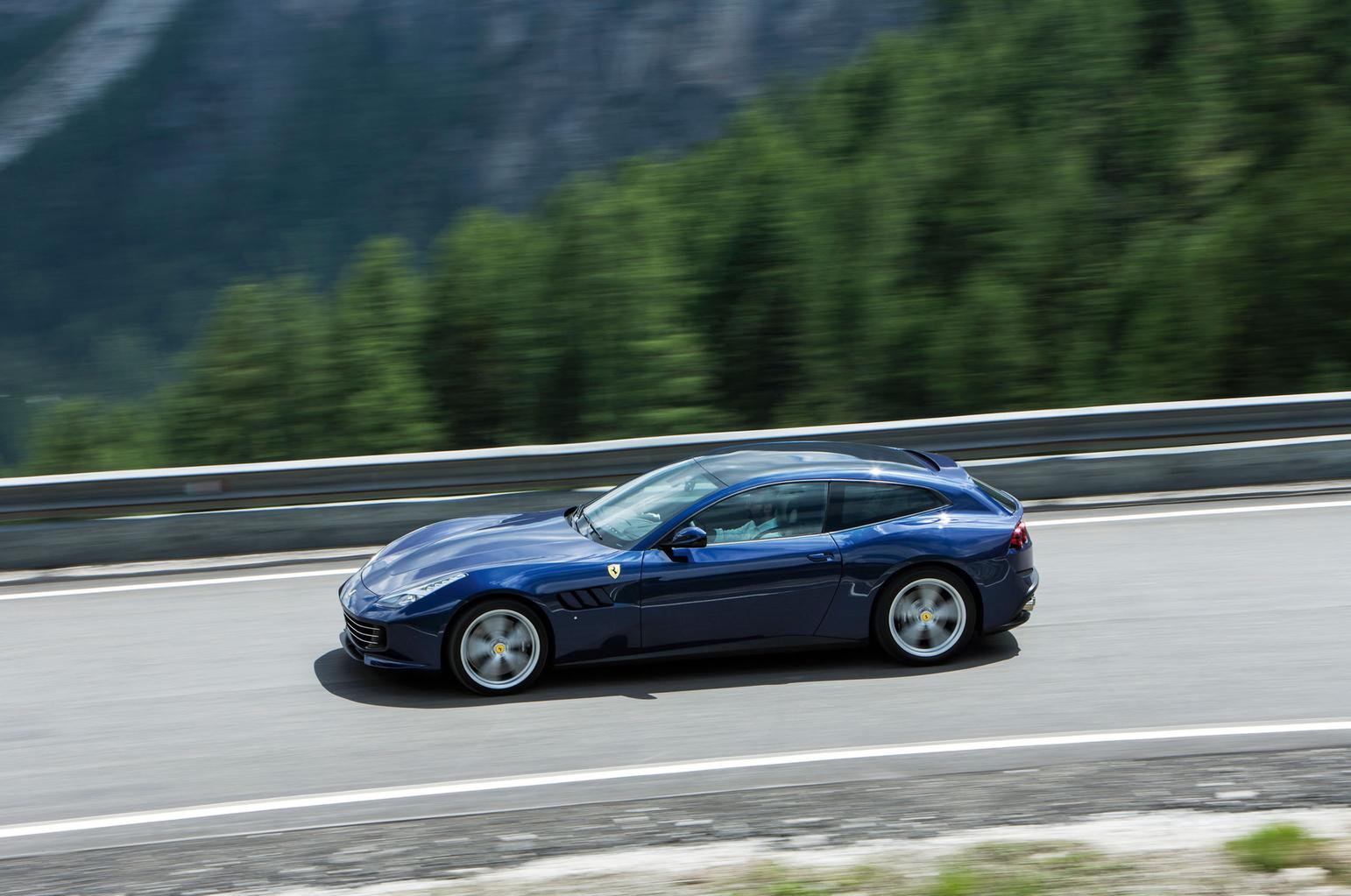 Ferrari admits its infotainment systems haven't been up to scratch, but the system in the GTC4 Lusso is much improved on what went before. We'll need a longer play with it before we decide exactly how competitive it is with the best (BMW's iDrive, for example), but it seems relatively intuitive. The front passenger even gets their own small touchscreen, which is a sweet touch.
Material quality is decent enough. There isn't lashings of wood like there would be in a Bentley Continental GT or Rolls-Royce Wraith, but the Ferrari is unashamedly more sporting than either of those, so its metallised plastics and leather are more appropriate – and pleasingly finished.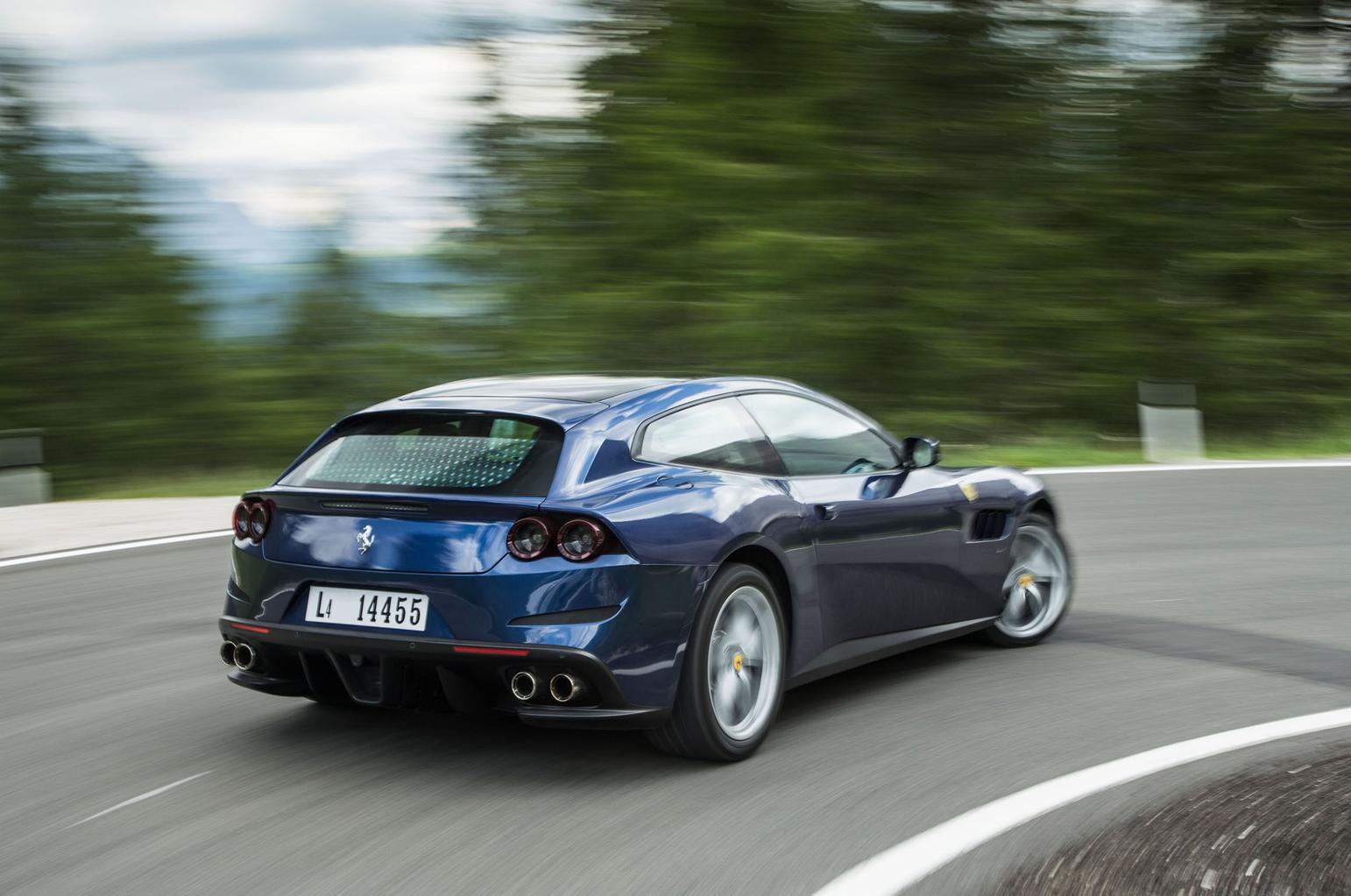 Under that hatchback there's a 450-litre boot, wide enough in places to accept a bag of golf clubs, and, while the boot floor isn't flat, the rear seat backs split and fold to increase the luggage volume considerably.
Should I buy one?
How do you convincingly make an objective case for a car that costs nearly a quarter of a million quid, is powered by a 6.3-litre engine that returns 18.8 mpg and that, despite being billed as a four-seater, has less room inside than a typical family hatchback?
The truth is that you can't, obviously, no more than you could argue that a real log fire – inefficient, dirty and hard work to get and keep going – is better than central heating. You choose one quite simply because it makes you feel good, and you like it.
That objective/subjective hurdle overcome, then, the Ferrari is actually quite recommendable. It's lighter and more responsive than a Rolls-Royce Wraith, albeit less opulent, while Bentley's Continental GT is also heavier, less agile and has a less scintillating engine. The forthcoming Aston Martin DB11 could give the Ferrari a harder time and is notably cheaper, but it has a smaller boot and pokier back seats.
And that's the key: unlike more mainstream cars, no rival quite does what the GTC4 Lusso does, so if it appeals, you're unlikely to be swayed by an alternative.
---
What Car? says...
Rated 4 out of 5
---
For all the latest reviews, advice and new car deals, sign up to the What Car? newsletter here
---
Rivals:
---
FERRARI GTC4 LUSSO
Engine size 6.3-litre V12 petrol
Price from £240,430
Power 680bhp
Torque 514lb ft
0-62mph 3.4sec
Top speed 208mph
Fuel economy (official combined) 18.8mpg
CO2/BIK band 350g/km/37%