2016 Lamborghini Huracán LP580-2 review
New entry-level Lambo handles better and is more fun than the four-wheel-drive version – and it's £25,000 cheaper...
Lamborghini supercars have now been four-wheel-drive for so long – more than two decades – that when one comes along that isn't, it feels like a momentous happening. Mind you, though, the rest of the supercar industry has been sticking with rear-wheel drive since 1993 and is surviving just fine, thank you very much.
Yet, the Lamborghini Huracán LP580-2 has a certain sense of occasion about it, having finally landed in the UK. It creates two interesting developments for anyone in the market for a car like this right now: a lower price point for entry into Lamborghini's most affordable model range, and a rear-wheel-drive handling purist's ideal in contrast to the four-wheel-drive models that fill the rest of the Italian marque's catalogue.
If you're content for your slice of Italian exotica to come with just one driven axle instead of two, you'll save £25,000, which is plenty to spend on all those tempting options. Aside from the difference in the drivetrain, the LP580-2 comes with only a very slightly detuned version of same V10 engine that powers any other Huracán, as well as suspension, steering and electronic traction and stability control systems that, as you'll go on to read, work better here than in the more expensive LP610-4.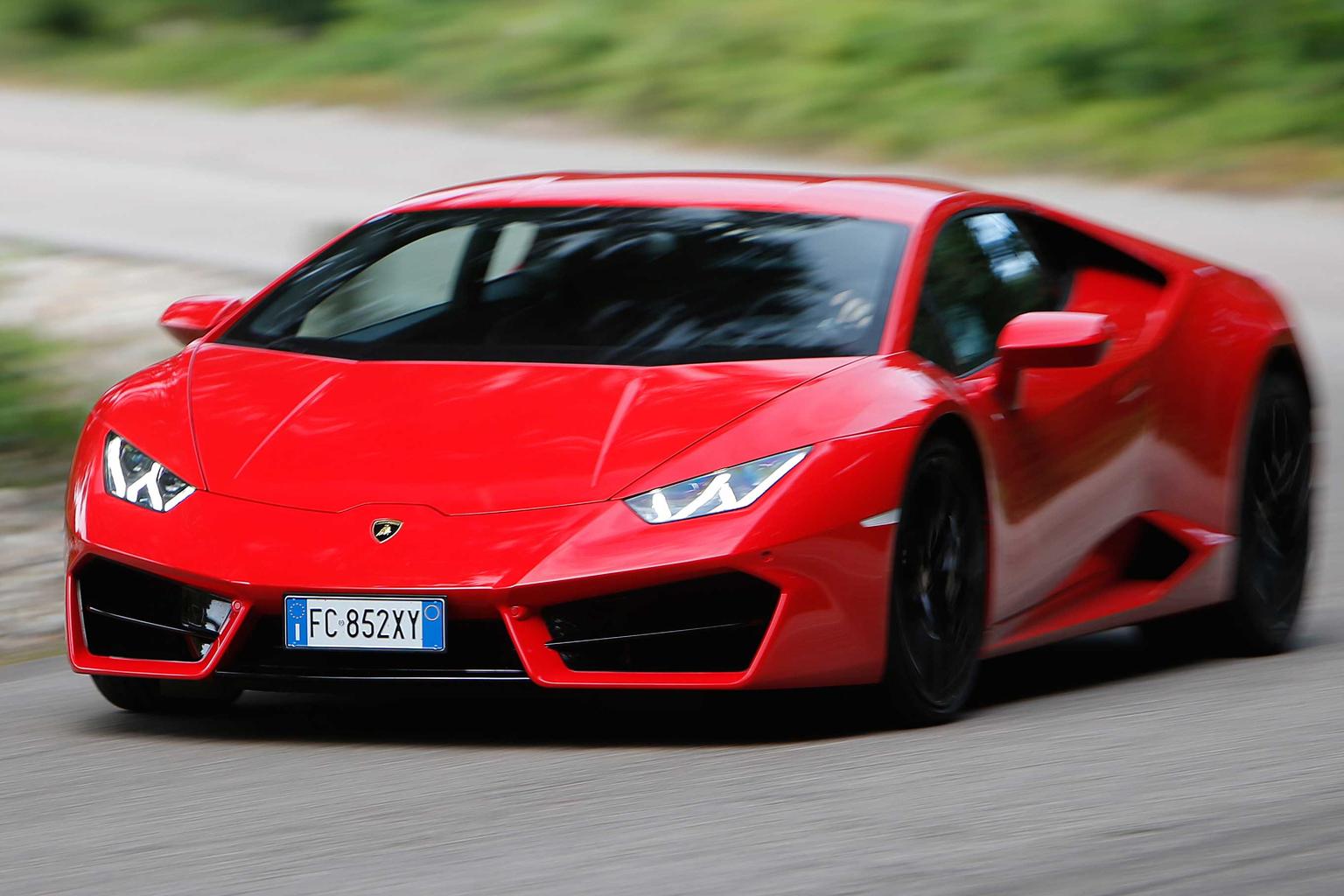 What's the Lamborghini Huracán LP580-2 like to drive?
Plenty of modern supercars have become easy-to-drive, very unimposing and quite civilised in the pleasantness of their ride, the gentility of their power delivery and the reserve of their exhaust notes – but the Huracán isn't one of them. This car comes from a culture that imagines you want your driving thrills a little bit rough and ready, and it will never fail to excite you as a result.
The power and performance it gives-up to the more expensive version (it's exactly 30bhp, 15lb ft of torque and two-tenths-of a-second in the sprint from 0-62mph, if you're interested) isn't nearly significant enough to make a difference on the road.
Put your foot down and its V10 engine picks up in a heartbeat, with acceleration coming in an increasingly noisy and savage surge that gathers in delicious proportion with revs. You need to hit 6000rpm before the car feels at its most accelerative, but thereafter there's still the better part of 3000rpm to go before you reach the engine's limiter. When it's time to change up a gear, the dual-clutch automatic gearbox shifts with utter precision, particularly when executing manual changes using the paddles behind the steering wheel.
Lamborghini's suspension re-tune has softened the car's ride a little, building in more compliance and making the car smoother on your average British cross-country road if anything. Meanwhile, steering feel has markedly improved.
The last Huracán we drove had Lamborghini's dynamic steering system fitted, which made the car's movements tricky to predict. This one had standard passive steering, and gave a much clearer impression of available grip in the car's more aggressive Sport and Corsa modes.
Jettisoning the four-wheel drive system hasn't transformed the car's handling balance quite as much as you might think – but then twenty-odd years is a long time to stop investing in rear-wheel drive technology while your competitors continue to take it on. The way the Huracán transmits its power to the driven wheels at the rear is quite conventional compared to the clever torque-vectoring systems it's rivals use, and the car's handling feels a little tame and inert as you try to enliven the corners with some power. Outright cornering balance is improved, however, so it is less inclined to simply wash wide at the front like the four-wheel drive LP610-4 model will.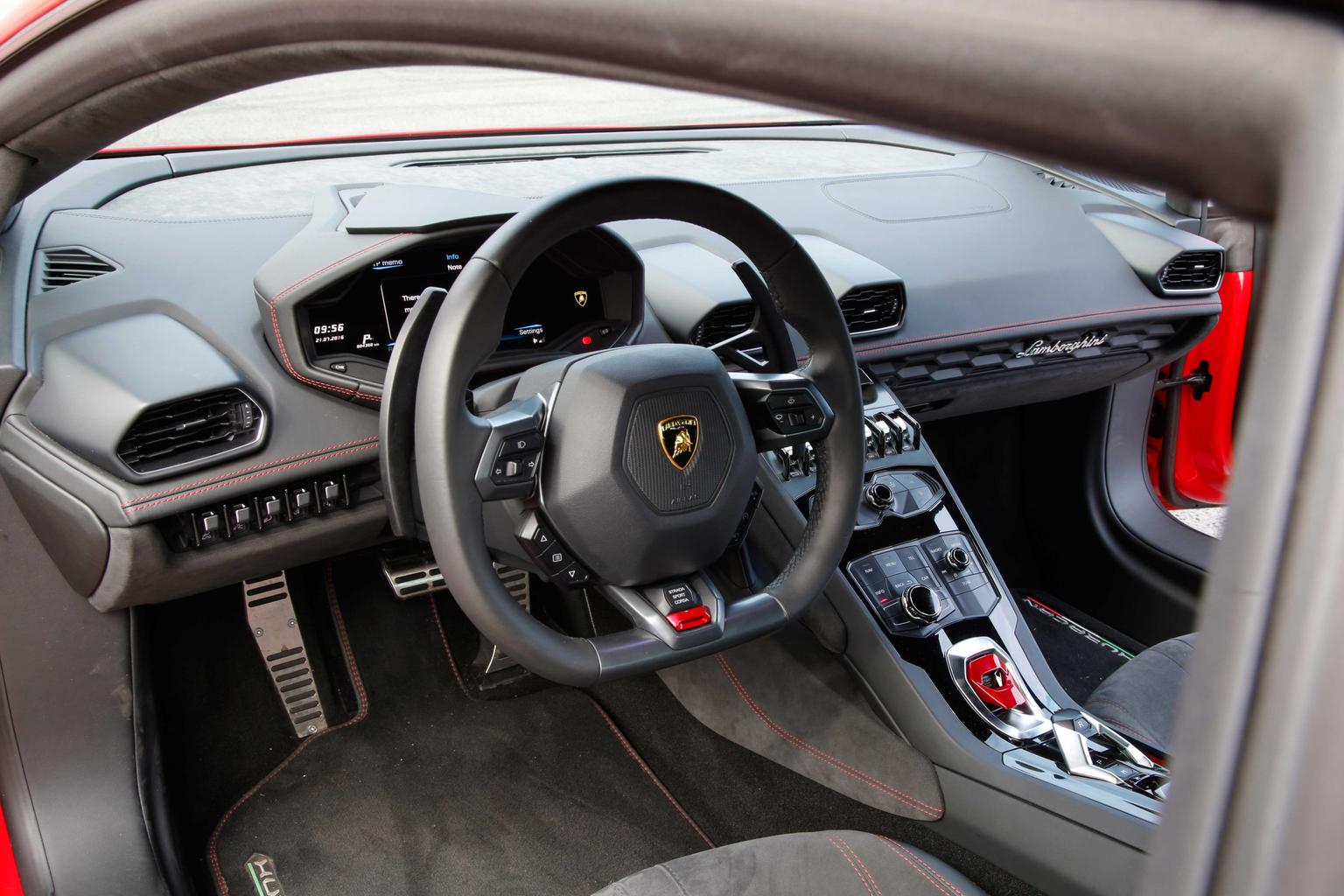 What's the Lamborghini Huracán LP580-2 like inside?
A bit like a jet fighter, a bit like a an alien lander – but mostly just about the most outrageous driving environment you're likely to come across.
The LP580-2 delivers the same cabin as an LP610-4, to be fair. And what you're getting for your money is incredibly extravagant and imaginative design and very credible infotainment and convenience features – but packaged in a car that isn't exactly welcoming to the taller occupant.
As is probably perfectly plain, you don't design a car that looks like this unless you're prepared to compromise a bit of interior headroom. If you're 6ft 3in or above, chances are you'll feel a little short-changed by the Huracán's provision of both legroom and headroom – where you wouldn't in a Ferrari 488 GTB or a McLaren 650S. Cargo space, incorporated up front under the bonnet, isn't as generous as the McLaren's either.
But the Huracán hits back with an infotainment system and 'virtual cockpit'-type adaptive LED instruments you may recognise from other Audi models – and is done no harm by them whatsoever. The latter could do with a mode that provides a larger analogue speedometer, since the digital one is small and somewhat hard to read at a glance.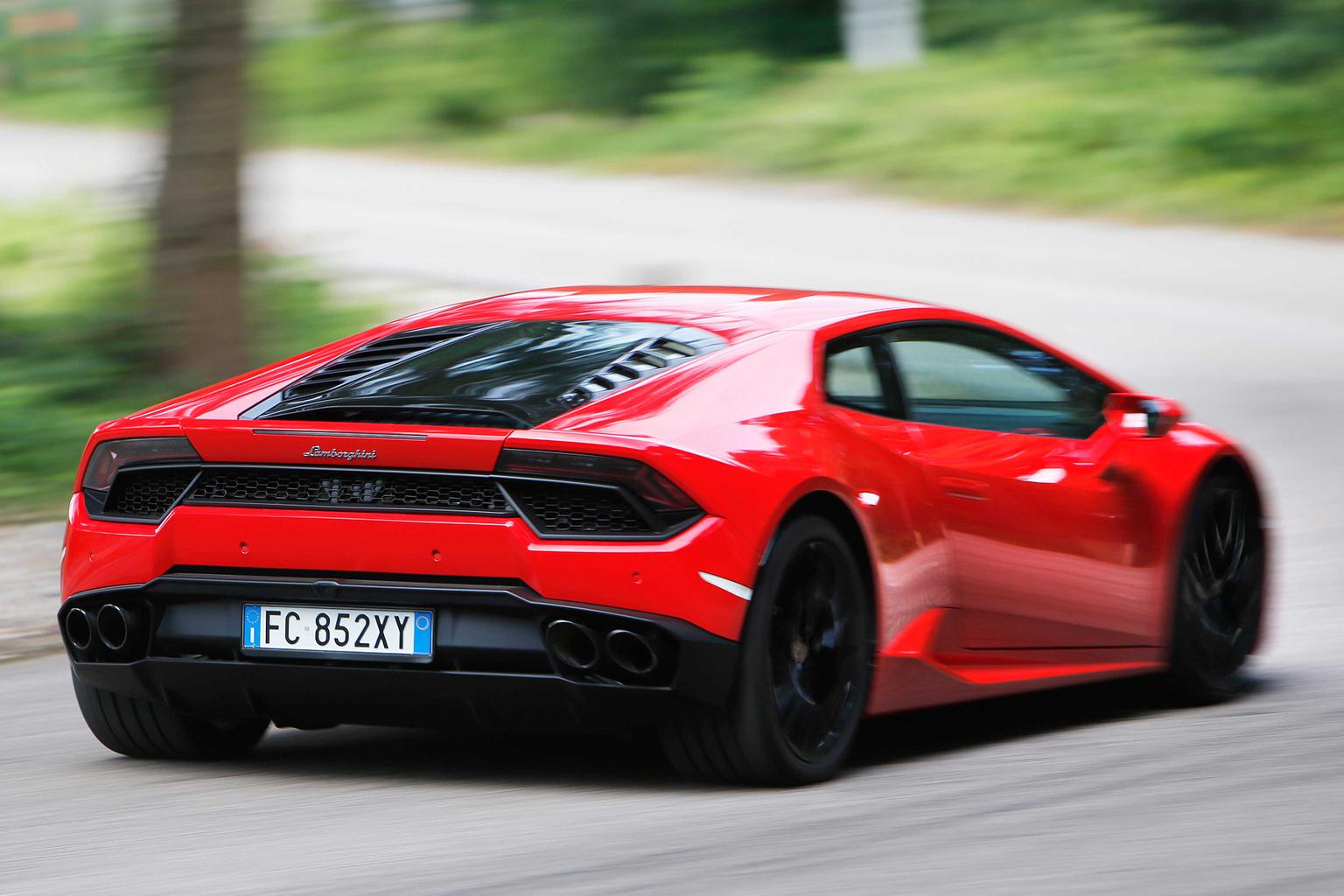 Should I buy one?
You should – if for no other reason than because you want a Huracán, and this is best one yet. Just don't mistake it for the best one there will ever be.
The LP580-2 has all the heart, drama and ferocity of any Huracán. Added to that, its has greater dynamic poise and broader compatibility with UK roads than an LP610-4, and it's more rewarding too.
It doesn't ride or steer nearly as well as a McLaren 650S, nor grip and corner with the awesome thrill of a Ferrari 488 GTB. But it looks and sounds truly incredible, and driving it makes you feel likewise. Many would say that the job of a true supercar need be no more complicated than that.
---
What Car? says...
Rated 4 out of 5***
For all the latest reviews, advice and new car deals, sign up to the What Car? newsletter here
---
Rivals
McLaren 650S***
Lamborghini Huracán LP580-2
Engine size 5.2-litre V10 petrol
Price from £156,575
Power 573bhp
Torque 398lb ft
0-62mph 3.4 seconds
Top speed 199mph
Fuel economy 23.7mpg
CO2 output 278g/km