2016 Lotus Elise Cup 250 review
Lighter, more powerful Elise Cup 250 is the quickest version of the model Lotus has ever built. Is it the best?...
In one form or another, the Lotus Elise has been around for two decades. The lightweight, two-seat sports car is well into its second proper generation, but it's the constant tweaking and improving that is the trademark of Lotus. This new Lotus Elise Cup 250 is the fastest ever Elise variant, Lotus claims.
The Elise Cup 250 succeeds the Cup 220 in the Elise range and although there's only so much you can do with the same basic underpinnings, Lotus has put in the effort.
Power from the Toyota-sourced 1.8-litre supercharged engine has been increased by 26bhp up to 240bhp, developed at a revvy 7200rpm, while Lotus has also managed to lose 21kg from the Elise's weight - quite an achievement in a car that weighed less than a tonne in the first place. If you spec a carbonfibre aero pack, another 10kg disappears, making this a 921kg car.
In creating the Cup 250, which is able to reach 60mph from rest in just 3.9sec, Lotus may have created the fastest Elise ever, but at more than £45,000 (before options) it's also rather expensive. Lesser Elises are cheaper, and this one is pitched right up against the likes of the Porsche Boxster.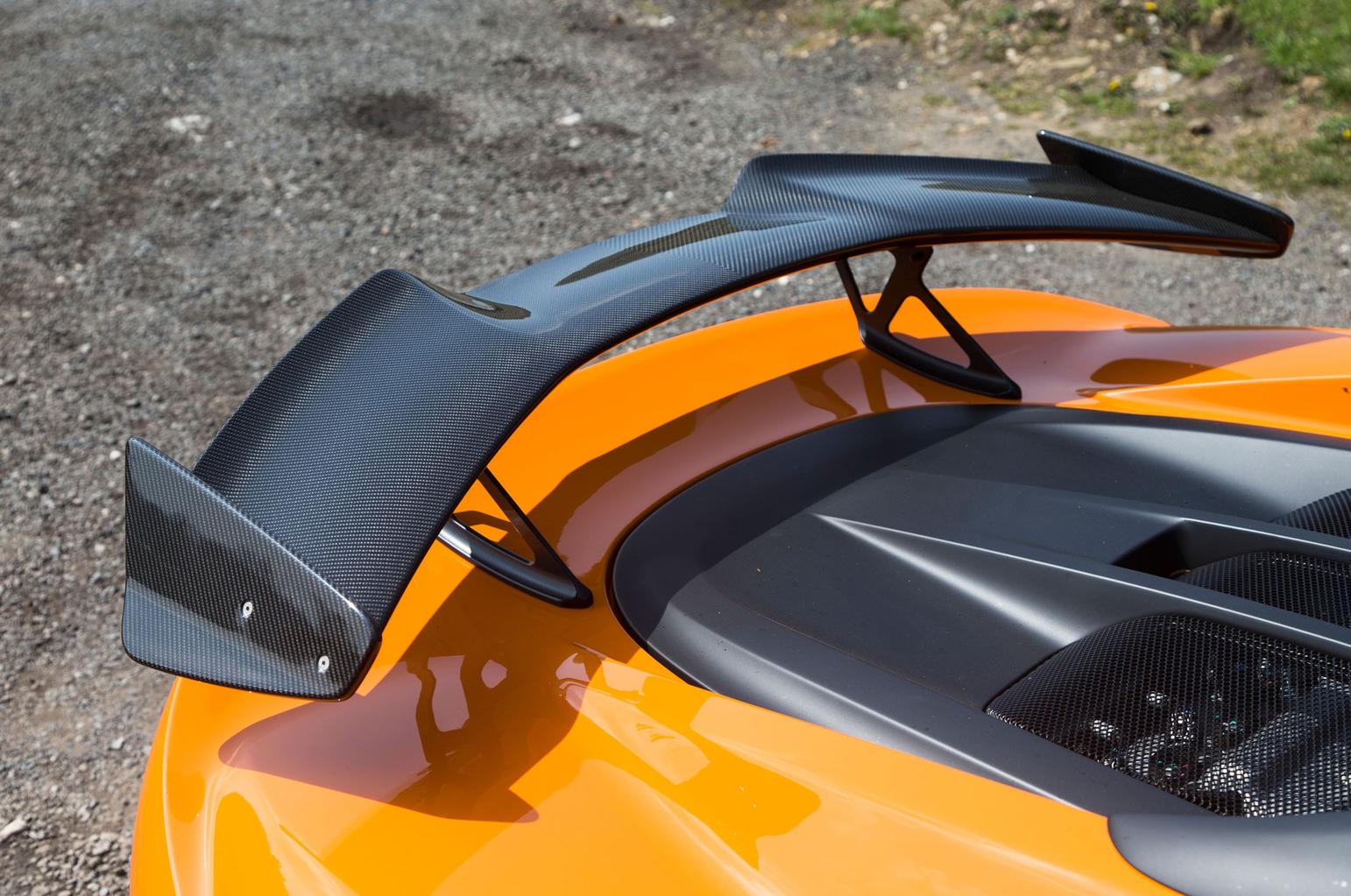 What's the 2016 Lotus Elise Cup 250 like to drive?
You'd expect a sports car like the Elise to impress in this section, and so it does - but not without a few reservations.
All Elises have fantastically communicative unassisted steering systems – and they can get away without power steering because the car is so light that the steering isn't too heavy. In the Cup 250 though, wider, very sticky front tyres have been fitted, and with a race-derived suspension setup, the steering effort has increased considerably.
Once you're rolling it's not too bad – and there's still oodles of communication from the front wheels – but the Cup 250 is a pretty physical car to drive; the steering loads up even more in hard cornering, too.
Also, on the road, that track-focused suspension setup means that the Lotus doesn't ride with the same surprising grace and suppleness of lesser Elises. Its body movements are truly nailed down, so it's capable of colossal cornering speeds, but the hard suspension lacks compliance. On a circuit, of course, it's a rather different matter; our advice is to only pick the Cup 250 if you're planning to do track days in it.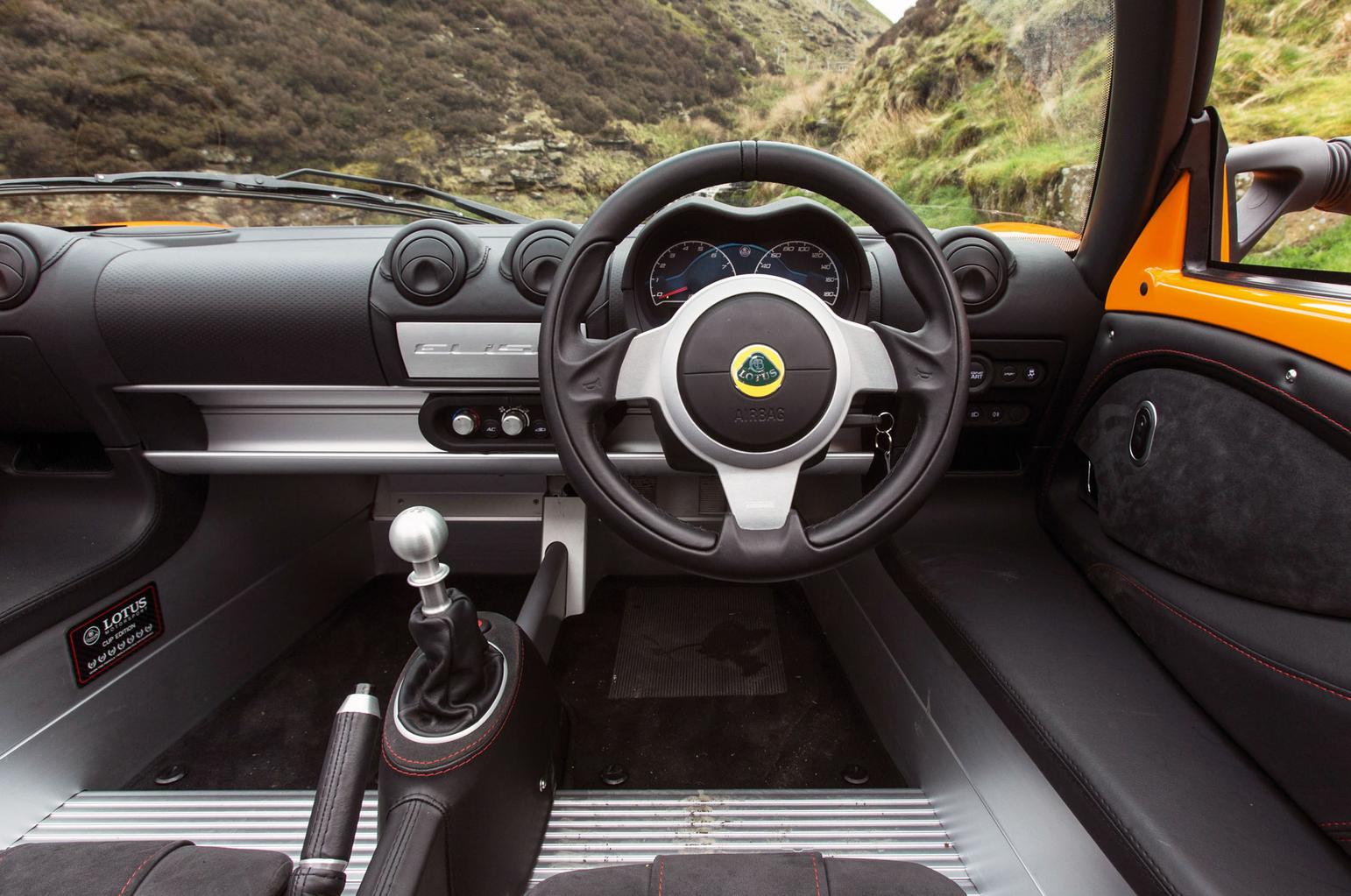 The 1.8-litre engine in our test car felt surprisingly flat – certainly not the sub-four second to 60mph car it was meant to be. However, throttle response is sharp and the gearshift relatively crisp, too.
The brakes are also impressive, pulling the Elise to a halt quickly and with terrific pedal feel. All of the controls, in fact, make the Elise feel extremely direct and responsive, like a proper lightweight sports car should.
What's the 2015 Lotus Elise Cup 250 like inside?
How much you like the inside of the Elise rather depends on your viewpoint. If you're looking for the same kind of comfort and convenience you'll find in a Porsche Boxster, look on.
There's lots of bare aluminium from the chassis on display, the sills are high because that's where the chassis strength is, and the roof is low, so getting in and out is ungraceful. Additionally, due to the big sills, the occupants are pushed together towards the middle of the car. Most convenience features – such as air conditioning or a stereo – are options.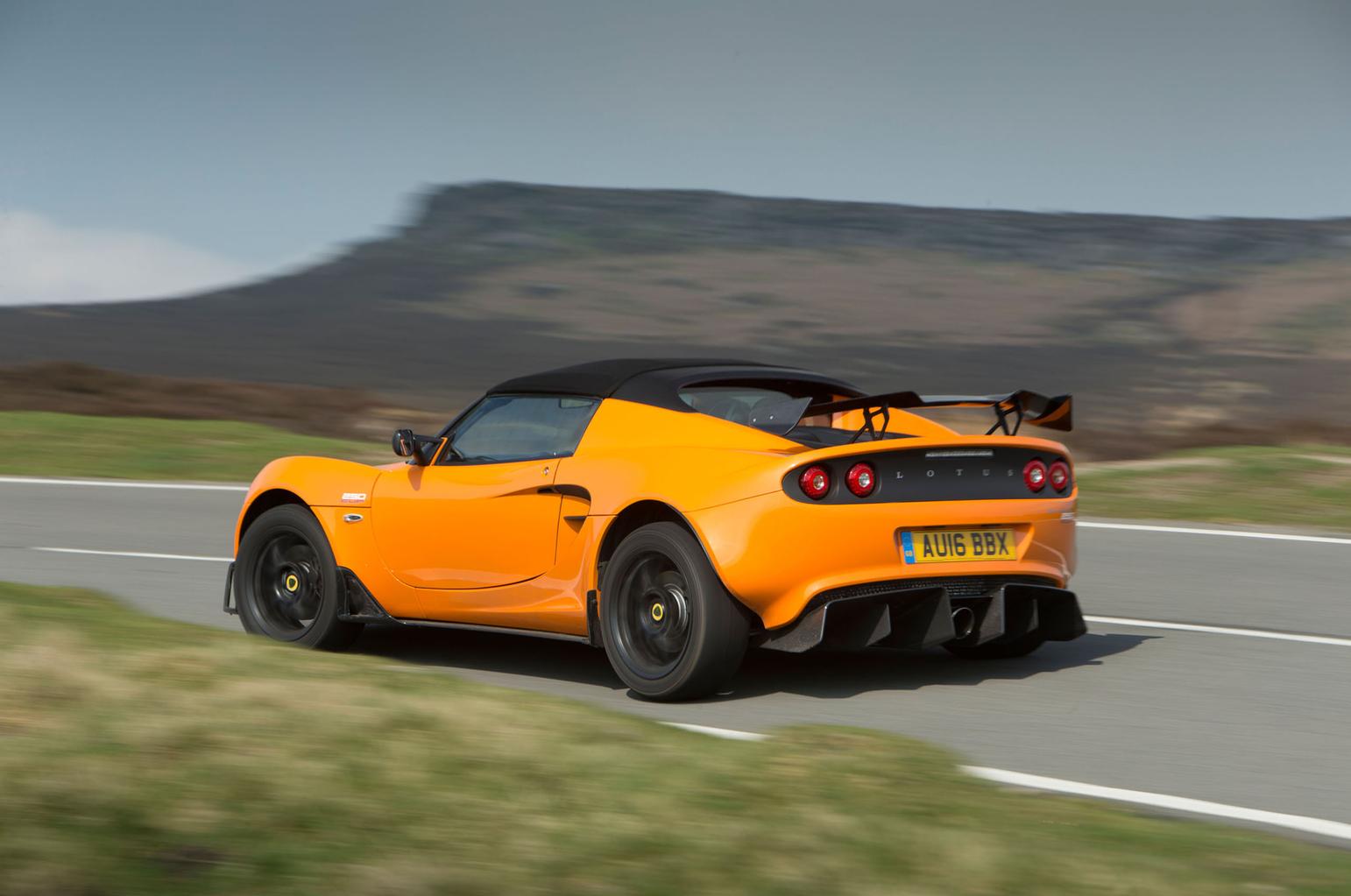 To a sports car purist this is perhaps no bad thing. Putting the driver nearer the middle of the car is better when cornering, for example. But on a day to day level, even a Mazda MX-5 is far more accommodating than this Lotus.
Still, the driving position is sound. That's a good thing, seeing as the seats only slide back and forth and the wheel is fixed. It's like sitting in the bath - a little too literally in heavy rain, because the roof can allow a few drops in. The Cup 250 comes as standard as a roadster (a hard top is optional), but in either form it's noisy, because there is so much bare metal, and such little sound proofing.
If you're looking for a lot of interior space, you're probably looking at the wrong car, but against its peers the Elise is decent. A Mazda MX-5 too has only a small boot, as does a Porsche Boxster. So, that the Elise only has a 112-litres of space on offer isn't as bad as it sounds.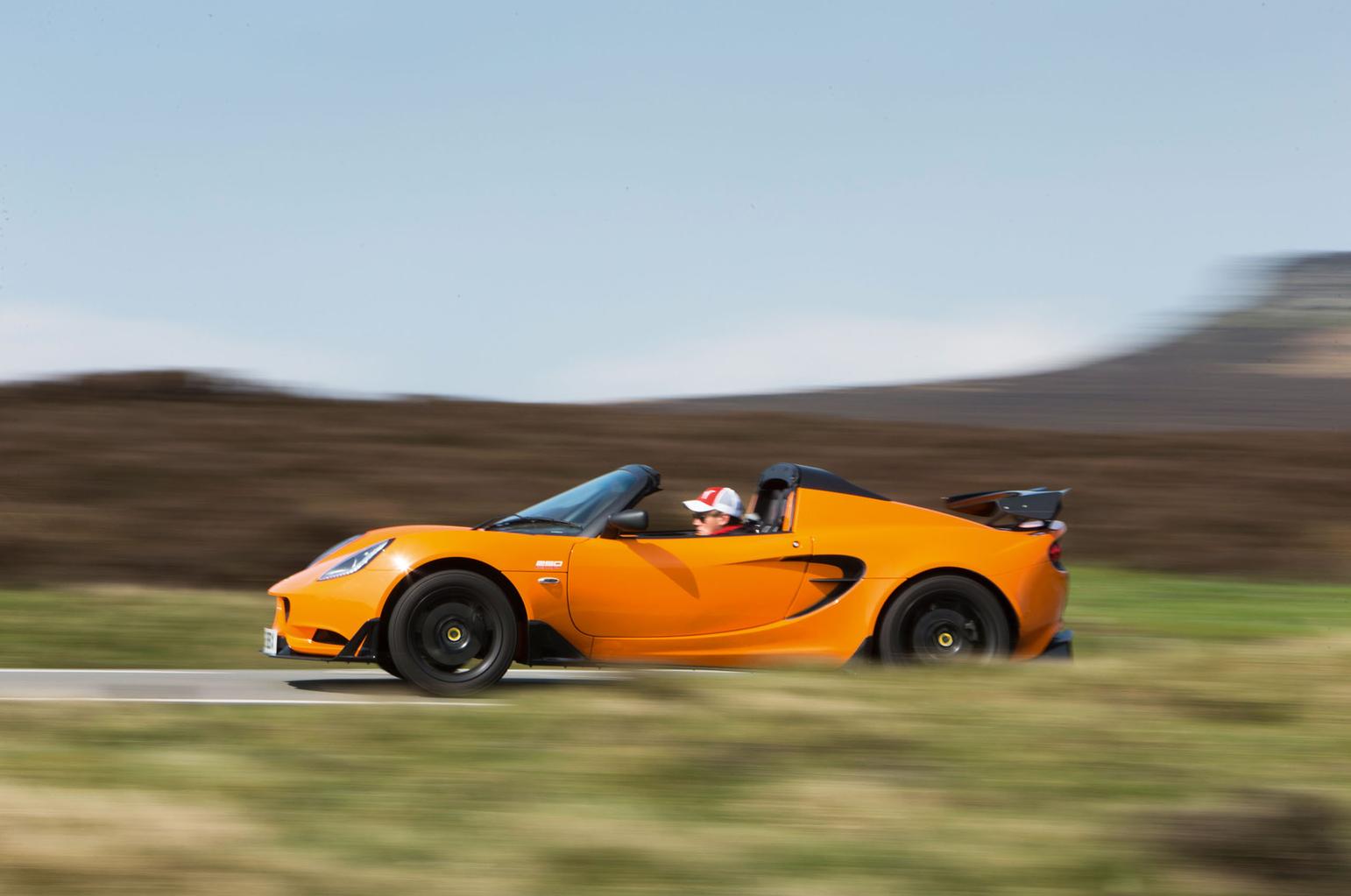 When manually removing and folding up the soft top (a one-minute job), the roof fits back there quite easily, even alongside a couple of small rucksacks. Don't put your frozen shopping in there, though; it gets quite warm.
The optional hardtop takes longer to take on and off – about five minutes with the aid of an Allen key - and although it apparently improves the aerodynamics a little, the Elise is best enjoyed as a roadster.
There's not a great deal of oddment storage in the cabin itself – a shelf under the dash, a cupholder and a tiny bit of space behind the seats is your lot.
Should I buy one?
At more than £45,000 before options, this is an expensive Lotus Elise. Especially when you consider how few things you get as standard (to save weight) and therefore how many options you're likely going to want to specify.
We'd go for floor mats, a stereo (which includes more sound proofing) and air-conditioning at least – which will add more than £2000 alone. The carbon fibre pack is twice that again, so when you look at the price of Elise Cup you can see that it's right up against some very tidy rivals.
Resale values should be strengthened by the fact that Lotus says it won't sell more than 200 examples of the Cup 250 worldwide per year, though it's hard to imagine that it would sell a huge amount more than that even if it wanted to. Ultimately, for us, your money is better spent on the more rounded Porsche Boxster.*What Car? says…**
Rated 3 out of 5*Rivals**
Porsche Boxster*Lotus Elise Cup 250**
Engine size 1.8-litre supercharged petrol
Price from £45,600
Power 240bhp
Torque 184lb ft
0-62mph 3.9sec
Top speed 154mph
Fuel economy 37.7mpg
CO2 output 175g/km