2016 Mercedes-AMG C 63 S Coupé review
The new Mercedes-AMG C 63 S goes head-to-head with the mighty BMW M4. Of course, the big question is: which is best?...
AMG. To performance-car fans, those three letters signify something special. If you don't know, AMG is the tuning department of Mercedes-Benz, similar to BMW's M Sport division, and this new Mercedes-AMG C 63 S Coupé is its latest creation.
It's a hell of a thing. The new V8 petrol engine it uses may be downsized from the 6.3-litre V8 used in the previous C 63, but it's still a formidable thing: 4.0 litres with two turbochargers to help it pack extra punch. The results are impressive - 469bhp if you go for the standard car, or, in this even more powerful S version, 503bhp. Not only does that makes it quicker from 0-62mph than a BMW M4 Coupé, but quite a bit more economical, too.
Compared with the standard C-Class Coupé, the rest of the car has been heavily revised. The gearbox is a specifically designed seven-speed automatic made to cope with the extra power, while the suspension and brakes are also beefed up. This includes a wider wheelbase that demands flared wheel arches, which along with the AMG-specific front and rear bumpers gives the C 63 S a very purposeful look.
What's the 2016 Mercedes-AMG C 63 S Coupé like to drive?
The BMW M4 is an amazing car, but it can feel a little sterile when driven on public roads. It's just so capable and quick that you need to be doing break-neck speeds to feel much sense of driver involvement. This isn't the case with the C 63 S.
Although it's also capable of equally ferocious performance, there's more pantomime to the way the C 63 S drives, which makes it more fun. Start the engine and press the button for the switchable sports exhaust, and the V8 thunders away like a 1960s American muscle car. Plus, you only need to be pottering along to get fabulous pops and bangs from the exhaust as you change gear. If you're a petrolhead, you'll absolutely love it.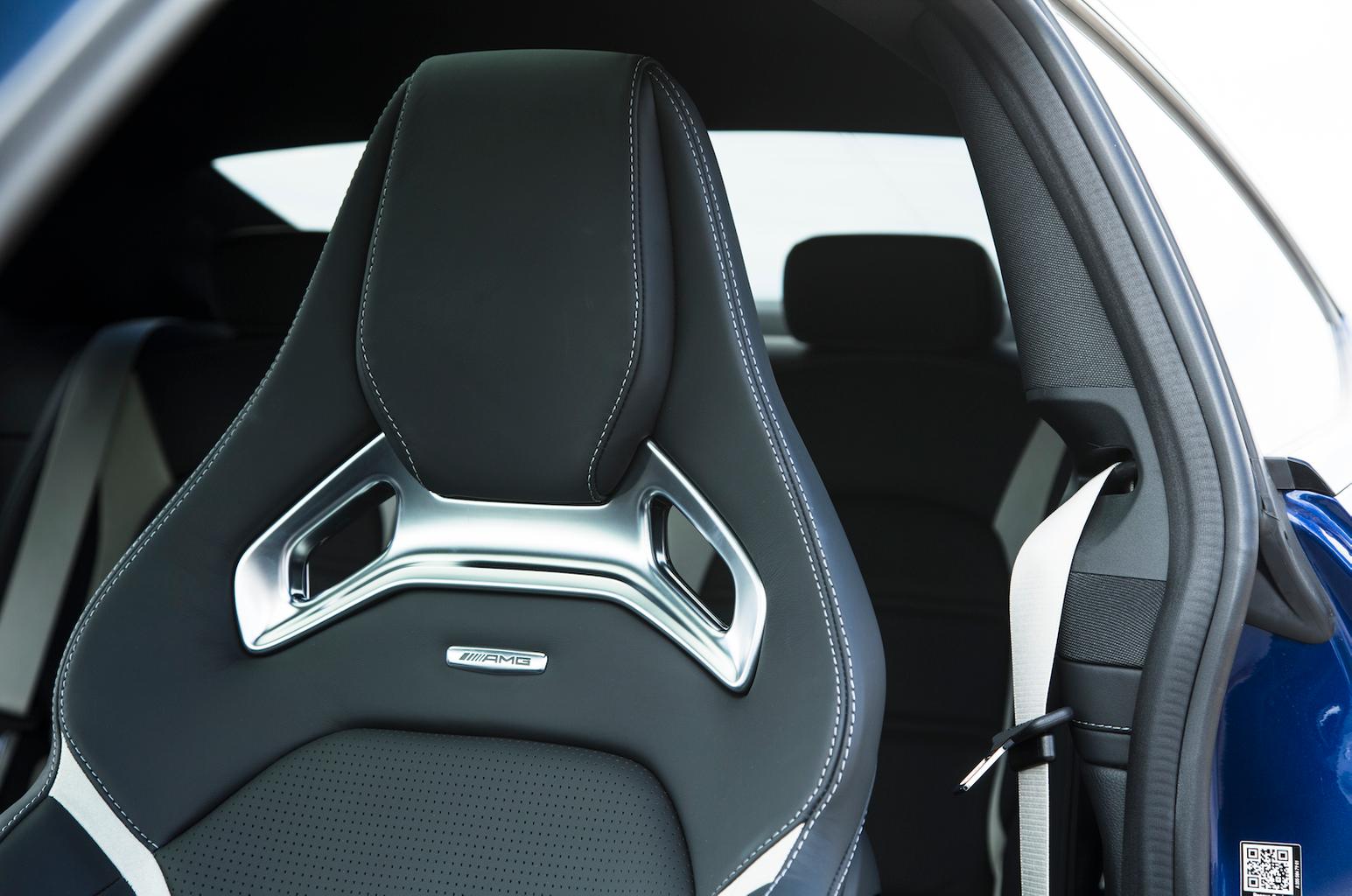 Put your foot down and the C 63 S proves it's not all mouth and no trousers, though. There's a slight delay as you wait for the turbochargers to wind up, but then it rockets off, pressing you hard back against the seat. Yet, what's almost as satisfying is how effortlessly quick it is, even when you're not driving it flat out, thanks to the huge amount of shove that's available the minute you touch the accelerator.
The gearbox can be a bit clunky, especially when you are trying to park. It doesn't let the C 63 S creep forward like a conventional auto would, so you have to use the accelerator to make small parking movements. As it's quite jerky, this means a deft touch is required with the accelerator if you are to avoid lunging it towards any surrounding parked cars. Once on the move, the gearshifts aren't as quick or smooth as those of the M4, either, even if you put the gearbox in to its sportiest setting.
As with the gearbox, the suspension also has various modes, allowing you to soften or firm it up depending on your mood. In the softest Comfort mode the ride is firm but not harsh, and only really thuds over sharp ridges or cat's eyes. Conversely, it deals with bigger intrusions, such as speed bumps well.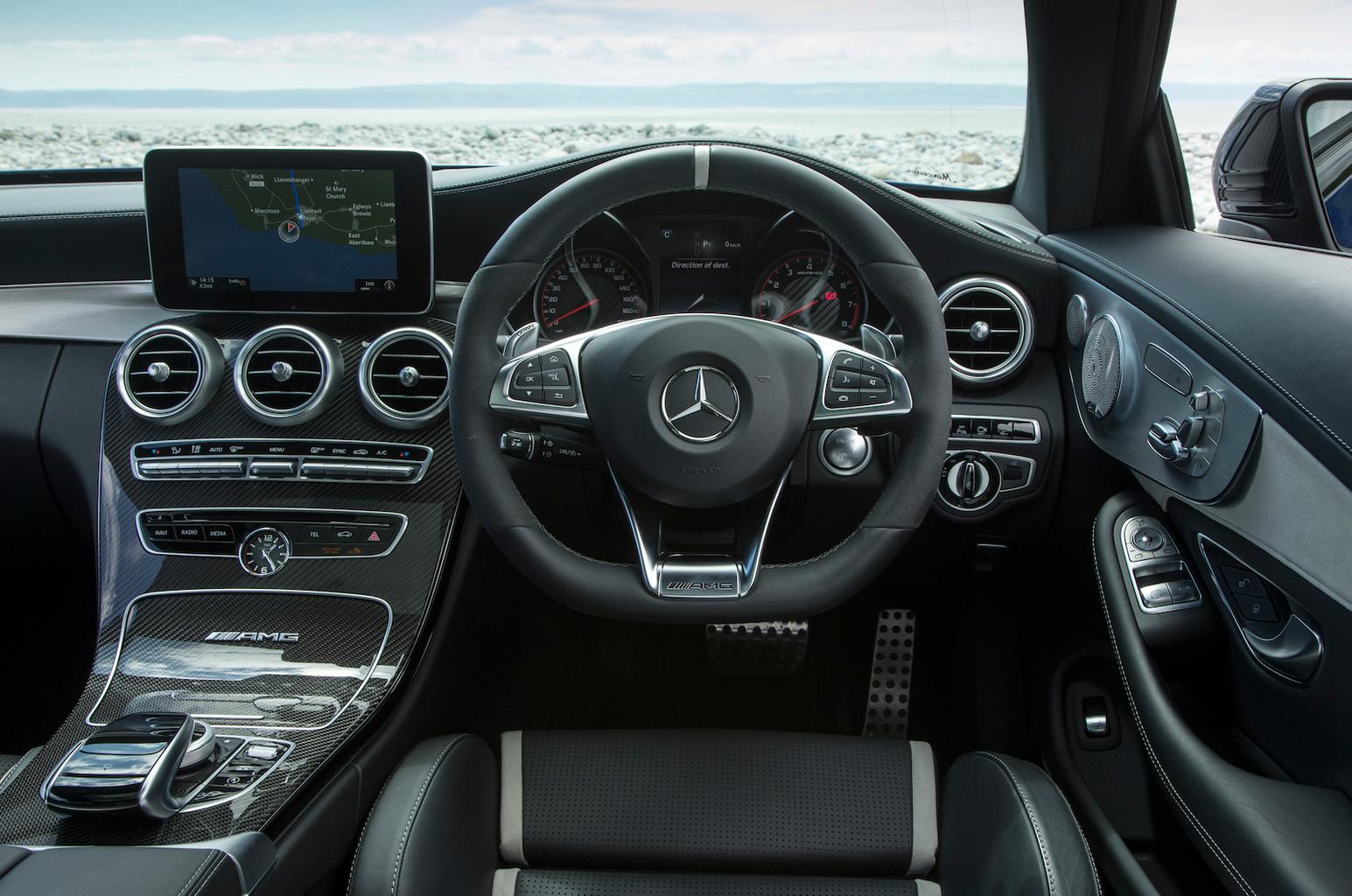 For quick driving, the same Comfort setting still keeps body roll in check, but you'll want to firm it up to Sport+ to make full use of the C 63 S's nimble handling. It changes direction well for what's still a comparatively heavy car, with lots of grip to help manage the power. You need to be careful on a damp road, mind: the rear-driven wheels will easily lose traction, but in a far less alarming, more controllable manner than in the twitchier M4.
The steering is a pleasure, too. It's not overbearingly heavy around town, and gives you good feedback as you build up speed.
This is still a car that can eat up the miles when you need it to. Over coarse motorway surfaces, the tyres, especially the rears, can create quite a bit of roar, but wind noise is pretty hushed at speed.
What's the 2016 Mercedes-AMG C 63 S Coupé like inside?
As with the standard C-Class Coupé, the C 63 S offers more flamboyance inside than the M4's slightly utilitarian look. There's a good mix of materials that makes it feel suitably special, including unique AMG touches like the S's deeply bolstered leather sports seats, and the optional carbonfibre and Alcantara fibre trims fitted to our test car.
It offers an excellent driving position if you discount the slightly offset pedals, with plenty of space in the front for anyone of above average height. The rear is tighter and best for children if you are traveling far, but the boot is big enough for a generous amount of weekend luggage.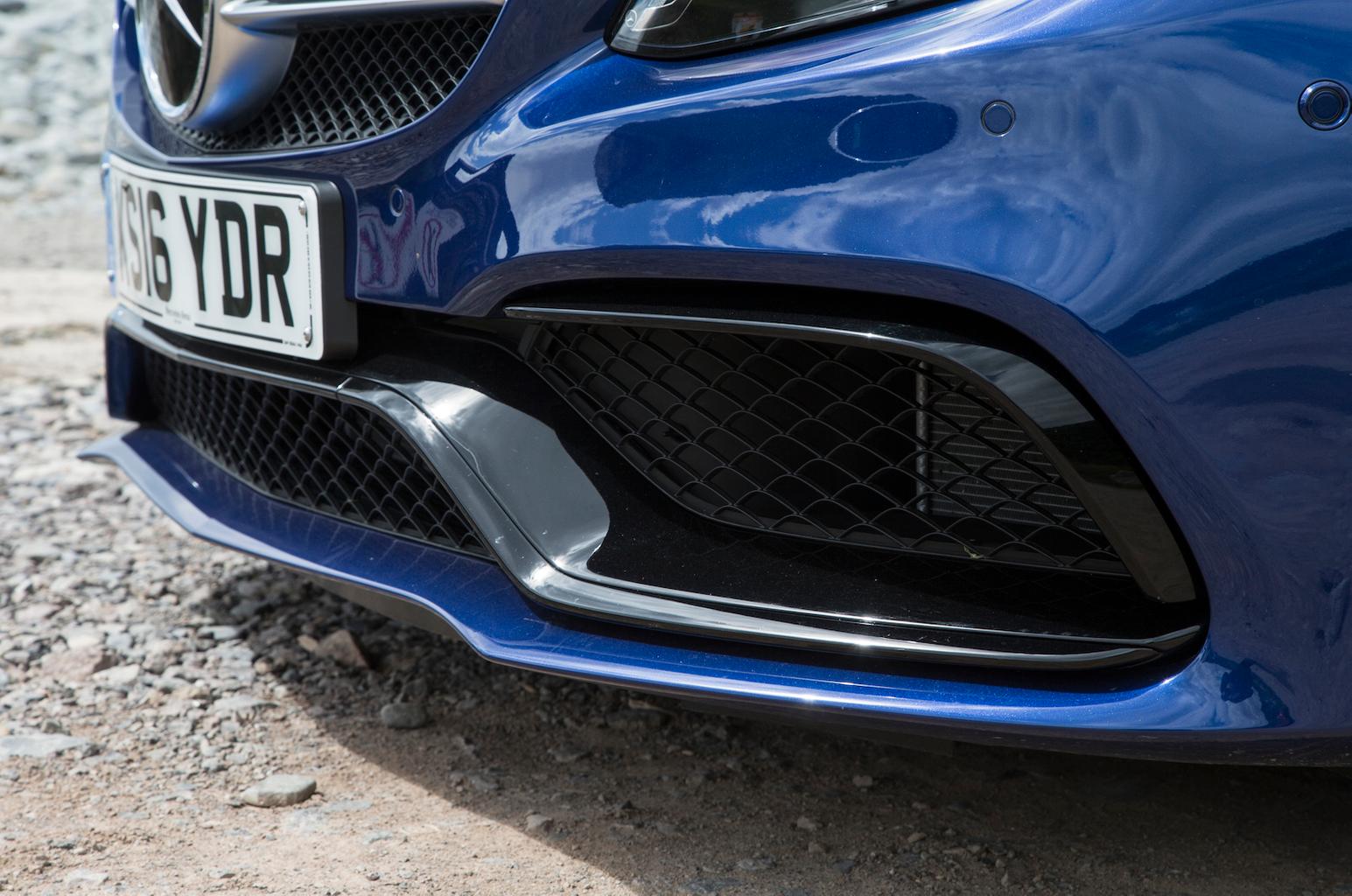 Should I buy one?
If you're after the ultimate road-going coupé, then the BMW M4 is the better objective driver's car without doubt. Yet for those that couldn't care less about lap times around a racing circuit, this Mercedes-AMG C 63 S is still devastatingly capable but - perhaps just as importantly - a more entertaining car for the road.
Our only caveat would be the £6500 premium over the standard C 63. We haven't driven that car yet, but it's tough to imagine that the extra power of this S can really justify that extra outlay.
---
What Car? says...
Rated 4 out of 5
---
For all the latest reviews, advice and new car deals, sign up to the What Car? newsletter here
---
Rivals:
---
Mercedes-AMG C 63 S Coupé
Engine size  4.0-litre twin-turbo V8 petrol
Price from £72,245
Power 503bhp
Torque 516lb ft
0-62mph 3.9sec
Top speed 155mph (limited)
Fuel economy (official combined) 32.8mpg
CO2/BIK band 200g/km/37%