2016 Mercedes-Benz GLC 250 d Coupé review
The GLC Coupé is a sloping-roofed version of Mercedes' GLC SUV. We've driven what's likely to be the best-selling diesel for the first time...
After BMW divided opinion, but found success, with its X6 and X4 SUV coupés, Mercedes has decided to get in on the act. First the company launched a sleeker version of the large GLE, and now comes the smaller Mercedes GLC Coupé.
Underneath it's based on the firm's C-Class saloon, and shares much of its front end with its more traditional SUV stablemate, the GLC. However, the Coupé is actually lower to the ground, slightly longer and gets a more raked rear roofline for an injection of style.
It will be offered in entry-level Sport and pricier AMG Line trims, with two four-cylinder 2.1-litre diesel engines initially available; the 220 and more powerful 250 d. Later this year a six-cylinder V6 diesel 350 d will join the range along with a performance AMG 43 version. A plug-in hybrid will come, too, although not for around two years.
The aforementioned BMW X4 is the closest rival for the new GLC Coupé, but Mercedes also has one eye on the similarly-priced Porsche Macan.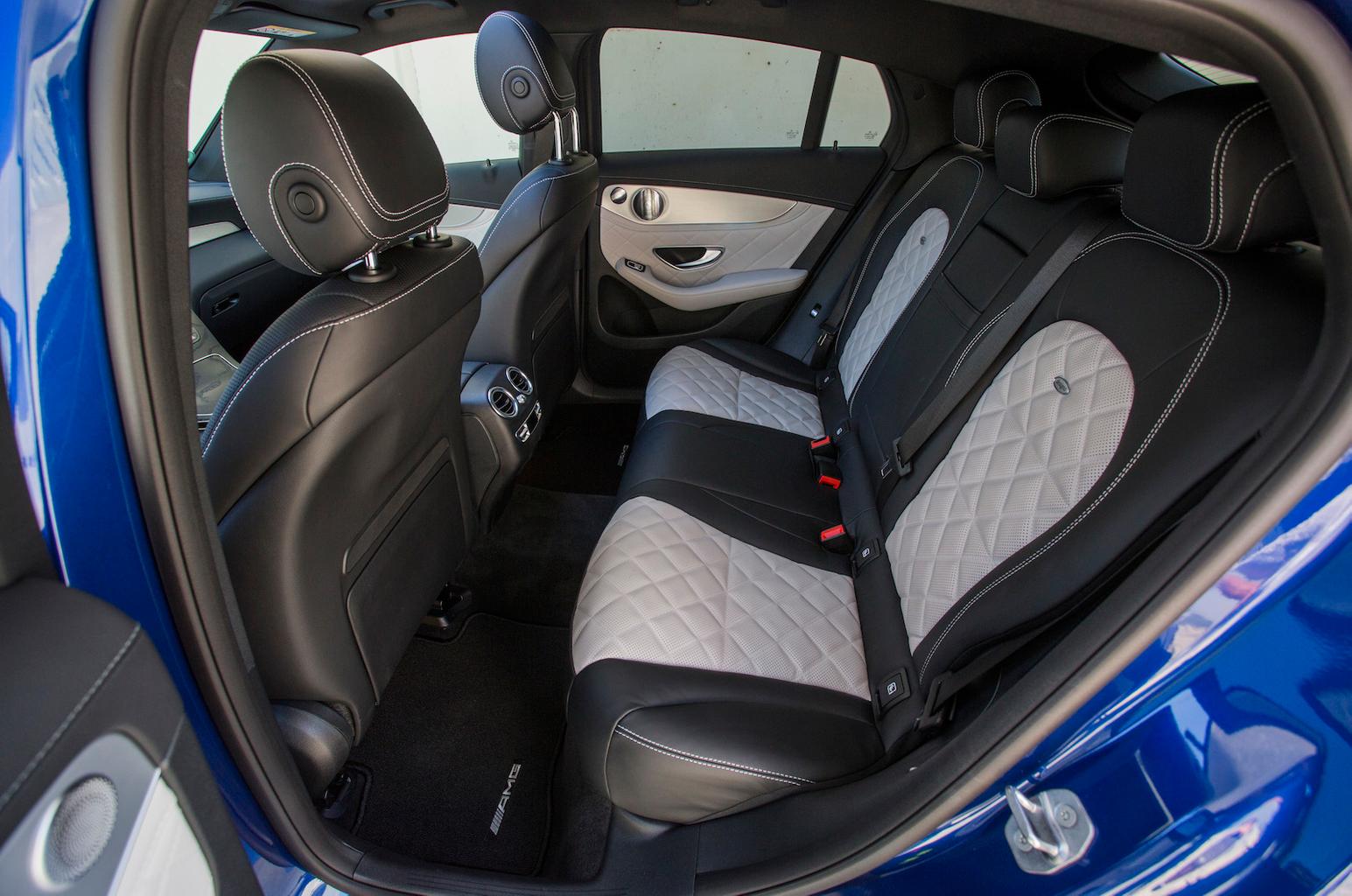 What is the 2016 Mercedes-Benz GLC 250 d Coupé like to drive?
Like the regular GLC, the GLC Coupé doesn't benefit from Mercedes' latest four-cylinder diesel engine which recently debuted in the new E-Class saloon. Still, with 201bhp to call upon and a healthy slug of low-rev pulling power, the GLC Coupé doesn't struggle for pace when asked .
Our test route was somewhat challenging; it wound its way across the Italian Alps, where the 250 d felt slightly breathless at times. Nevertheless, the standard nine-speed automatic gearbox does a good job of selecting the right gear most of the time to get the best from the engine.
The GLC Coupé's 2.1-litre diesel engine grumbles when pushed hard and there's minor vibration at the controls, but it settles down nicely in relaxed driving and is no worse than the engine in a BMW X4 xDrive20d. Aside from a little wind noise, the GLC Coupé's interior is quiet at speed, too.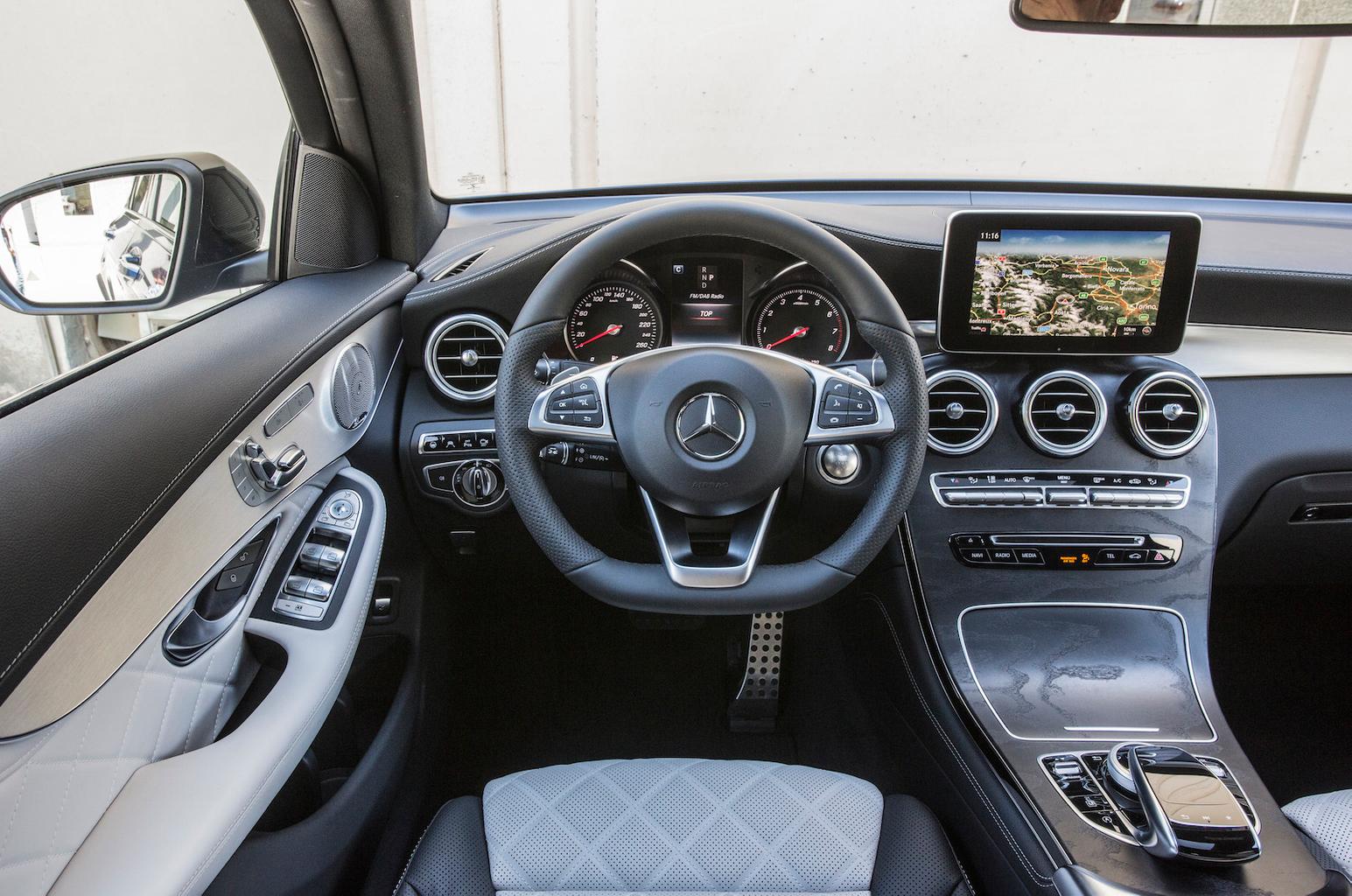 The GLC Coupé gets the same variable steering at the GLC, but it's been made slightly quicker to give a sportier feel. In truth, while it's fairly precise, it still feels unevenly weighted and uncommunicative. There's no doubt a Porsche Macan has more feelsome steering and is more agile, too.
There are two suspension options: a standard non-adjustable setup and a £1495 air suspension system, and it was the latter that was fitted to our test car. In this form the GLC Coupé soaked up the rough Italian roads well on standard AMG Line 19in alloys and gave a pleasing floaty cushioned ride on the motorway,
Selecting Sport mode stiffens the suspension and adds steering weight and gearbox sharpeness, but the GLC Coupé is never as fun as an X4 or Macan.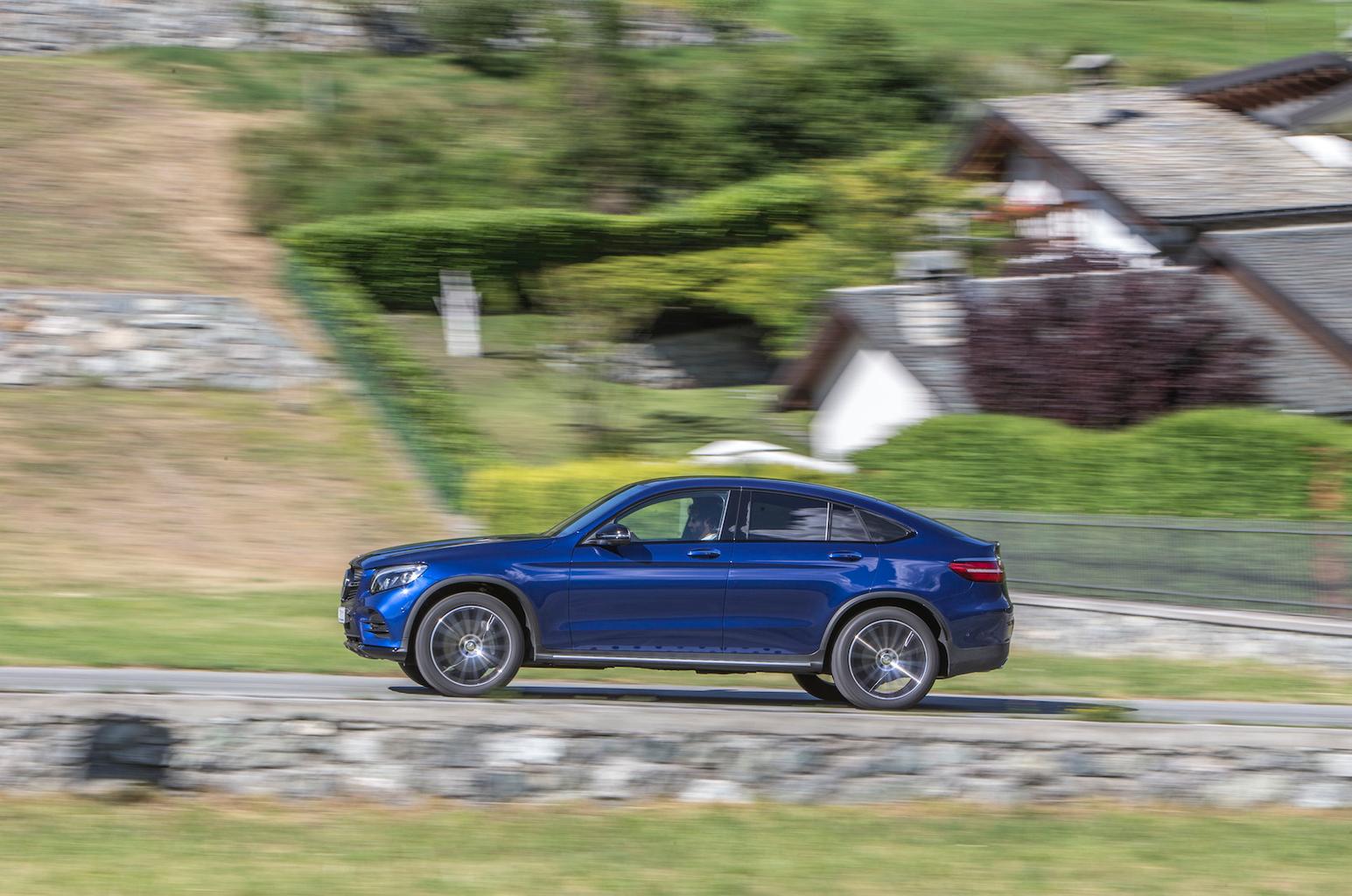 What is the 2016 Mercedes-Benz GLC 250 d Coupé like inside?
That the GLC Coupé does comfort well and puts it before agility is no bad thing – many buyers will be glad of it. This theme carries through to the inside, where the driver gets a fine driving position with good forward visibility and generous steering wheel and seat adjustability. The view backwards is obscured, but a reversing camera comes as standard to get around this.
Two, rather than three, adults will sit in decent comfort in the back seats, too. Six-footers will find their heads near, but probably not brushing, the ceiling and their knees clear from the front seatbacks. Overall, rear space is similar to the rivals BMW X4.
The GLC's boot matches the BMW and Porsche's for on-paper space, but both the Mercedes and BMW's sloping rear rooflines make loading tall items more difficult. The Macan has a more practical luggage bay.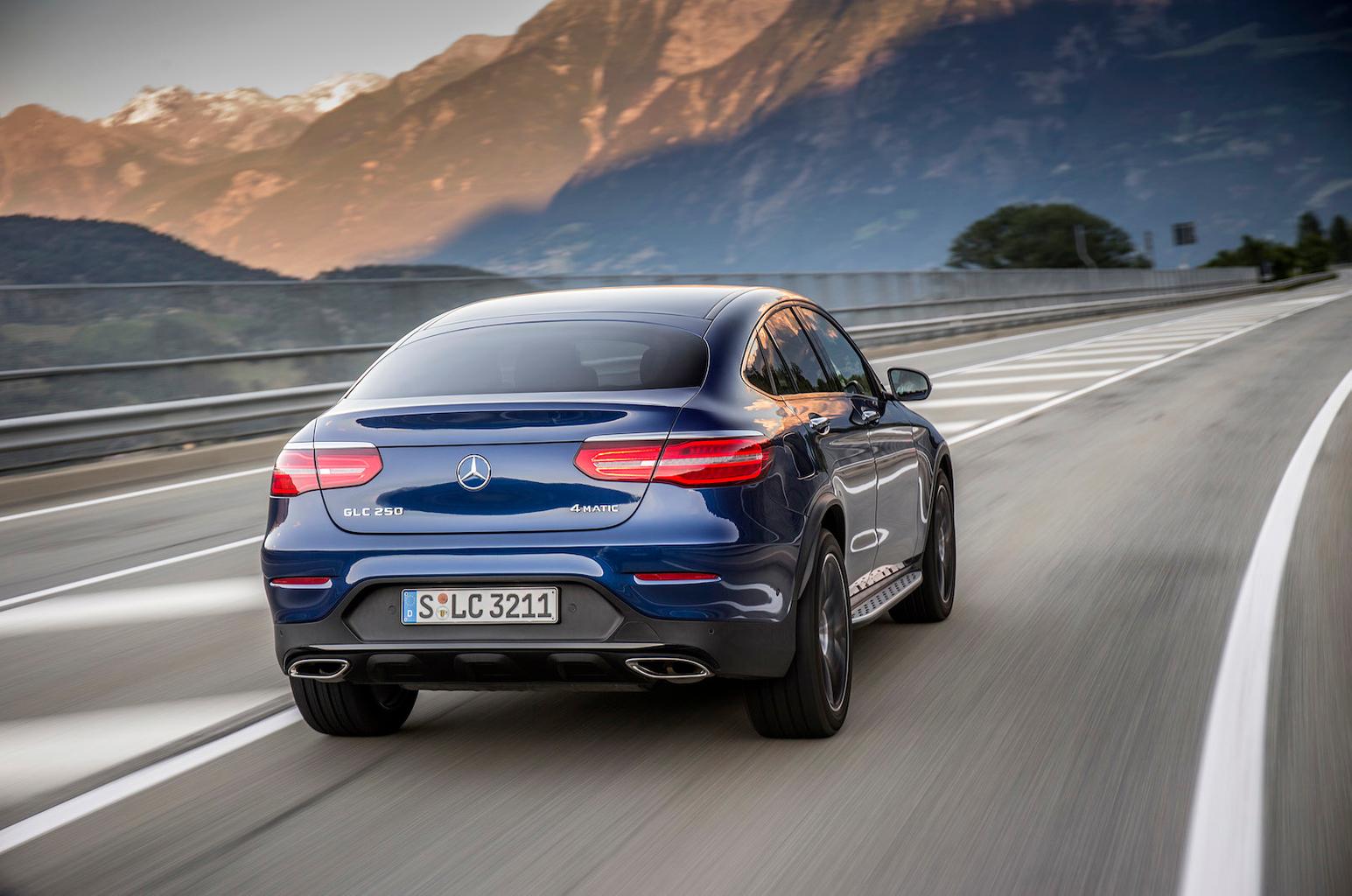 Our car was fitted with a £1395 Premium Plus Equipment package, which features Mercedes' upgraded 8.0in Comand Online infotainment system. It has a bright, clear screen and the menus are easy to navigate, if not quite as intuitive as BMW's rival iDrive system.
The GLC just pips an X4 for interior quality, however; its switches and buttons feeling classier to the touch and is dashboard materials feeling that bit plusher. A Macan still manages to wow that little bit more for perceived quality, but it's a close-run thing.
There shouldn't be much need to attack the options list. Mercedes' smaller-screened Garmin-based sat-nav infotainment system, Bluetooth, manmade leather seats, that reversing camera, climate control, an electronic tailgate and heated front seats are standard on all GLC Coupés.
Should I buy one?
Styling has a lot to do with choosing an SUV, and we'll leave that part up to you. Ultimately, as with BMW's X4 versus its X3, we'd recommend saving some cash and buying Mercedes' still-stylish, well-equipped and more practical GLC first.
Furthermore, those looking for the keenest-handling SUV will be better served by a Porsche Macan. Remember, though, that the Macan comes in quicker but thirstier six-cylinder diesel form only and is stingy with standard equipment.
Alongside a four-cyclinder diesel X4, the GLC Coupé makes more sense. It's cleaner and just as frugal in 250 d form as BMW's xDrive20d X4, offers a similarly generous amount of standard equipment and space, and a suitably premium interior. We're yet to try the Mercedes in the UK on standard suspension, but it makes a comfortable cruiser with air suspension fitted, too – even if the sharper X4 makes you smile more often on the right road.
---
What Car? says...
Rated 4 out of 5
---
For all the latest reviews, advice and new car deals, sign up to the What Car? newsletter here
---
Rivals:
---
Mercedes-Benz GLC 250 d Coupé AMG Line
Engine size 2.1-litre diesel
Price from £43,245
Power 201bhp
Torque 369lb ft
0-62mph 7.6sec
Top speed 138mph
Fuel economy (official combined) 56.5mpg
CO2/BIK band 131g/km/26%