2016 Mini JCW Convertible review
Mini has applied its range-topping John Cooper Works treatment to the recently released Convertible model, and we've had a go on UK roads...
The Mini Convertible has been a huge success, proving so popular that it was actually one of the UK's best-selling open-tops in its previous form. We've recently driven – and been impressed by – Mini's latest three-cylinder Convertible Cooper, but here we drive the fastest and most expensive version, the John Cooper Works.
It gets the same 228bhp 2.0-litre turbocharged petrol engine as the JCW hatchback, together with unique suspension settings, larger ducts for improved engine cooling, and bigger, more powerful Brembo brakes. The JCW Convertible is therefore no slouch – the manual version can crack 0-62mph in 6.6sec and carry on to 150mph.
The JCW is already Mini's range-topping model, but there's a further charge for removing the roof, the result of which is a considerable starting price of £26,630 for the JCW Convertible. The car's closest rivals are Fiat's smaller, cheaper and slower 500 Abarth 595 Convertible, or the cheaper and slightly less powerful DS 3 Cabrio Performance.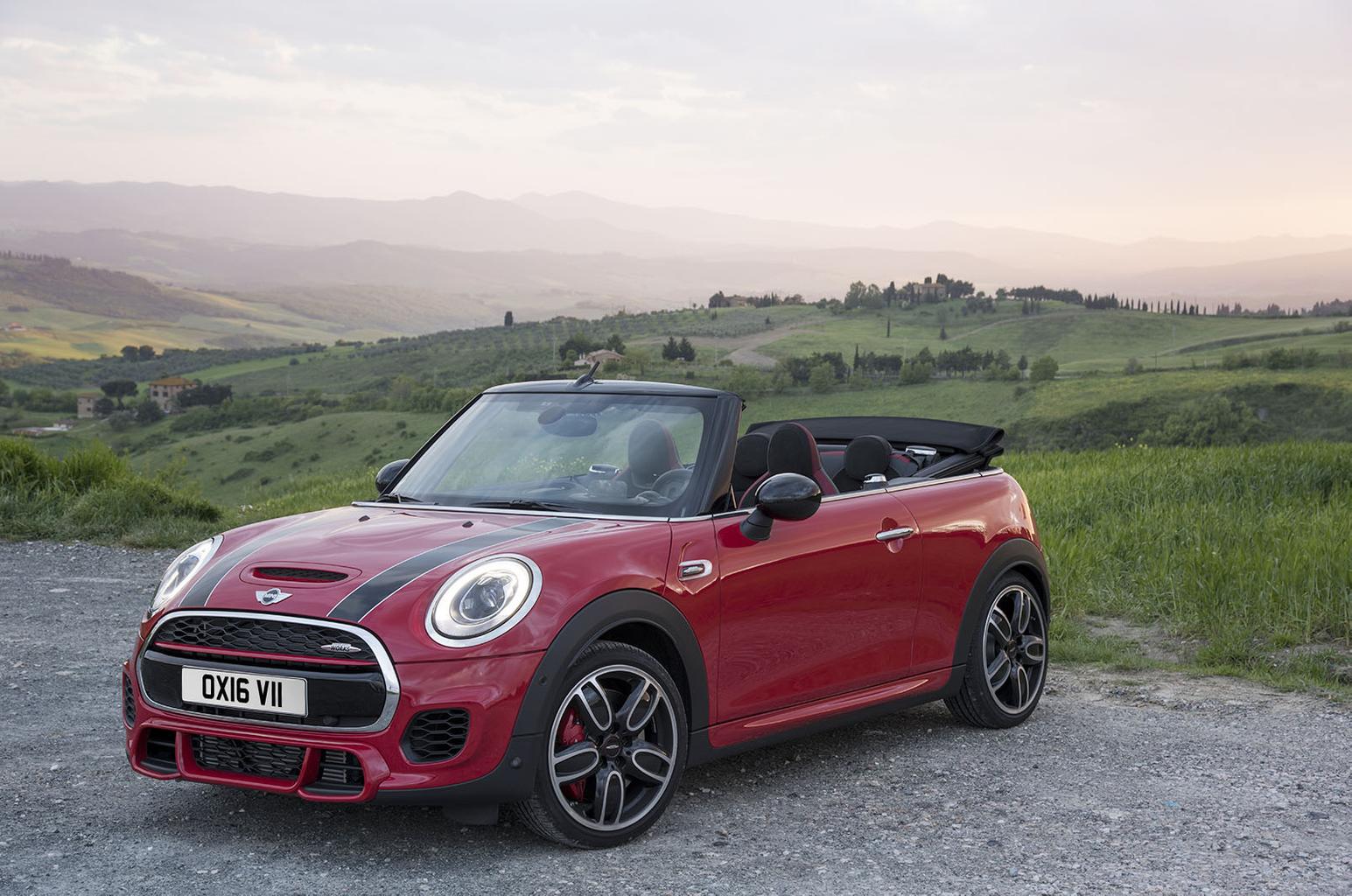 What's the 2016 Mini JCW Convertible like to drive?
Most impressive is the engine, which is a more aggressively tuned version of the 2.0-litre turbo in the Cooper S. The JCW delivers good throttle response and linear acceleration from low down in its rev range, while its model-specific sports exhaust emits a superbly purposeful noise and, at least in the car's Sport driving mode, addictive pops and crackles when you lift off the accelerator pedal.
Sport mode also adds weight to the steering, further improves throttle response and, if you've added the optional £375 adaptive dampers, stiffens up the suspension. The JCW Convertible corners eagerly, its steering proving to be just a tad light when you start to turn the wheel but weighting up quickly thereafter. Together with the tight body control and decent grip, it feels nearly as agile at its stiffer, lighter hard-top stablemate, although its front wheels do push wide sooner through corners if you really start to press on.
The JCW's sports suspension results in a firm ride at all speeds, although it only becomes truly uncomfortable over the very worst surfaces. Some vibrations pass through the cabin without ever becoming irritating for the occupants, while large potholes cause heavy, shuddering thuds. Our car's larger than standard 18in alloys (part of the £2400 Chili pack) with run-flat tyres (a £140 option) probably didn't help matters. Even so, compared with key rivals such as the DS3 Performance, the JCW is actually fairly composed.
Fold down the roof (which takes 18sec and can be done at speeds up to 20mph) and the front two occupants are well protected, especially with Mini's optional £235 wind deflector in place. The JCW's engine quietens down nicely at a cruise, but road noise is always a bigger problem, especially over coarse surfaces.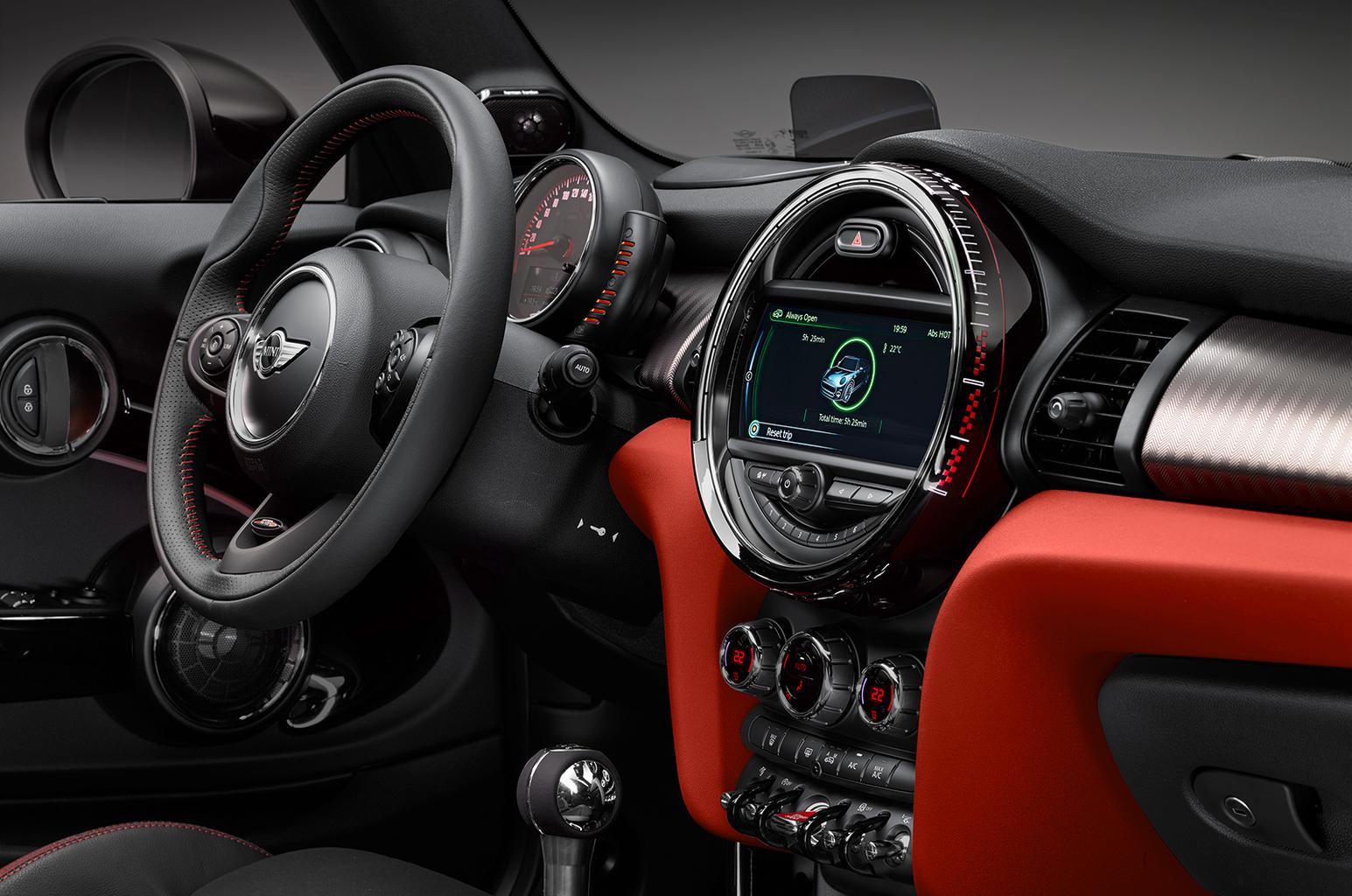 What's the 2016 Mini JCW Convertible like inside?
Much like any other Mini Convertible, although with sportier JCW touches, including red dashboard trims, a sports steering wheel and sports seats. Both the seat and wheel have enough range of movement to allow drivers of most shapes and sizes to get comfortable, although the seats could do with more side support to hold you in place during hard cornering.
While adults in the front will find a good amount of head and leg room, the two rear seats are best left for children or bags, given the restricted leg room on offer. That said, even with the roof up, rear head room isn't as bad as you might expect. Meanwhile, the Convertible's boot accepts 160 litres with the roof down, which is good enough for a couple of soft weekend bags, although the space does grow to 215 litres with the roof raised.
Quality is typical Mini; there's the odd scratchy surface, but on the whole the dash is solid with enough gloss and chrome accents to give an upmarket feel. Our test car's optional £1400 Media XL infotainment system was superb, being both easy to use and packed with features. It's well worth considering over the more basic standard system.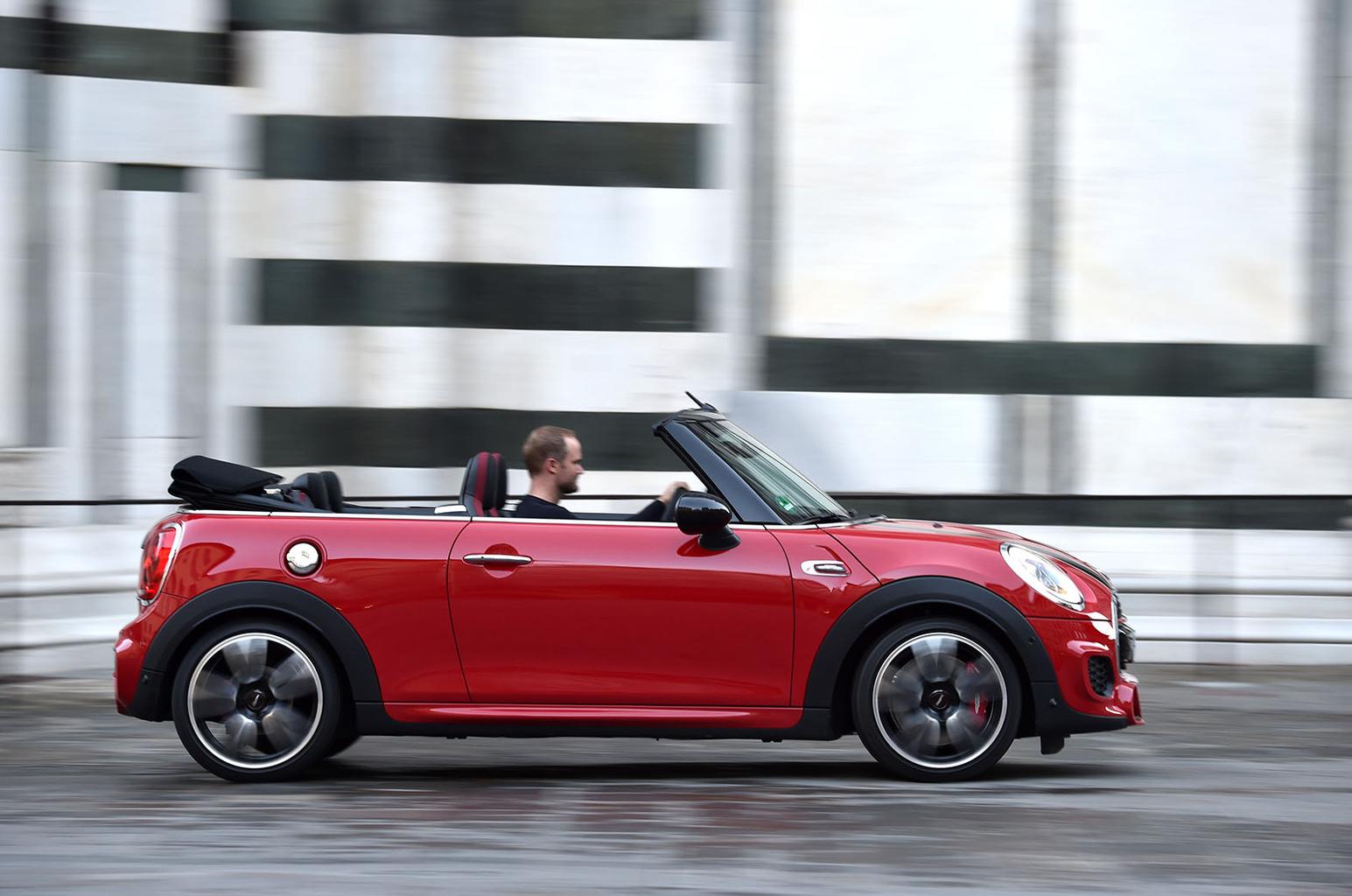 Should I buy one?
Mini's new JCW Convertible is by no means the ultimate driver's car, but those considering a small, fast drop-top probably won't mind that too much. In any case, viewed against an Abarth 595 or DS 3 Cabrio Performance, the JCW is both better to drive and a more convincing convertible, even if it is more expensive.
However, the cheaper Cooper S Convertible fulfils much of what the JCW is trying to deliver but for less money, and even the Cooper - our favourite model - is great fun despite its lesser power output. Sure, they don't sound or look quite as purposeful as the JCW, but both go about their business as an entertaining small convertible very well indeed. The JCW badge will be enough to sway some, but cheaper versions of the Mini Convertible make more sense.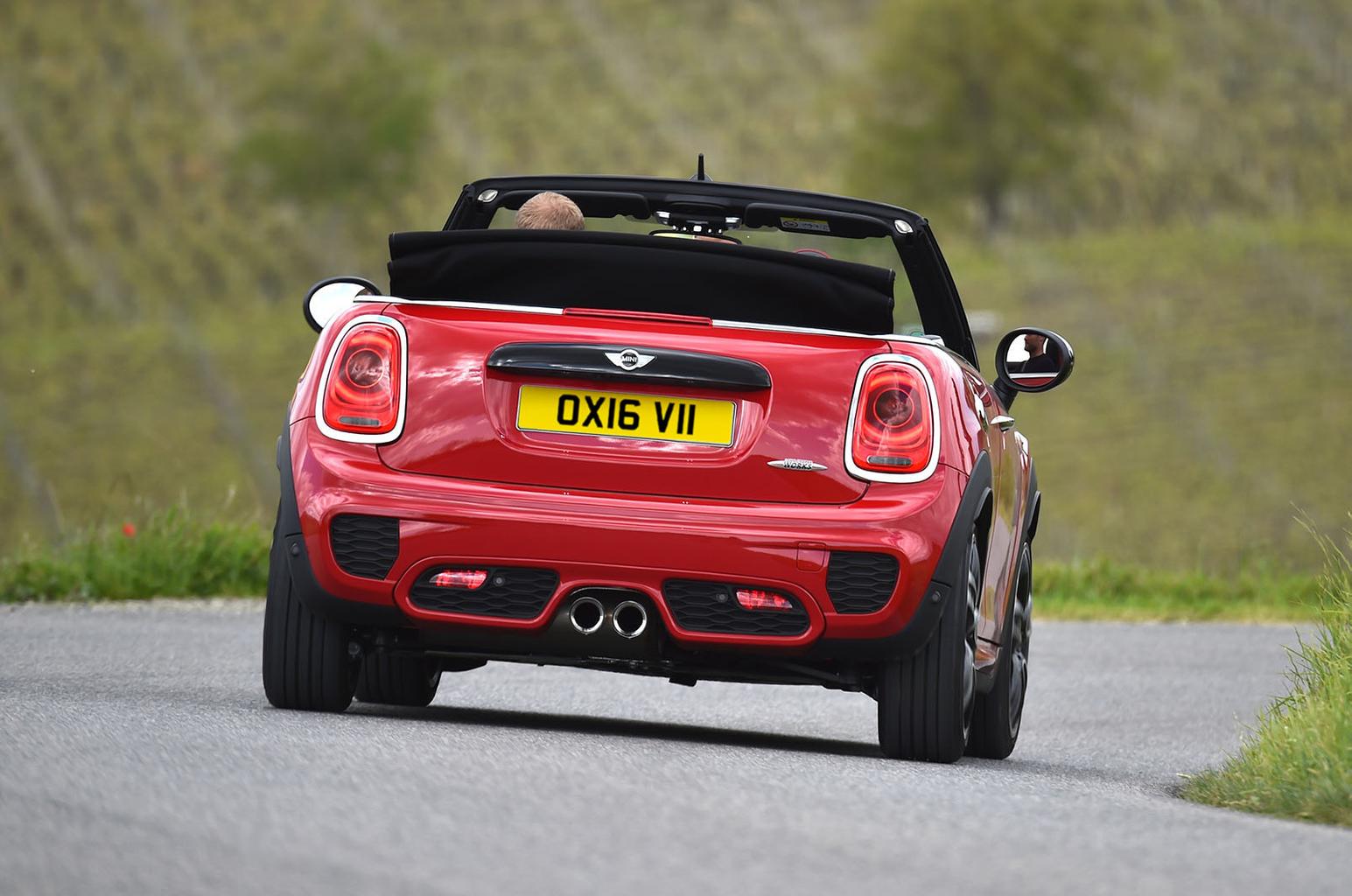 For all the latest reviews, advice and new car deals, sign up to the What Car? newsletter here
What Car? says...
Rated 3 out of 5
---
Rivals
Fiat 500 Abarth 595 Convertible
---
Mini John Cooper Works Convertible manual
Engine size 2.0-litre turbocharged petrol
Price from £26,630
Power 228bhp
Torque 236lb ft
0-62mph 6.6sec
Top speed 150mph
Fuel economy 43.5mpg
CO2 152g/km