2016 Range Rover Evoque Convertible 2.0 TD4 review
Combining open-air motoring with the go-anywhere ability of a 4x4 might sound odd, but the Range Rover Evoque Convertible has a certain appeal...
The convertible has long been popular in the UK, despite our often-changeable weather conditions. And the Range Rover Evoque Convertible could be the drop-top of choice for those who want to cope with sun, snow and all points in between.
Using the regular three-door Evoque as a starting point, Land Rover reinforces the chassis to keep it from flexing like a rabbit's ear, adds an electrically folding soft-top and then bumps the price up. Thanks in part to it coming only in high-spec HSE or HSE Lux trim, it costs from £47,500.
Two engines are available: a 236bhp 2.0-litre petrol that offers reasonably brisk performance but fuel economy that could be terrifying, or the 178bhp version of Land Rover's 2.0-litre diesel. While it's slower, it should prove the more popular choice by far in this country.
What's the 2016 Range Rover Evoque Convertible 2.0 TD4 like to drive?
We're sure most Range Rover Evoque Convertibles will spend their entire lives on the road, but Land Rover has made sure that its new drop-top is just as capable off-road as the hard-topped variant. To cope with the kind of abuse that this could entail, it has added several hundred kilos of reinforcement to the Evoque's underbelly.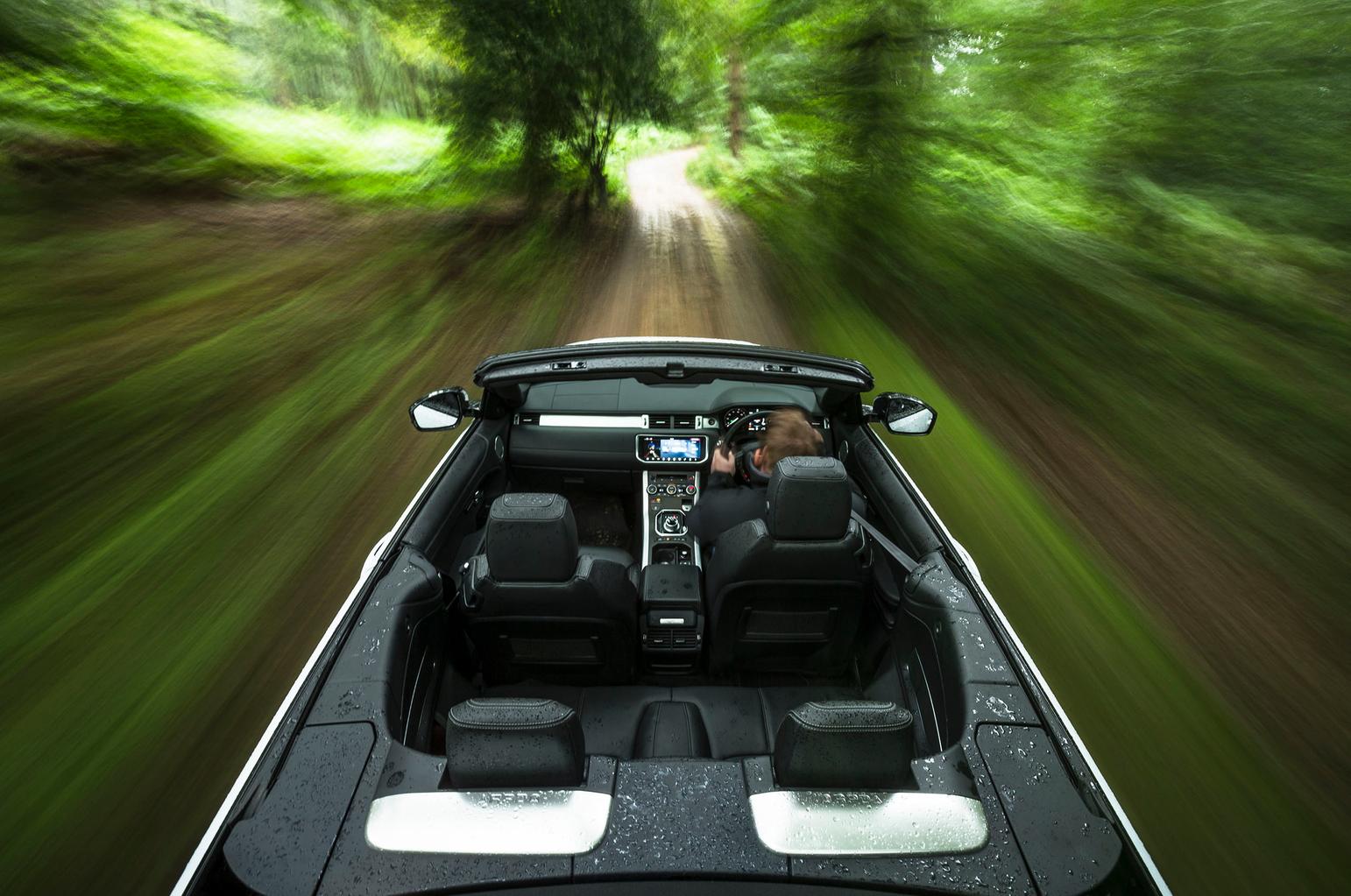 The good news is that the Evoque feels solid, with very little of the flex and shake that some convertibles suffer from. Yes, there is still the odd shimmy on very rough surfaces, but it's better than many rivals out there. Unfortunately, there is a price to pay.
With the additional bracing underneath, the Evoque Convertible weighs in at very nearly two tonnes before you've even put a driver behind the wheel. Naturally that blunts both performance and handling. We recorded a 0-60mph time of around 10.5sec, so it isn't outright slow, but it is pedestrian enough to require plenty of planning when overtaking on a single carriageway.
Likewise, you can feel the additional weight when cornering quickly, and especially when braking hard. Stamp on the middle pedal and the nose dives noticeably, although to be fair it still scrubs off speed pretty effectively in the process. In the bends, meanwhile, you notice plenty of body lean, and the Evoque Convertible doesn't feel overly keen to change direction quickly; a BMW 4 Series Convertible (below) is far more agile.
Even so, the ride is quite firm at low speeds, thanks in part to the optional 20in wheels of our test car. It's also not helped by the fact you sit so high, amplifying any movements and leading to your head being jostled around, which can be off-putting.
As you pick up the pace the ride smooths out but is never totally settled. We also found the automatic gearbox to be a bit slow-witted, leading to a slight delay when accelerating from a standstill. Once rolling it shifts smoothly, though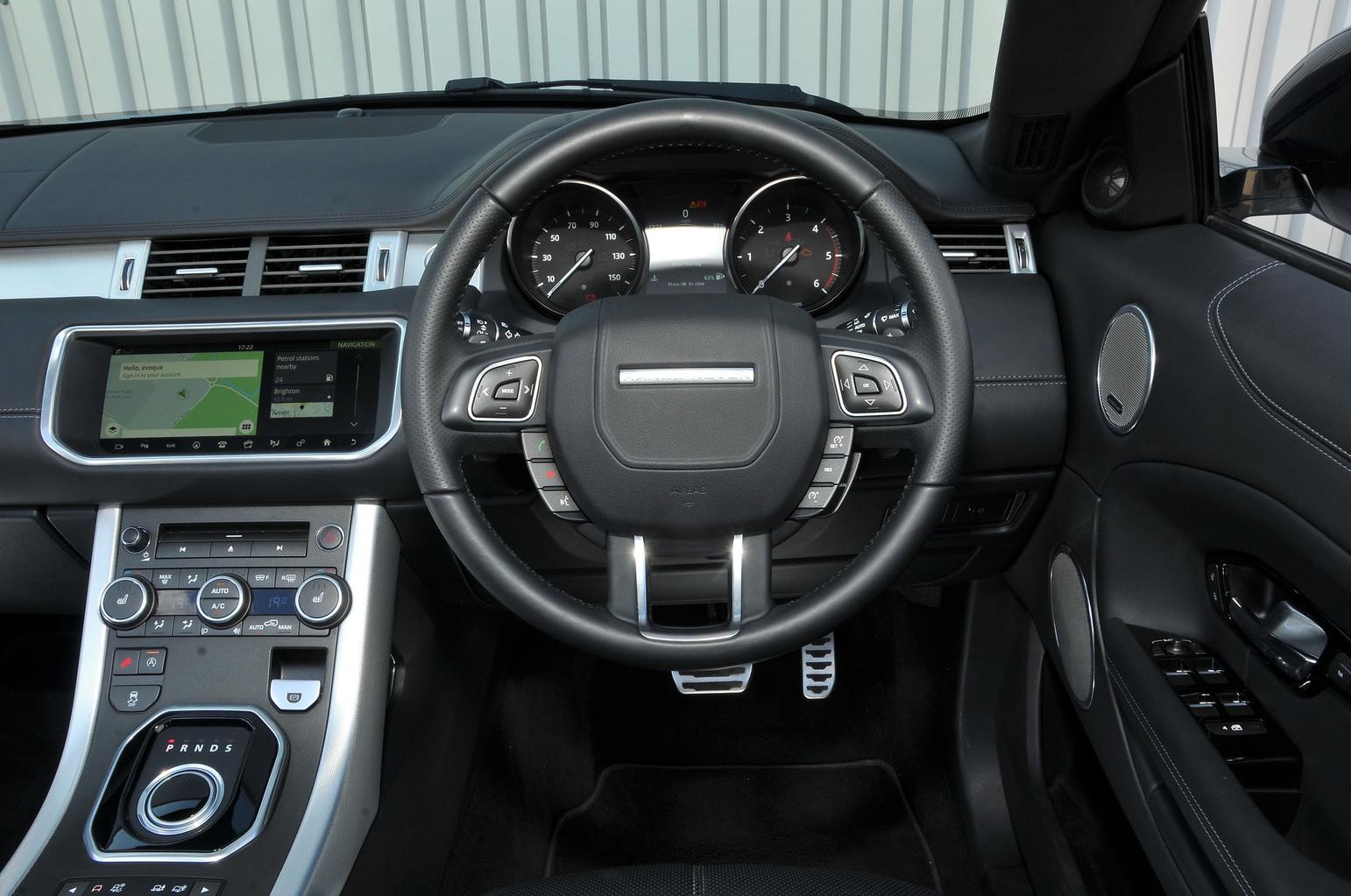 What's the 2016 Range Rover Evoque Convertible 2.0 TD4 like inside?
Plush HSE trim is the lowliest version of the Evoque Convertible you can buy, so the interior is nicely finished and has plenty of equipment. Leather seats come as standard and there's plenty of leather-effect material covering the dash and doors. Overall, it's an attractive place to sit and feels well screwed together.
You also get the latest version of Incontrol Touch Pro, Land Rover's touchscreen infotainment system that offers a wide display with clear icons. It's easy enough to navigate through the menus, but there's no Apple CarPlay or Android Auto compatibility for your smartphone. Instead, you have to download an app to hook one up, and while this works okay, it can be sluggish at times.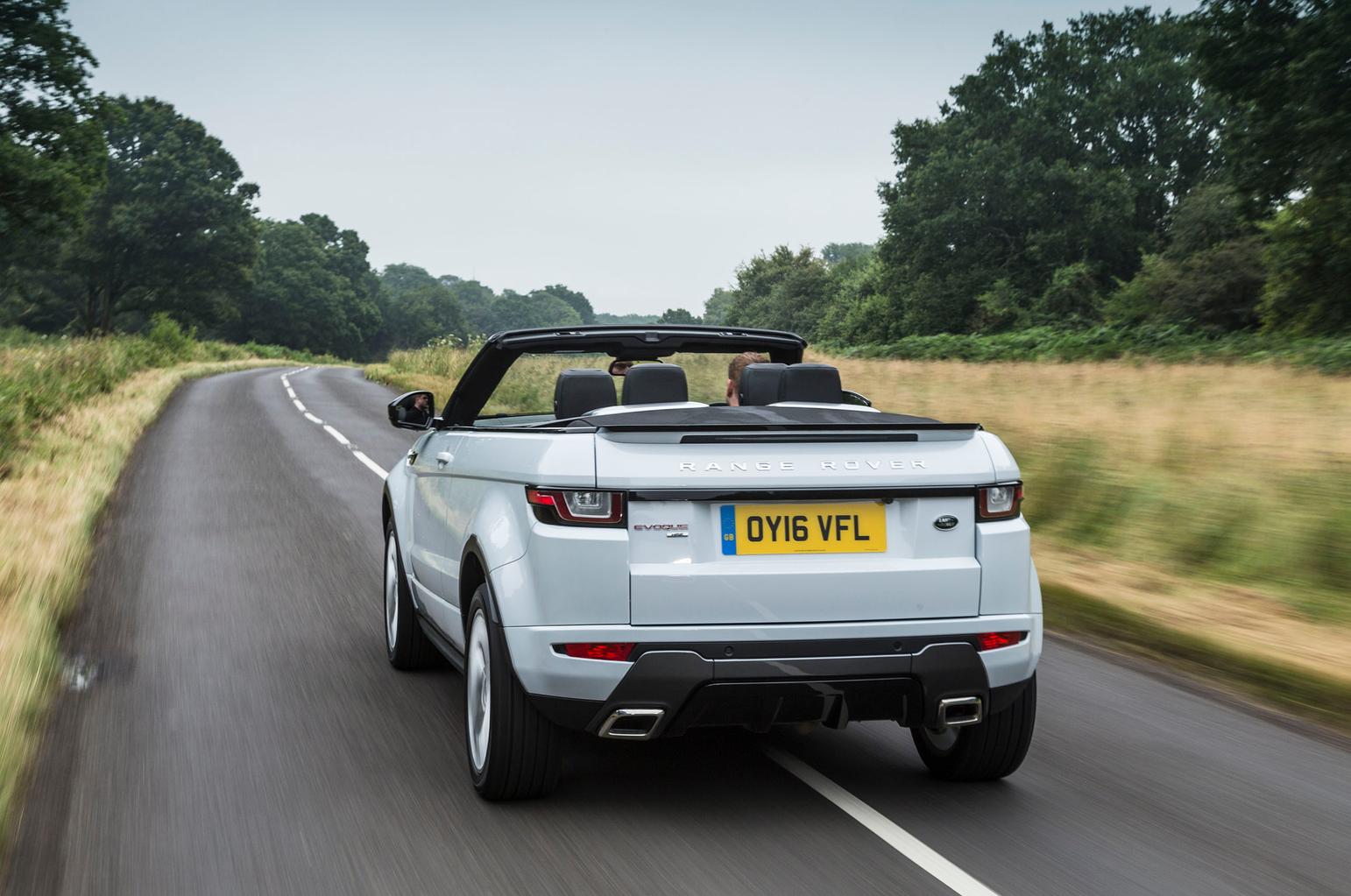 Moving to the rear, leg room is pretty good by four-seat convertible standards. Fitting the flimsy optional wind deflector blocks off the rear seats, but it does noticeably reduce buffeting when the roof is down.
The hood can be opened or closed at up to 30mph, and with it up, it does a good job of isolating you from the elements. It limits rear head room, though.
As for boot space, it's significantly less than most hatchbacks and won't take a set of golf clubs, for example. Access is pretty tight through the small aperture, too.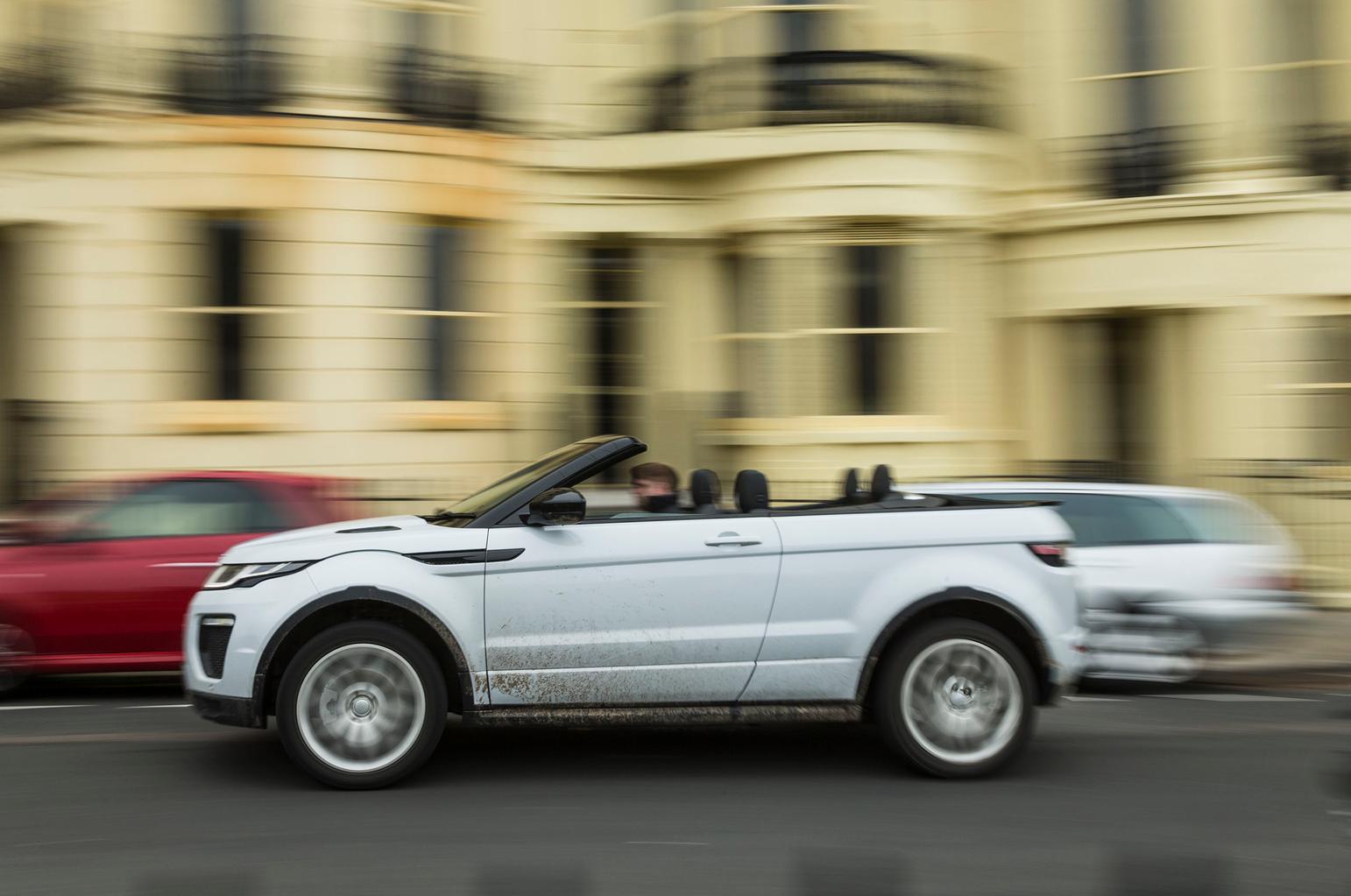 Should I buy one?
At £47,500, the Range Rover Evoque Convertible is certainly one of the more expensive mainstream cabriolets out there. While Land Rover in part makes up for this by adding plenty of equipment, the Evoque's performance is some way down on similarly priced rivals, and it doesn't handle as keenly, either.
Does this matter? We suspect it won't to prospective buyers. Expensive it might be, but the Evoque Convertible turns heads like few other cars, offers a great view of the passing scenery and is rather likeable, despite its flaws. We'd still suggest a BMW 4 Series Convertible or Mercedes C-Class Convertible over it, but if you just like the concept of a stylish SUV drop-top, you'll be happy enough.
Read the full Range Rover Evoque review
---
What Car? says...
Rated 3 out of 5
---
For all the latest reviews, advice and new car deals, sign up to the What Car? newsletter here
---
Rivals:
---
2016 Range Rover Evoque Convertible 2.0 TD4
Engine size 2.0-litre, diesel
Price from £47,500
Power 178bhp
Torque 317lb ft
0-60mph 9.7sec
Top speed 121mph
Fuel economy (official combined) 49.6mpg
CO2/BIK band 149g/km/29%