2016 Suzuki SX4 S-Cross 1.0 Boosterjet review
A comprehensive mid-life facelift promises to keep the S-Cross relevant in the fiercely competitive small SUV market. We try the 1.0-litre Boosterjet petrol on the demanding roads of North Wales...
With its indistinct looks, drab interior and range of rather lacklustre engines, the Suzuki SX4 S-Cross never lived up to its promise of being Suzuki's answer to the Nissan Qashqai. It didn't help either that the Vitara, introduced last year, was, and still is, an altogether more engaging and characterful product.
However, with the crossover and SUV market growing rapidly year-on-year, Suzuki feels that there is still enough space in its line-up for the more grown up and practical S-Cross. But you have to ask, how does a manufacturer re-market a car that was never popular in the first place?
Well, according to Suzuki, one reason for the S-Cross's lacklustre sales was its styling. Put simply, it didn't look like an SUV. So, to ensure the 2016 model is seen as a serious Nissan Qashqai and Seat Ateca rival, the design team has dedicated most of their time to giving the car a more distinctive front end. A clamshell bonnet, steep nose, aggressive air intake and newly designed headlamps give the Suzuki a somewhat predictable small SUV look, and added ground clearance (by 15mm) gives an air of off-road capability.
However, an aesthetic update is not necessarily enough to keep a three-year-old design competitive in this increasingly saturated market. As a result, Suzuki, has ditched its naturally aspirated 1.6 petrol engine for two smaller capacity Boosterjet engines – namely the turbocharged 1.0-litre and 1.4-litre motors seen previously in the Baleno and Vitara S.
We've experienced Suzuki's 1.0-litre unit in the lightweight Baleno, and in that application we were impressed with its refinement, frugality and flexibility. However, you have to wonder if it's good enough to power a car that weighs 210kg more.
We head to the demanding roads of North Wales to find out.
What's the 2016 Suzuki SX4 S-Cross 1.0 Boosterjet like to drive?
Let's start with the engine, which for a 109bhp 1.0-litre triple feels more powerful than the numbers suggest. It's happy to pull from below 2000rpm and continues to do so until it runs out of puff around 5500rpm. It's a flexible unit, and one that feels more usable in typical day-to-day driving environments than the naturally aspirated 1.6-litre engine it replaces.
However, where it can't quite beat the old engine is on noise and vibration. At low speeds and under load, the three-cylinder motor sounds gruff and sends a small, but noticeable, buzz through the steering wheel and pedals. It's not a deal-breaker by any means, but it's simply not as refined as Volkswagen's or Citroën's 1.0-litre units.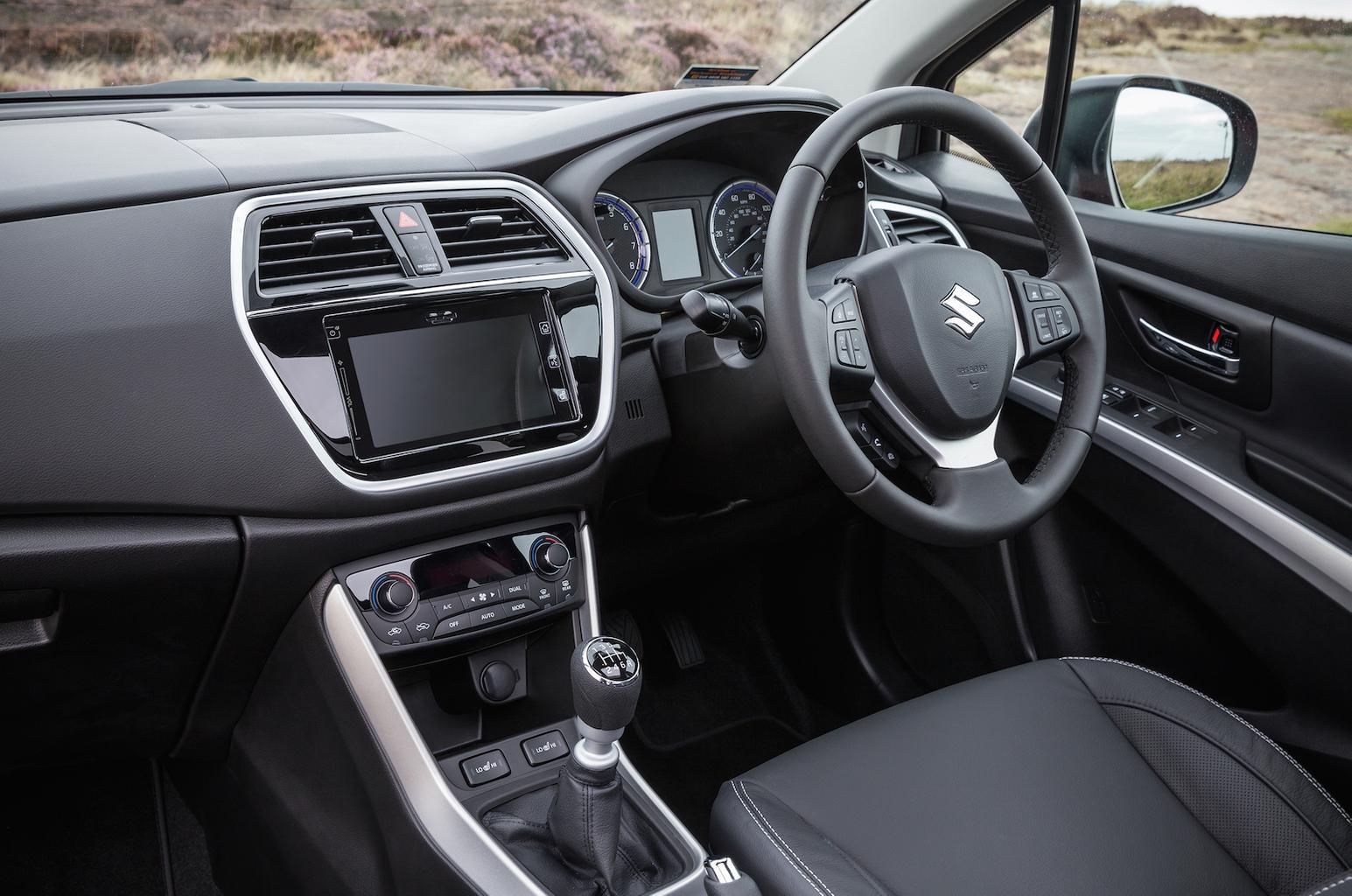 Once on the move, the engine smoothes out and settles down into an almost imperceptible three-cylinder thrum. Around town its hushed tones make it a far more relaxing drive than the rather agricultural 1.6-litre diesel we tested previously. Go a bit faster and there's some slight wind noise around the door mirrors, but road noise is surprisingly well contained.
Mechanically, aside from the added ride height and revised suspension settings, the latest S-Cross's chassis remains virtually identical to the model it replaces. However, this is no bad thing, as the Suzuki's dynamic abilities have always been relatively commendable. On the demanding country roads of our test route, the S-Cross impressed with its direct steering, impressive body control and minimal body roll.
However, like the 2015 model, the S-Cross is let down somewhat by its low-speed ride quality. The revised suspension has certainly improved the car's ride in some areas - large compressions are handled with aplomb - but around town the S-Cross still feels a little too fidgety and harsh. For day-to-day comfort, the Qashqai still has the edge.
What's the 2016 Suzuki SX4 S-Cross 1.0 Boosterjet like inside?
The cabin remains relatively unchanged from last year's model. Minor updates include a piano black finish for the centre panel that surrounds the infotainment unit, a new soft-touch dashboard pad and newly designed seat fabric for SZ4 and SZ-T models. The changes help lift what is already a rather attractive interior, but as we found with the previous generation car, the quality of the materials could be better.
That said, for such a reasonable price, everything feels well screwed together and the switches are largely well damped. Generous levels of standard equipment should also help buyers forgive Suzuki for the odd smattering of hard-touch plastics.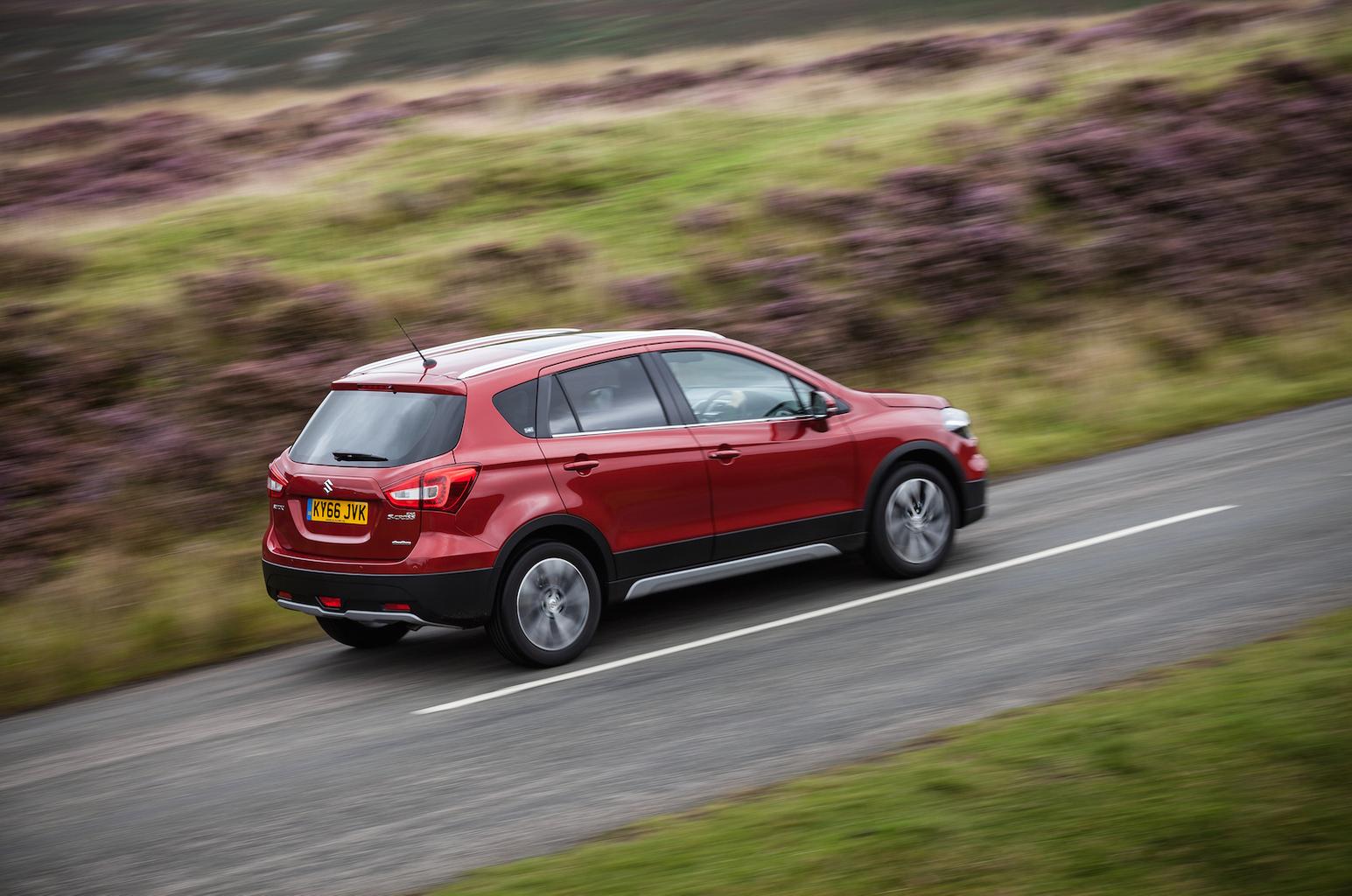 Ergonomically, the Suzuki is also a mixed bag. Forward visibility is good, the driving position is high and commanding and there's plenty of space for tall adults. However, rear head room is compromised due to the design of the C-pillars and sloping roofline, as is rearward visibility.
Boot space is more positive, with a loading area larger than that of a Skoda Yeti's and on a par with Nissan's Qashqai. The rear seats also split in a 60/40 configuration and fold almost flat to open the space out to 875 litres (from 440). It's a practical opening, too; it's nice and square with only a small lip to lift bags over.
Should I buy one?
If you are looking for a practical and dynamically capable small SUV that's packed with standard kit, then the S-Cross is a cost-effective alternative to the Nissan Qashqai or Seat Ateca.
Starting at just £14,999 for the 1.0 Boosterjet SZ4, the Suzuki is a lot of car for the money. It's predicted that most buyers will go for the significantly more expensive £19,499 SZ-T, though, which comes with extras like automatic air conditioning, a parking camera and satellite navigation.
However, despite its 'major facelift', the S-Cross still isn't up there with the best in class. The overall interior quality is lacking, low speed ride is improved but remains distinctly average and the lack of rear head room is a real limitation for families. Ultimately, the similarly priced Skoda Yeti is a more refined package, and the Qashqai is a better all-rounder.
By Neil Winn
---
What Car? says...
Rated 3 out of 5
---
For all the latest reviews, advice and new car deals, sign up to the What Car? newsletter here
---
Rivals:
---
Suzuki SX4 S-Cross 1.0 Boosterjet SZ-T
Engine size 1.0-litre petrol
Price from £19,499
Power 109bhp
Torque 125lb ft
0-62mph 11.0sec
Top speed 112mph
Fuel economy (official combined) 56.4mpg
CO2/BIK band 113g/km, 19%