2016 Tesla Model X review
The Tesla Model X is designed to tempt people out of their Range Rovers and into something cleaner and faster. Is this electric SUV worth considering?...
Even if you're not particularly interested in cars, there's a good chance you will have heard of Tesla. Its electric luxury saloon, the Model S, is becoming an increasingly common sight on the roads thanks to its long range, low running costs and impressive performance.
Now the American company is branching into another area of the market with the Tesla Model X. This is a large SUV that promises to add a high driving position and increased practicality to the strong performance and zero emissions of the Model S. Considering the popularity of SUVs, it seems like a good move by Tesla.
The Model X isn't just a raised Model S, though. While the basic platform with the battery pack and motors is shared, Tesla has tried to innovate to make everyday life easier. You get 'falcon wing' rear doors that open upwards to allow easy entry in tight spaces, along with clever rear seats and the option of Tesla's Autopilot system, which makes the Model X semi-autonomous.
The Model X is something of a niche; it has no direct pure electric large SUV rivals. However, it will need to appear a convincing prospect to people who would otherwise be buying an Audi Q7 or Range Rover Sport, especially considering the entry-level 75D costs £74,480. Opt for the P90D we're testing, and this increases to £100,180.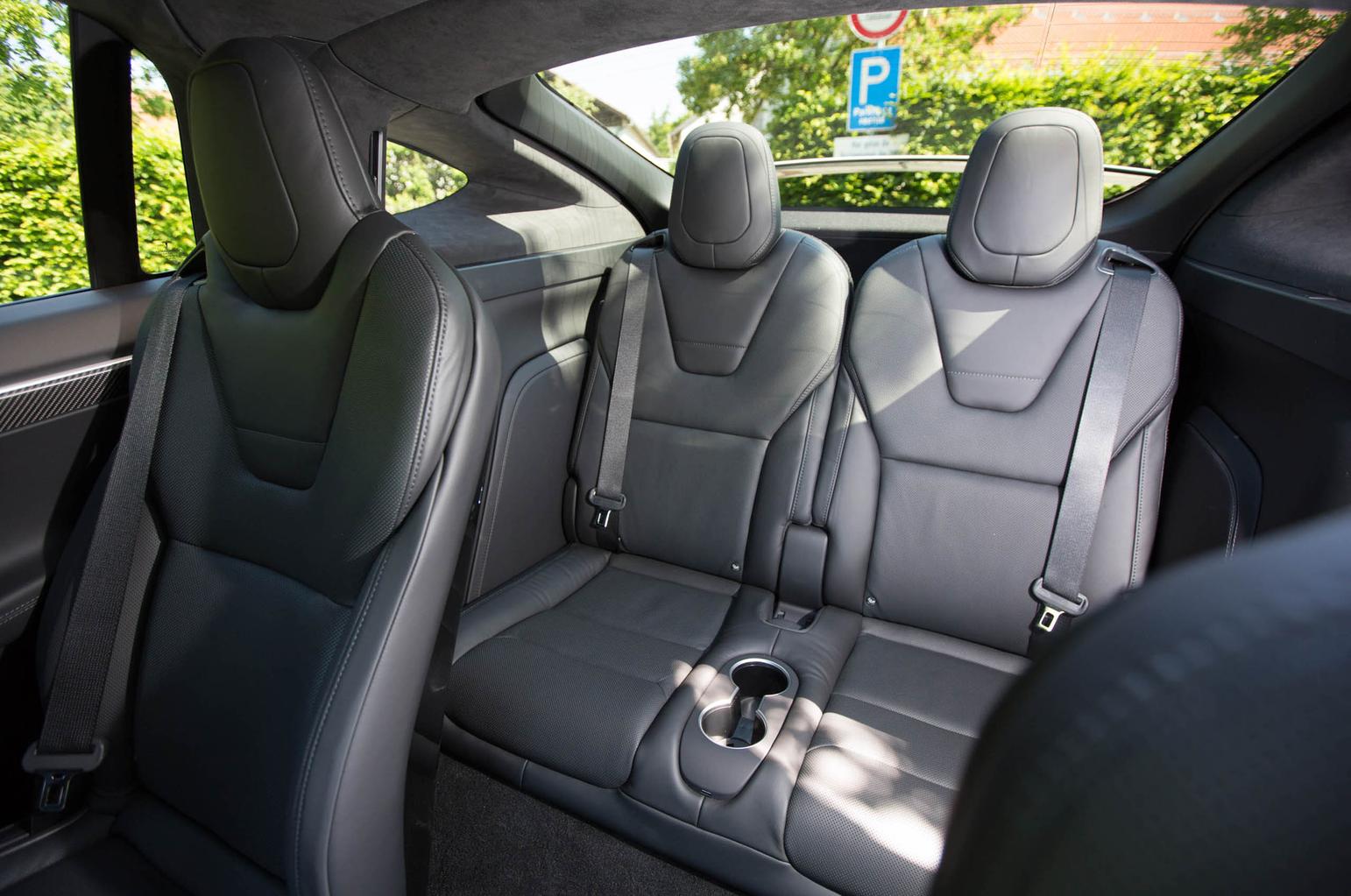 What is the 2016 Tesla Model X like to drive?
Like all electric vehicles, the Tesla Model X is simple to drive. To set off, all you do is select Drive and squeeze the accelerator like a traditional automatic. What's more, there's one gear, which makes it incredibly smooth. Drive sensibly, and Tesla believes a range of 290 miles is possible, although realistically it'll be closer to 250.
Not only does the Model X pick up speed smoothly, it can do so at a shockingly rapid rate. Even though our test car didn't have Tesla's 'Ludicrous Speed' upgrade, it was still capable of pinning four adults to their seats as it catapulted down the road. If you need to go faster, you're probably a bit unhinged.
Slowing down takes a little more getting used to; the strong regenerative braking that helps charge the battery causes the car to decelerate quickly as soon as you lift off the accelerator. You soon adapt and start using the brake pedal less, though.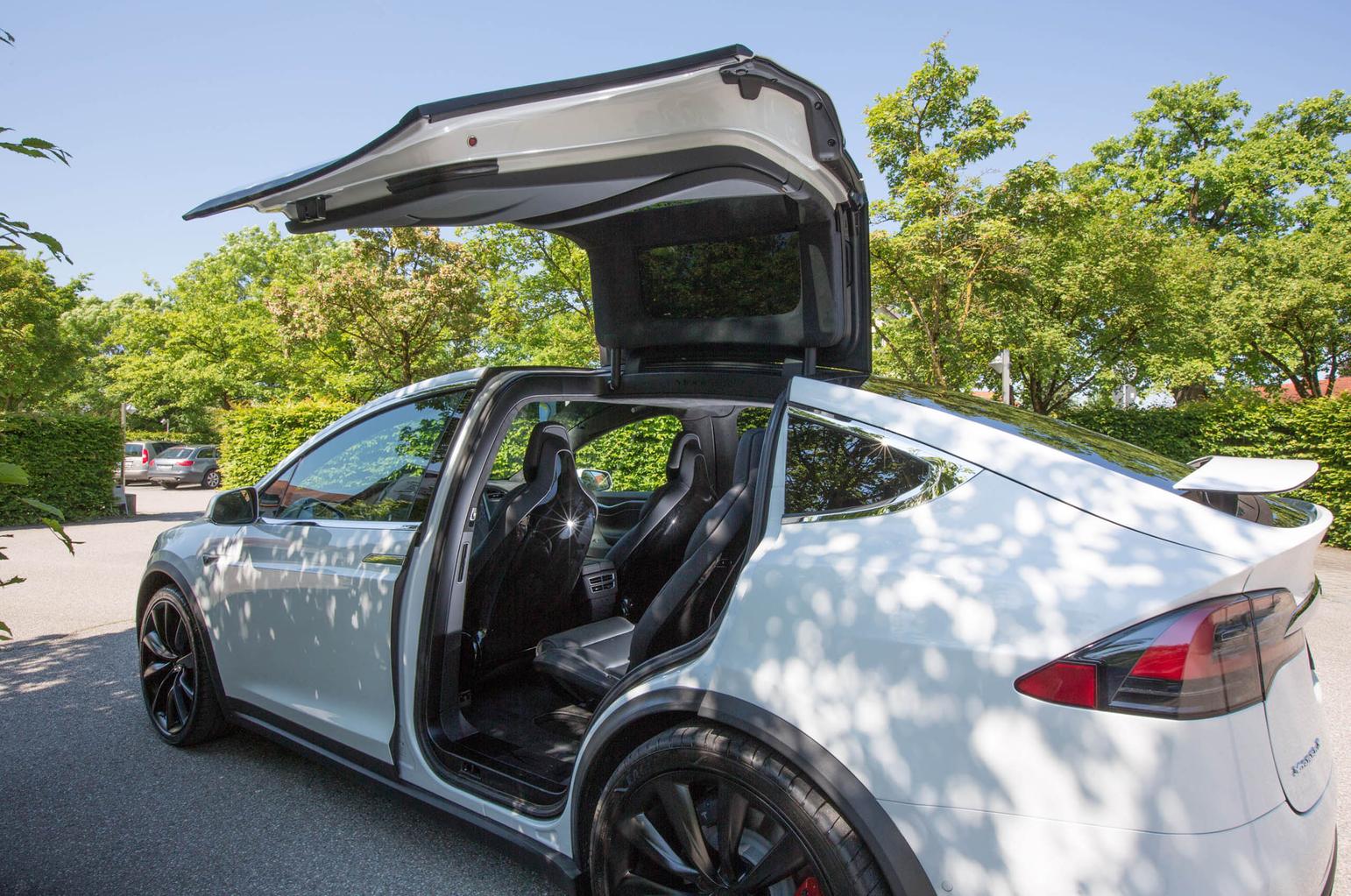 While you might expect a tall SUV to pitch and roll, the Tesla's low-mounted battery pack and and – our car's optional air suspension – make for cornering that is pleasingly flat and sports car-like. However, this control does come at the expense of ride comfort; you know when you've hit a rough surface, eve though the Model X never crashes or bangs.
It might corner flatly and be capable of crossing ground very quickly, but you wouldn't say the Model X was outright involving or engaging to drive. The steering is precise, but doesn't feed back a great deal of information on what the front tyres are doing. Ultimately, the handling is more secure than exciting.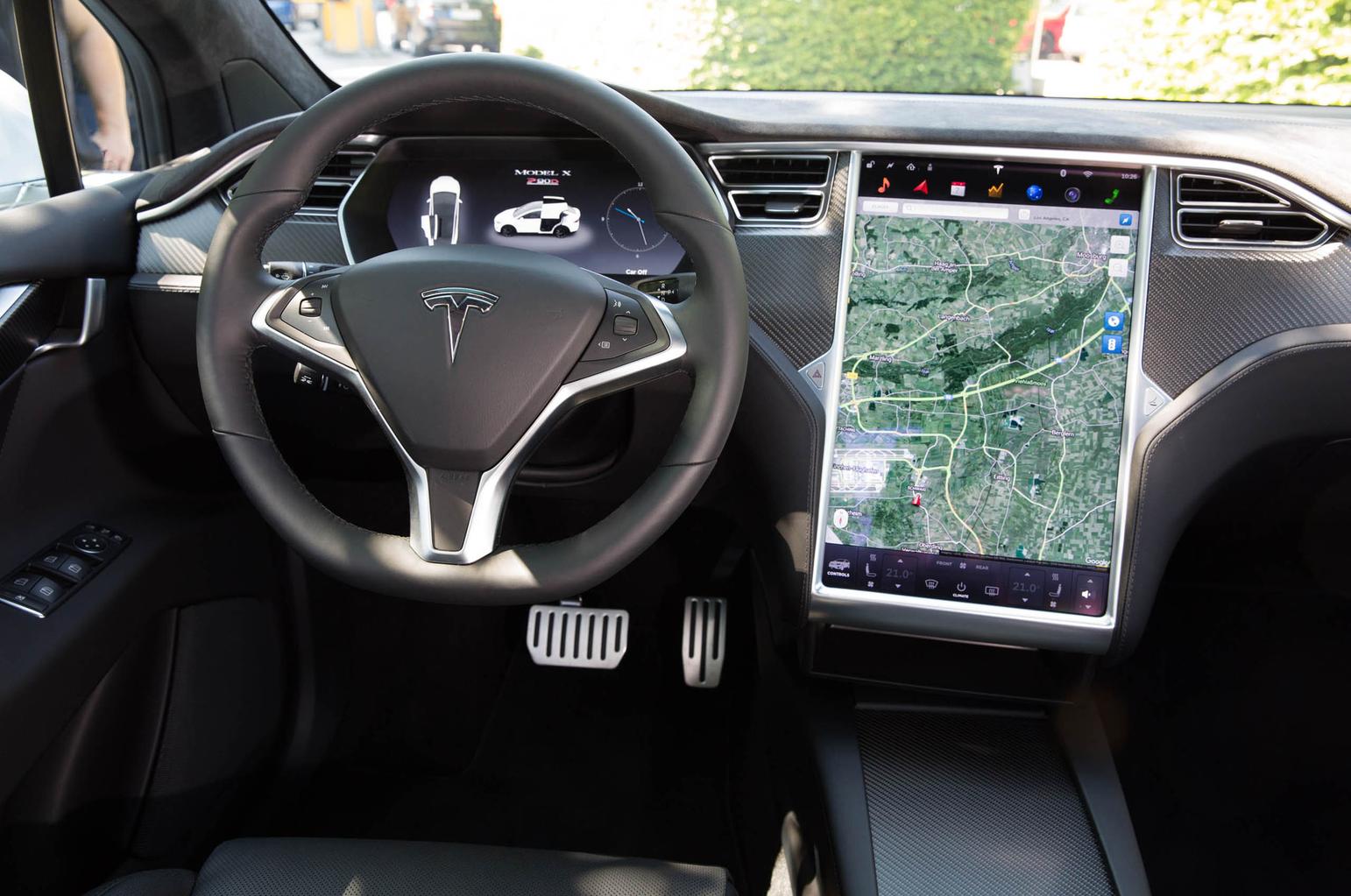 What is the 2016 Tesla Model X like inside?
You can opt for five, six or seven seats in your Model X. While the five-seater offers the most boot space, a three-row layout is likely to be the most popular option for the extra practicality it brings. All the seats are comfortable and mounted individually, with the front and middle row adjusting electrically.
The rearmost seats are unlocked from their initial position with a discreet button, but they need to be manually pushed into the floor or pulled back out, whereas a Range Rover Sport's are electric. While adults will fit into the very rear, leg room is tight and taller individuals may find their head brushes the rear window.
More positively, getting into the back is easy thanks to those falcon wing doors. They reveal a big opening with a cutout in the roof to avoid you banging your head when strapping in a child. They need only 11in of space to operate thanks to clever hinges, too. Our only complaint is that they can be slow to open and close.
Luggage space is acceptable with all three seat rows in place, thanks in part to a second boot under the bonnet. With the back two seats folded, there's plenty of room for a couple of large suitcases, although the sloping tailgate means tall, squarer items may not fit. At least there's not much of a load-lip with the two-level boot floor in its highest position.
The dashboard is dominated by a responsive 17.0in touchscreen that controls almost every function of the Model X, including the climate control, suspension, stereo and sat-nav. With only two physical buttons on the dashboard, you're left with a stylishly minimalist design.
This touchscreen is paired with another digital display that replaces the instruments in front of the driver. Despite offering lots of information, it's easy to read, with impressively sharp graphics.
Sadly, this attention to detail doesn't spread to the whole interior. While the material quality feels good for the most part – even in areas you'd never normally touch – the centre console is disappointingly flexible in places and there are noticeable gaps around the lids of cubbyholes.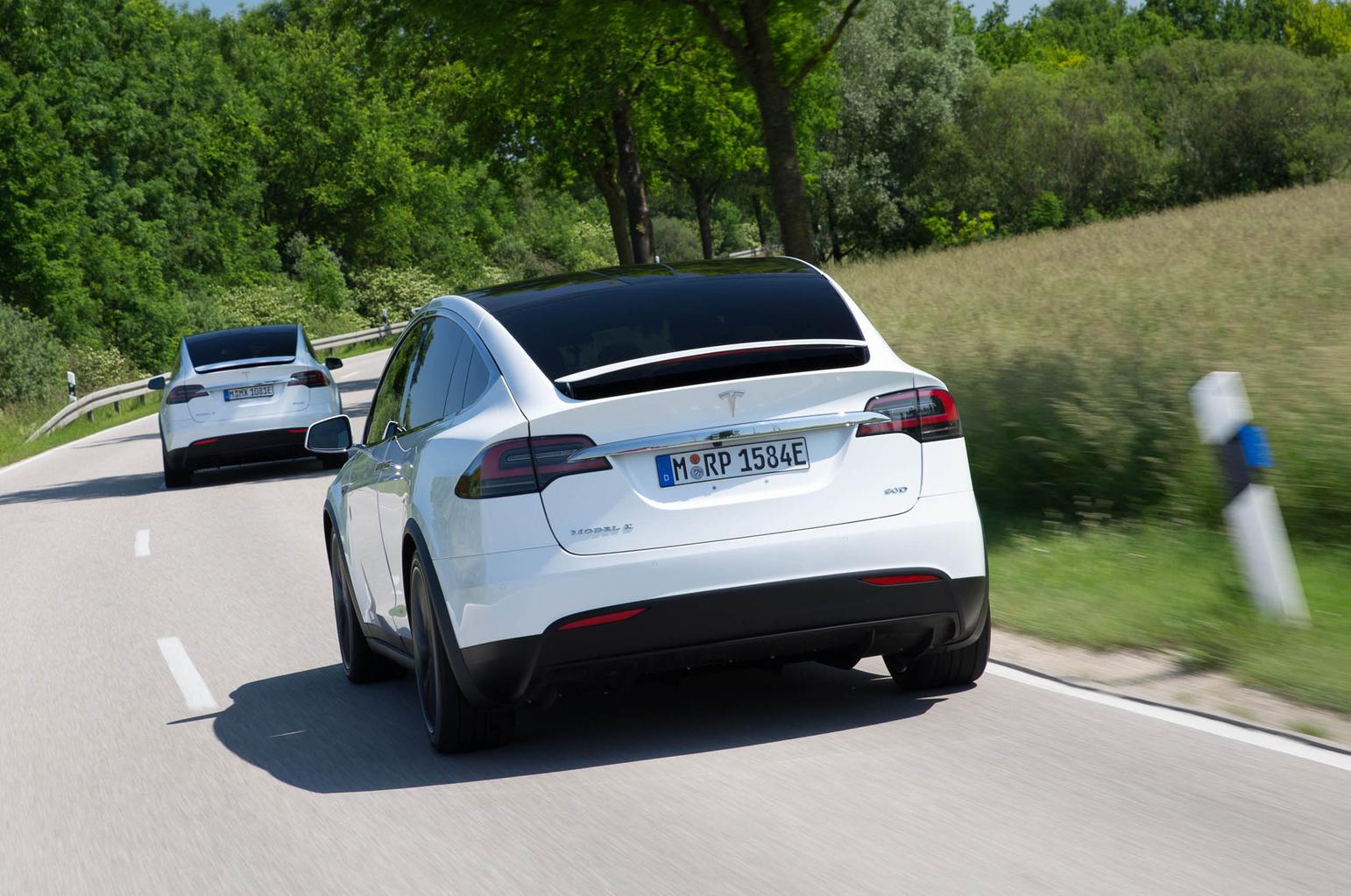 Should I buy one?
If you're in the market for a premium SUV, we would certainly recommend investigating the Model X. An electric car remains too big a compromise for the majority, but the UK's ever expanding charging infrastructure means they're an ever more convincing prospect.
The Model X's impressive range makes it one of the easiest to justify, too, while its low running costs, impressive performance and practicality all appeal.
However, we have our reservations on ride quality and its poorly finished centre console stands out in a class that enjoys some of the best interior quality on sale anywhere. For those reasons, an Audi Q7 or Range Rover Sport remain our preferred choices in this class.
---
What Car? says...
Rated 4 out of 5
---
For all the latest reviews, advice and new car deals, sign up to the What Car? newsletter here
---
Rivals:
---
Tesla Model X P90D
Engine size Lithium Ion battery pack, two electric motors
Price from £100,180
Power 464bhp
Torque 612lb ft
0-62mph 3.8sec
Top speed 155mph (limited)
Range (official) 290 miles
CO2/BIK band 0g/km/7%