2017 Audi A5 Sportback review
We try the all-new Audi A5 Sportback in range-topping V6 diesel form. Has it got what it takes to worry the BMW 4 Series Gran Coupé?...
When the left-field Mercedes CLS broke cover back in 2004, its maker boldly claimed that it had created a new market sector. Now, 12 years on, it's clear that it was on to something, with almost every German manufacturer offering its own take on the four-door coupé formula. Among them is this, the new, second-generation Audi A5 Sportback that not only has the pricier Mercedes CLS in its sights but also the BMW 4 Series Gran Coupé and Volkswagen Passat CC.
Offering a pair of extra doors and a more practical hatchback-style tailgate over the latest A5 Coupe, the outgoing A5 Sportback has been a real hit with buyers. Perhaps it's no surprise, then, that, stylistically at least, this new car is an evolution of its predecessor, with a few improvements in key areas.
Underneath is where things have really changed. The new A5 Sportback is based on Audi's latest MLB platform, so the car is now longer, wider and lower – changes that Audi promises bring more rear head and leg room as well as more boot space.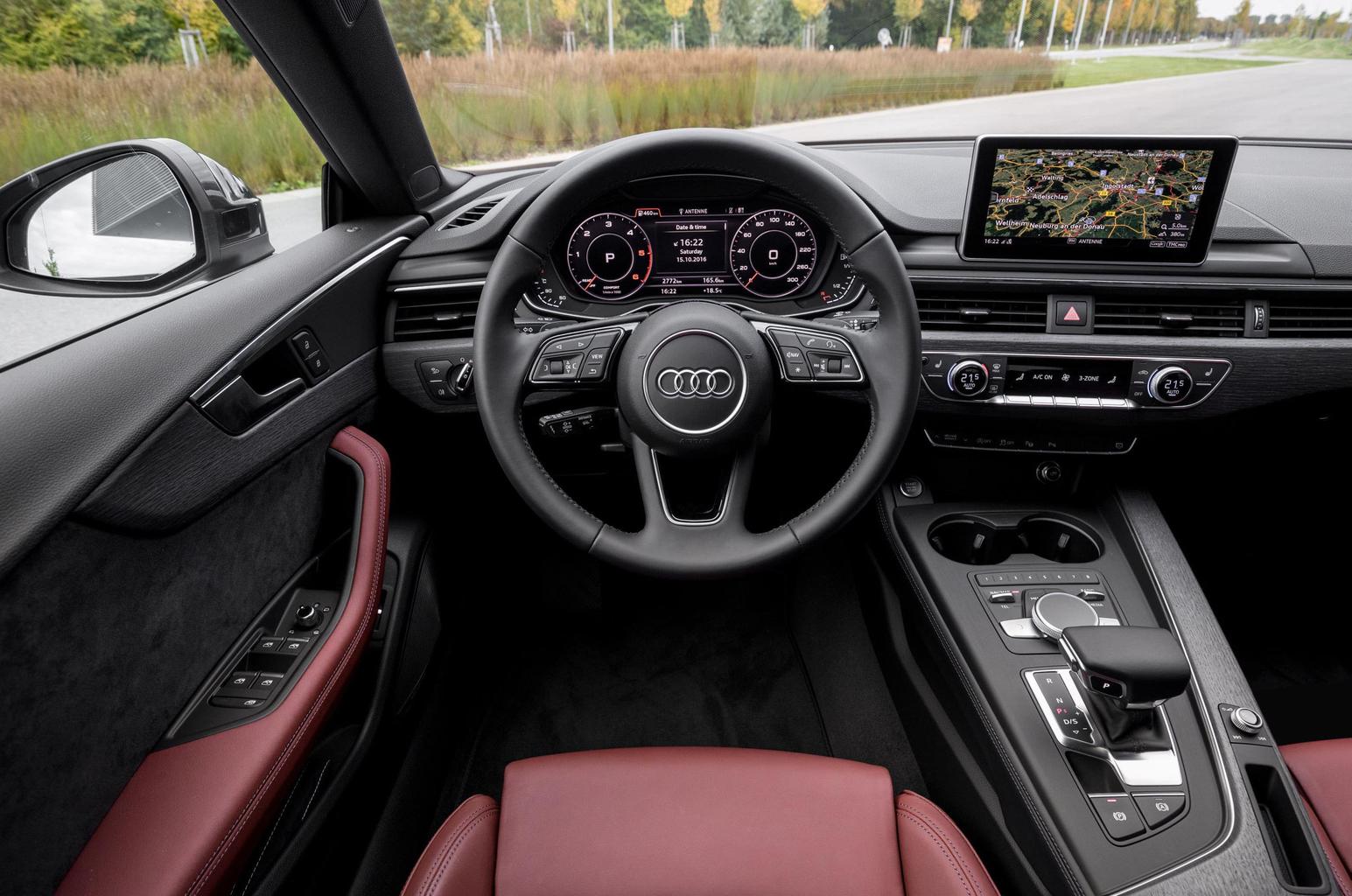 However, the A5 Sportback will have to feel sportier from behind the wheel if it wants to take the fight to our current favourite mid-sized four-door coupé, the 4-Series Gran Coupé. That's because, despite its name, the previous A5 Sportback wasn't much fun to drive, which is something Audi hopes to have rectified here with new, stiffer suspension, sharper steering and a significant 85kg weight reduction.
The prediction is that the 2.0 TDI 190 diesel will be the most popular engine option in the UK, but the 282bhp 3.0 TDI V6 diesel we're testing here is the real showstopper, complete with quattro (Audi's name for its four-wheel drive system) and an eight-speed automatic gearbox as standard.
What's the 2017 Audi A5 Sportback like to drive?
Plant your right foot and the A5 Sportback rockets off the line with minimal fuss, followed by effortless acceleration that breezes you up to motorway speeds in no time. Paddles on the back of the steering wheel let you shift gear manually, but so impressive is the low-rev shove of the engine that you rarely find yourself having to change down.
Audi has yet to release performance figures for this 3.0 TDI, but being a slightly more powerful version of the engine found in the A4 saloon – a car that can sprint from 0-62mph in just 5.3sec – we expect the Sportback to be even quicker.
Once up to speed, the benefits of that new suspension and the 85kg weight loss quickly become apparent. The new A5 Sportback feels more nimble than its predecessor, demonstrating impressive body control even when making quick changes of direction. Press on a little harder, however, and the nose will push wide, which is a little disappointing considering the effort put in to improving front-end grip. Fairly numb steering compounds the problem further, making it difficult to judge what the front wheels are actually doing.
However, as the roads dried on our test route, grip unsurprsingly improved, and in long, fast corners the A5 Sportback felt incredibly composed, shrugging off mid-bend undulations with relative impunity. Granted, it's still not as fun or engaging as the BMW 4 Series Gran Coupé, but then again, it doesn't have the benefit of that car's more playful rear-wheel-drive layout.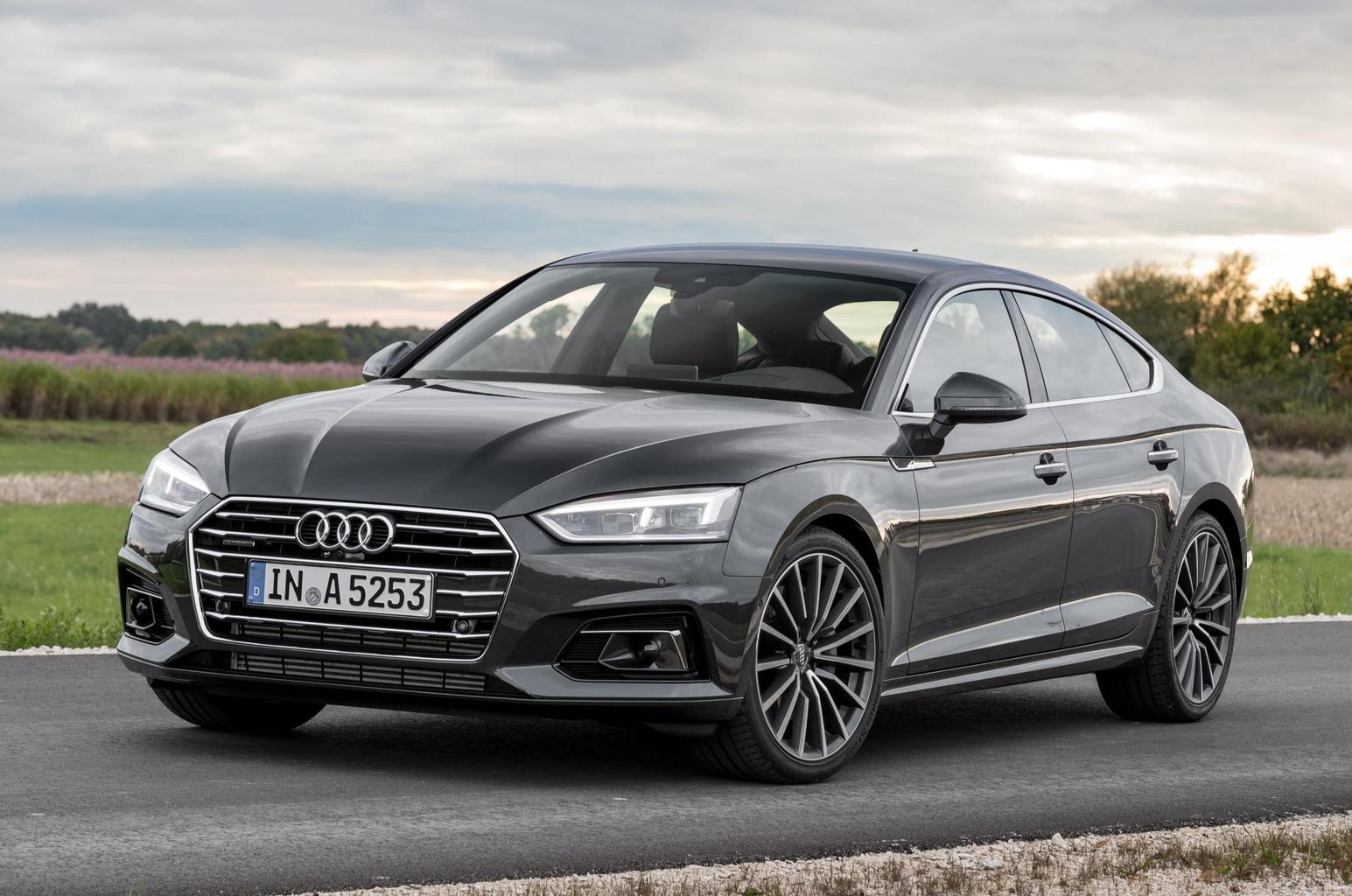 Ultimately, we found that the Sportback makes more sense when you drive it like GT car. The cabin remains remarkably quiet at speed, the low-down torque gives it easily accessible performance and, thanks to having a more aerodynamic profile than the car it replaces, average fuel economy of more than 50mpg should be achievable.
The A5 Sportback rides more comfortably than its key rivals, too. It's a bit firmer than the super-supple A4 saloon on which it's based, but it smothered the few lumps and bumps we encountered on our smooth test route well and stayed very settled on the motorway. UK roads will, as always, present a much bigger challenge.
What's the 2017 Audi A5 Sportback like inside?
The Sportback's interior will be familiar to anyone who has spent time in the current A4 saloon – and that's no bad thing. The minimalist dashboard is in keeping with the conservative exterior design, Audi's MMI infotainment system is one of the easiest to use in the class and the combination of interior materials are of a much higher perceived quality than those found in all rivals.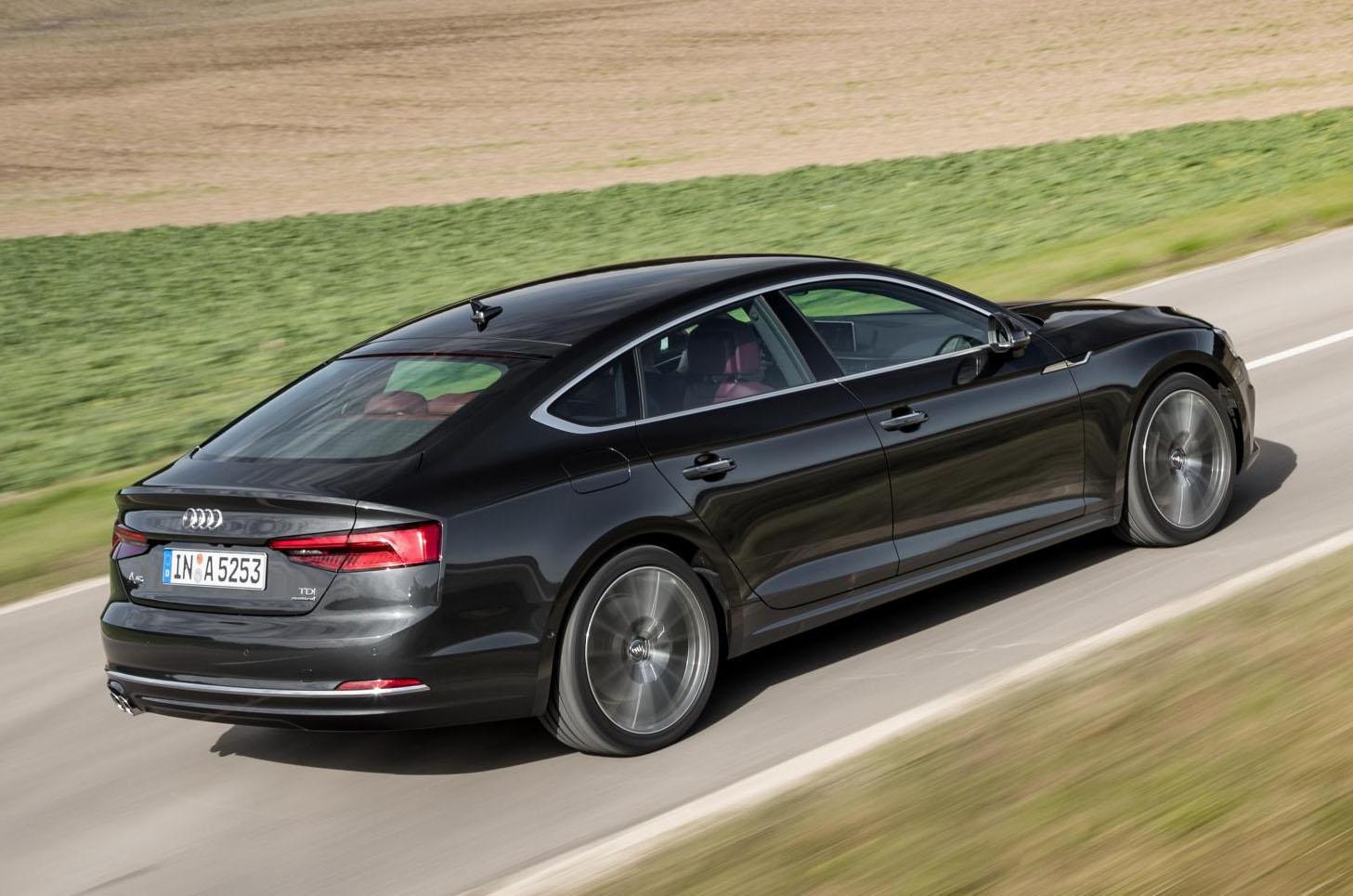 With more space between the front and rear wheels compared with the outgoing Sportback, Audi has also managed to free up some interior space, giving rear passengers an extra 24mm of knee room and 11mm more shoulder room. That might not sound a lot, but it means that two six-foot-tall adults can sit behind one another in relative comfort, even if the heavy curvature of the roof means that head room remains limited for the person in the back.
Moving to the boot, an electronically operated tailgate comes as standard, while the 480 litres of luggage space is up by 15 litres over its predecessor. Unfortunately, the shallow opening restricts you from carrying tall objects, but it's worth noting that with the 40/20/40 split rear seats folded, space increases to a whopping 1300 litres, which is more than enough space for a set of skis.