2017 Honda Civic review
All-new, 10th-generation Honda Civic is hoping to outgun established family car rivals, such as the Skoda Octavia and Volkswagen Golf...
Evolution or revolution? When it comes to car design there are benefits to both, but it's difficult to argue that the Honda Civic has been anything other than the latter over the years in terms of its styling.
This all-new 10th generation Civic is proof of that, as beneath its new, striking design, it's also had a comprehensive reworking underneath. It's now lighter, longer and lower and gets a more advanced suspension set-up, a combination that Honda hopes will help it outgun rivals such as the Skoda Octavia and Volkswagen Golf.
It's set to go on sale in March with a starting price of just over £18,000, and will initially be available in no fewer than seven different trim levels. For now at least, there's a choice of two petrol engines: a three-cylinder 1.0-litre and a four-cylinder 1.5. A 1.6-litre diesel will follow later in the year, as will a hot Type R version. We've tried the entry-level 1.0.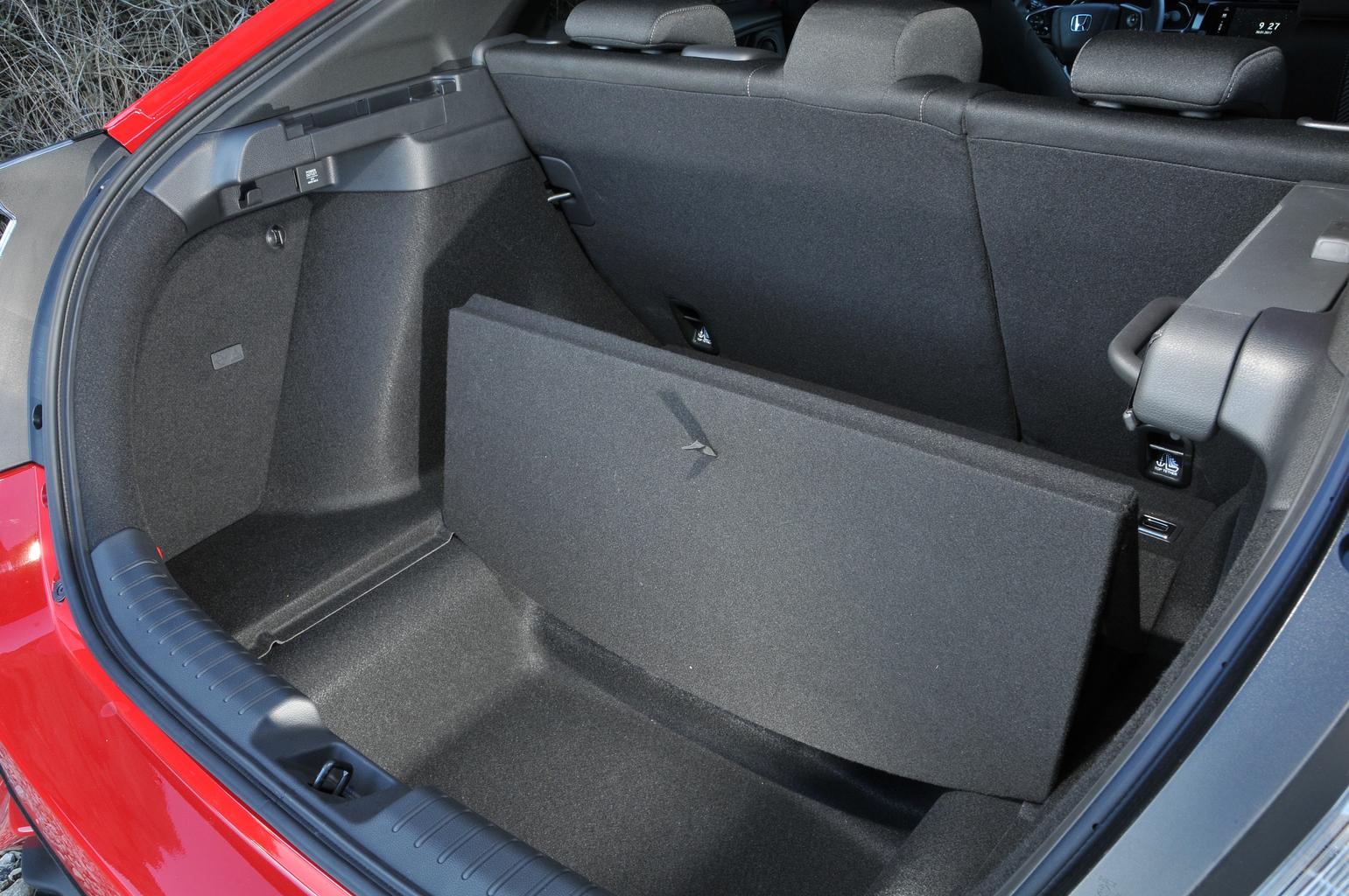 What's the 2017 Honda Civic like to drive?
Honda has made significant changes to the Civic, stretching the distance between the front and the rear wheels, stripping out weight and adding stiffness, while forcing the car's centre of gravity closer to the road. There's also a more advanced rear suspension set-up. All of this adds up to a Civic that's more enjoyable to drive than it was previously.
True, the steering is a touch too heavy, but it's decently precise and the new Civic is eager to change direction. Okay, so a Golf or a Ford Focus is even more capable through the corners, but the latest Civic is a real step forward over its predecessor.
On the few patches of broken asphalt we managed to find along our Spanish test route, the new Civic stayed nicely composed. The same was also true over bigger obstructions, such as speed bumps. That's very encouraging, given that the old Civic didn't ride very well at all.
The new Civic's 127bhp 1.0-litre petrol engine is worthy of praise, too. It's ultimately a bit gutsier than the 1.0-litre engines in the Octavia and Golf when you rev it hard, yet it pulls just as eagerly as those cars from low revs. Where the Civic's engine can't quite compete is on refinement; it's fairly noisy and sends a few too many vibrations through to the driver.
The same goes for road and wind noise at motorway speeds. There isn't enough to really annoy you, but the rival Octavia and Golf are definitely more peaceful cruisers.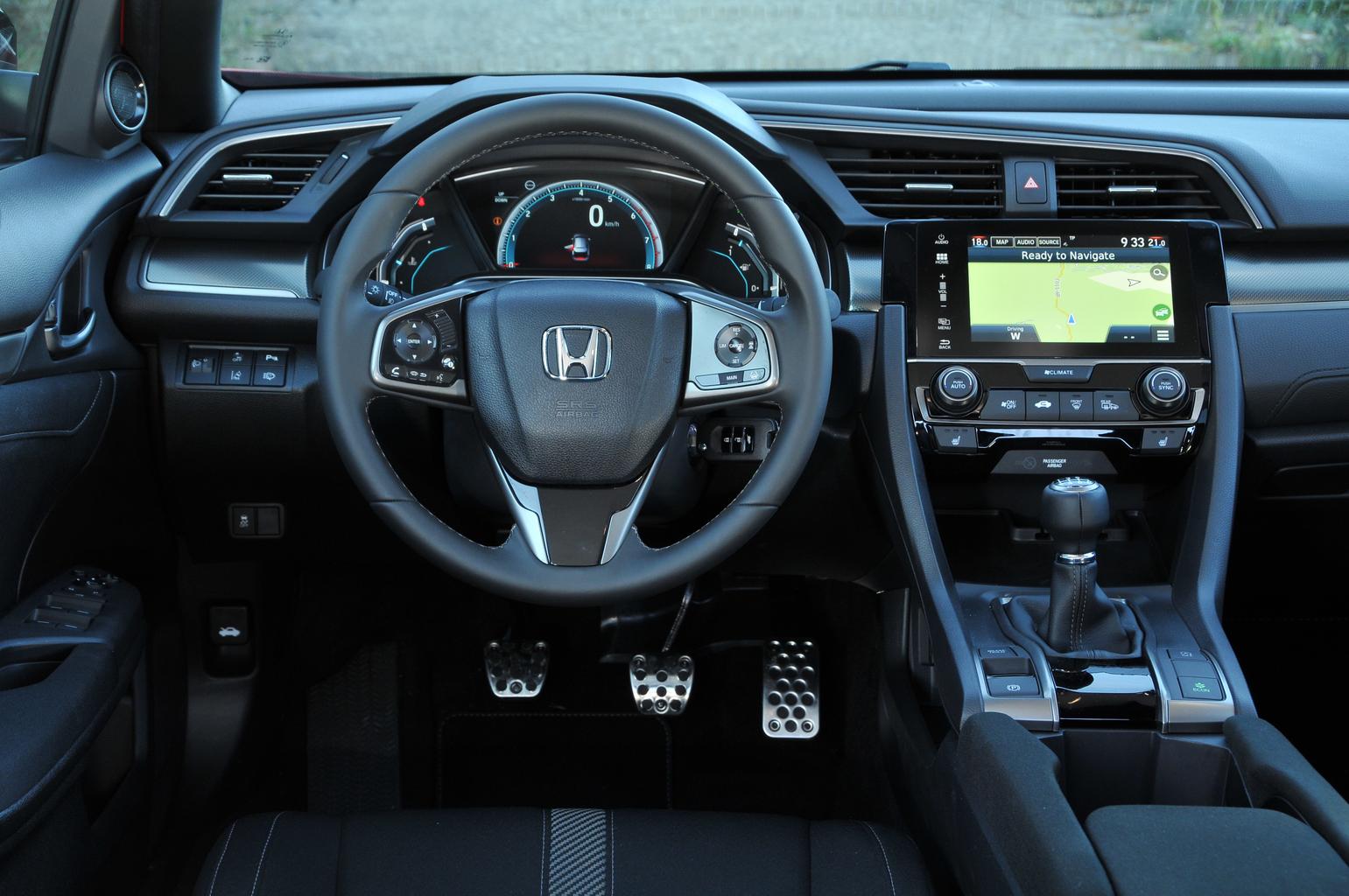 What's the 2017 Honda Civic like inside?
Space for two adults sitting in the front is generous, and another two adults sitting behind have plenty of knee room. However, by lowering the Civic's roofline, Honda appears to have reduced rear head room; children and teenagers will be fine, but taller adults will find their head brushing the ceiling.
At 478 litres (including underfloor storage), the Civic's boot is larger than that of the Golf and Leon, but the Octavia's boot is even bigger. The Civic's load bay is easy to access, though, and its standard 60/40 split-folding rear seats fold completely flat. It's just a shame there's a big lip at the boot entrance, and that Honda has done away with the previous model's 'Magic' rear seats with bases that could fold up to leave space for tall items.
The Civic's driving position is also lower than before, and thanks to nicely supportive seats (with adjustable lumbar support from mid-range SR trim), and plenty of seat and steering wheel adjustment, it's easy to get comfortable. Thick rear pillars and a relatively small rear screen mean over-the-shoulder visibility isn't great, but at least SR-trim cars (and above) get a standard reversing camera.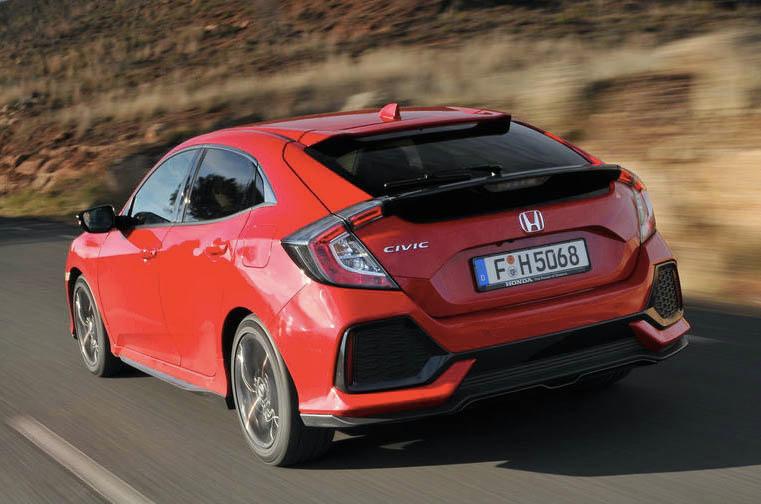 Opting for mid-range SR trim also gets you a better infotainment system than the one fitted to cheaper Civics. Not only does it have a larger touchscreen, but it also adds Apple CarPlay and Android Auto smartphone mirroring apps. That said, it still isn't particularly easy to use compared with the infotainment systems in the best rivals.
The same also goes for interior quality. Yes, the Civic has denser and more appealing dashboard plastics than its predecessor, but it still isn't as classy inside as an Octavia or a Golf – let alone an Audi A3.
.