2017 Hyundai Kona UK review – price, specs and release date
The Hyundai Kona is the Korean firm's third and smallest SUV for the UK. Does it deserve to be the best-selling?...
Priced from £16,195 Release date November 2017
After a year jam-packed with new examples, it's fair to say What Car? is looking more like What Small SUV? of late. Ultimately, UK car buyers want them and car manufacturers are only too happy to jack up the traditional hatchback in search of sales.
The Hyundai Kona is the latest to grace our website. Although it doesn't look like one, it's best to think of it as a raised i20, Hyundai's small car. That makes it very much a small SUV, rivalling cars such as the Renault Captur, Seat Arona and Citroën C3 Aircross.
Initially, you'll be able to buy a 118bhp 1.0-litre turbocharged three-cylinder petrol with a six-speed manual gearbox or a turbocharged 175bhp 1.6 petrol with a seven-speed auto. Next year, a 1.6 diesel will join the range, as well as a pure-electric model.
So, in a class that's growing by the month but has yet to produce a truly outstanding car, has Hyundai done enough with the Kona to lead the charge?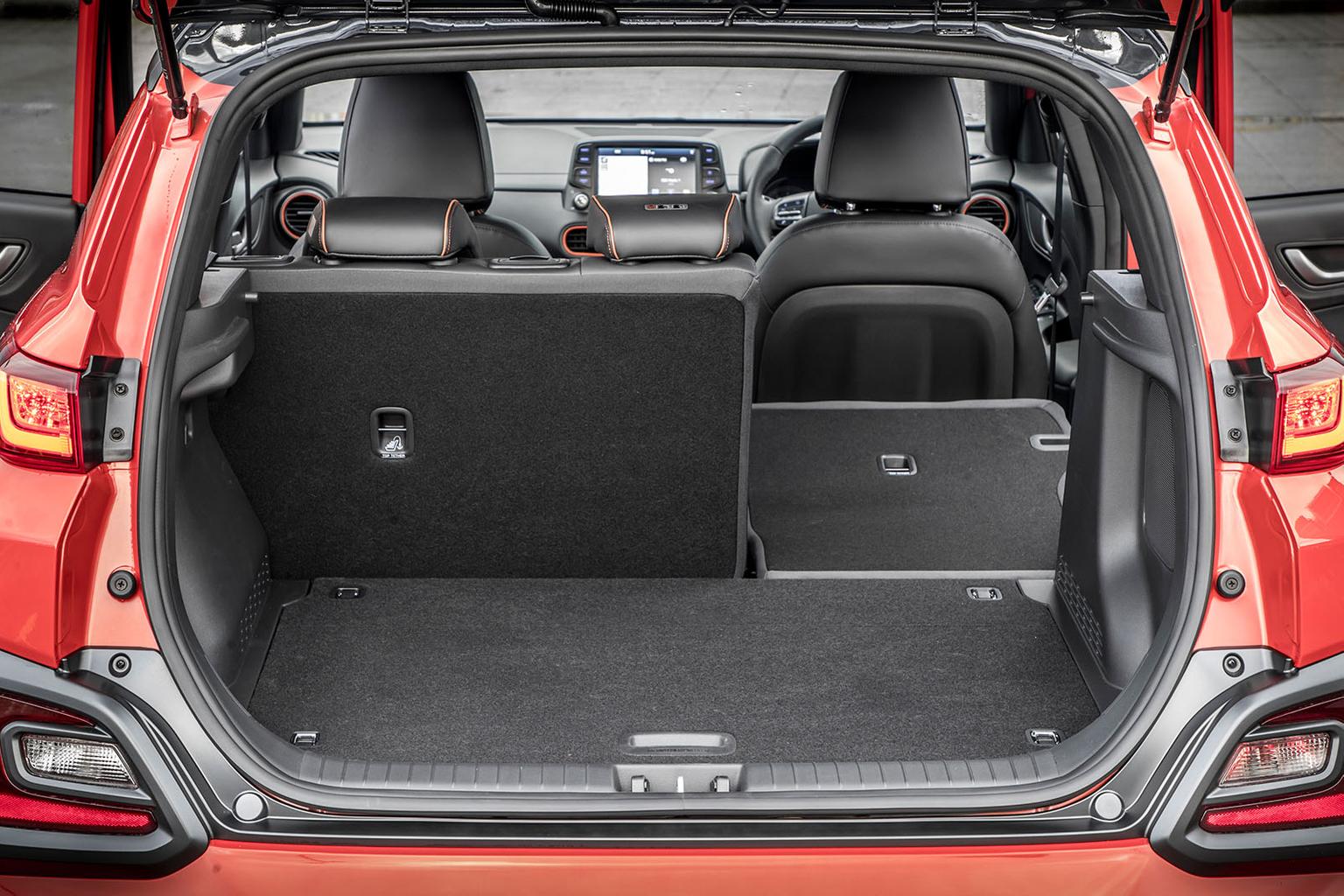 2017 Hyundai Kona on the road
We've tried the probable best-seller, the 1.0 T-GDI petrol, which feels comfortable pulling itself around town but certainly never feels outright quick, especially on the motorway among faster traffic. A big part of the problem is its relatively narrow band of shove – you're often changing down a gear in search of its sweet spot, but the power delivery always feels rather flat.
At least the Kona's manual gearshift is fairly slick and the little 1.0-litre engine remains decently quiet and vibration-free even when pushed hard – something you'll be doing more than you'd like.
We also had a go in the 1.6-litre petrol with the automatic gearbox and all-wheel drive. The power hike over the 1.0-litre is noticeable, so the 1.6 is certainly the engine to go for if you plan on doing regular long motorway journeys. However, the 1.0-litre is the better option if you mostly drive in town.
The Kona doesn't feel particularly agile. Its steering lacks communication (although the same can be said of all its rivals), but there is at least more consistent weight to it compared with other cars in the class. Around town, it's perhaps a bit too heavy, but it helps to make it feel stable at higher speeds.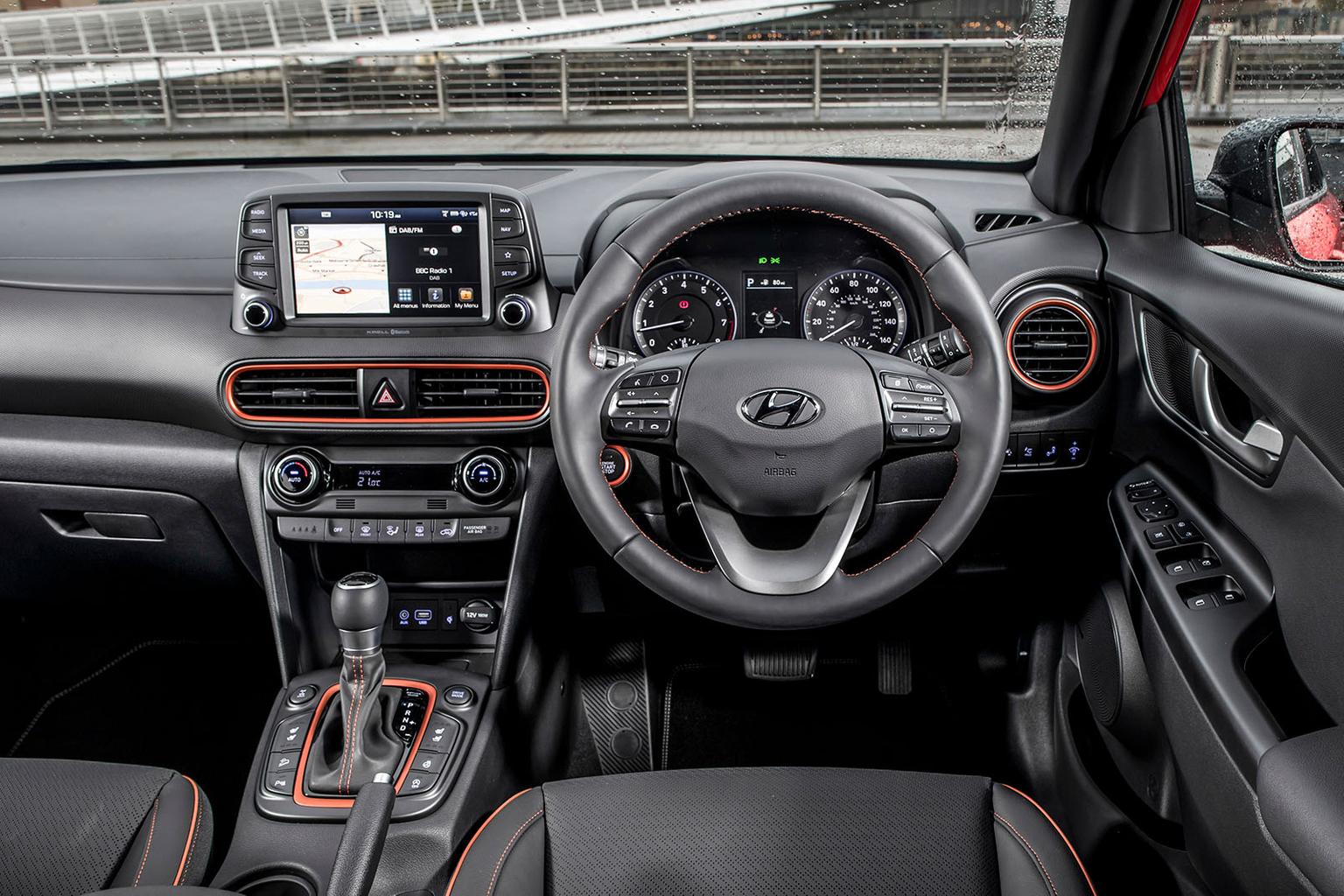 The steering does feel slow, though, and there's some body lean in bends – all of this makes for a pretty uninspiring car to thread along a country B-road at speed. In the class, though, it is one of the better-handling cars. It isn't quite up there with the more impressive Kia Stonic or Arona, but it is more satisfying to drive than the Captur and C3 Aircross.
The Kona's ride isn't quite spot-on, either. On Hyundai's 18in wheels, it's especially brittle and struggles to settle down at all speeds, thumping over ruts and bumps. The ride on 17in wheels is better, feeling more settled at speed on the motorway than the larger ones, although at low speeds it can still become a little busy.
2017 Hyundai Kona interior
The Kona's fundamental driving position is good. The seat is set at a natural height and has a decent range of adjustment; so, too, does the steering wheel. This means drivers of all sizes should be able to get comfortable. There's also good space for a couple of tall adults in the fronts.
The rear seats will be a squeeze for another couple of tall occupants, though, and three would be uncomfortable. While no car in this class is truly spacious in the back, the C3 Aircross, Captur and Arona all have roomier rear quarters.
The Kona's boot is nothing to write home about, either. At 334 litres, it looks stingy next to the above rivals, while the Captur also gets folding and sliding rears seats rather than the Kona's fixed 60/40 split-folding arrangement.
However, Hyundai is taking personalisation seriously, offering interior trim colours to match the car's exterior and quirky touches such as matching seatbelts. Quality, too, is a good effort, with lots of soft plastics, slick switches and a generally solid feel to the dashboard's construction (if not an inspiring design).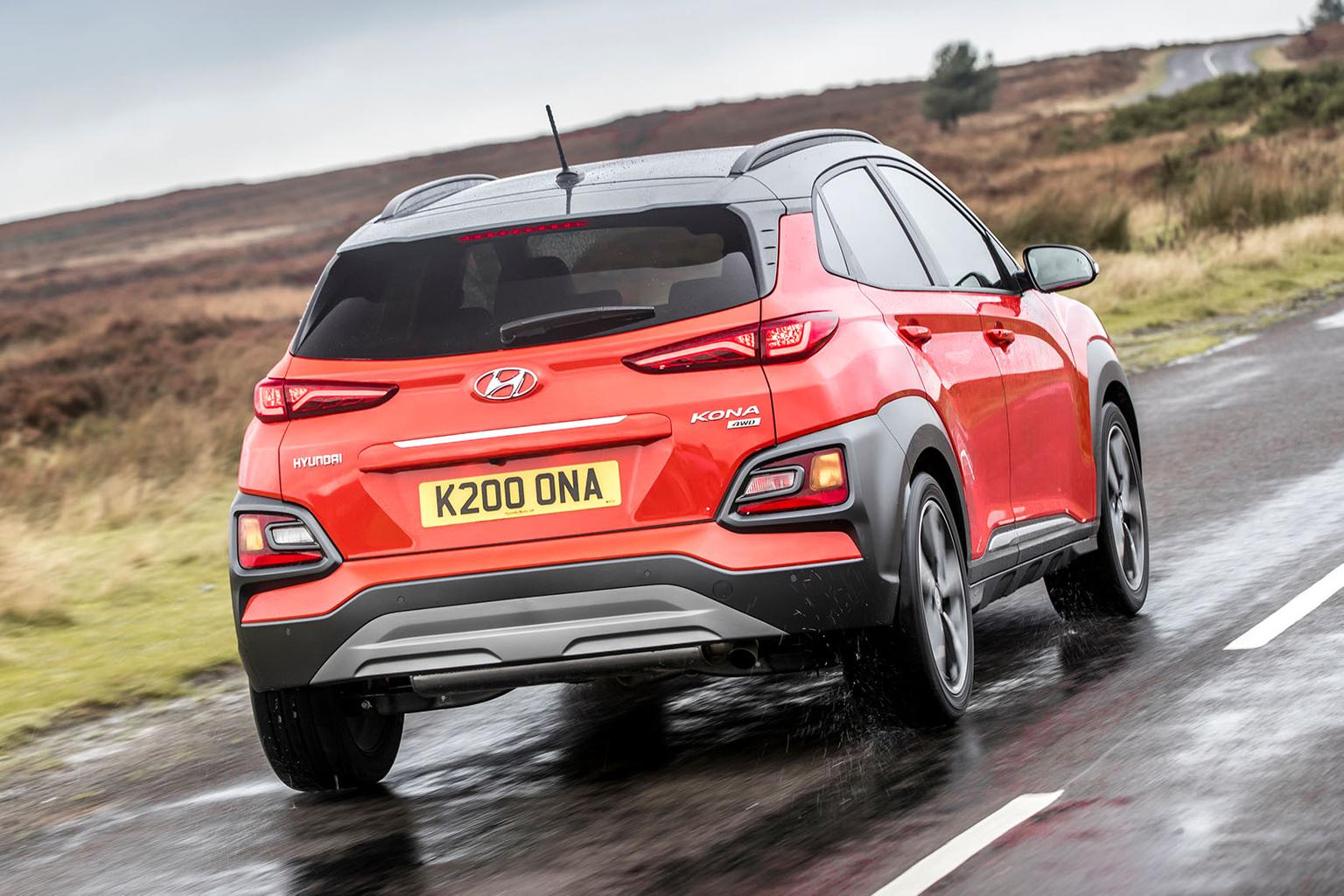 Hyundai's infotainment system, while obviously surpassed by more expensive models, is among the best in class. Entry-level versions get a 5.0in monochrome display, a DAB radio and Bluetooth, while the mid-range system is a 7.0in colour touchscreen, with Apple CarPlay and Android Auto smartphone mirroring included.
We also tried the range-topping 8.0in touchscreen system, which adds sat-nav. It has impressive clarity, good reaction times and is easy to navigate, even if the sat-nav can sometimes be a little slow to keep up on the move. Wireless smartphone charging (for certain phones) is standard on more expensive trims.
Equipment-wise, Hyundai throws in features such as 16in alloy wheels, air-con, cruise control, electric front and rear windows and automatic emergency braking as standard on entry-level S cars. SE trim adds 17in alloys, LED daytime running lights, automatic headlights, rear parking sensors and rear camera, while next-level Premium cars add 18in wheels, climate control and keyless start and entry.
Finally, Premium SE and Premium GT (the latter only available with the 1.6-litre petrol) get extra safety kit, a head-up display and those quirky interior colour accents.