2017 Kia Stinger GT review - price, specs and release date
The Kia Stinger GT is the Korean brand's attempt to take on Audi, BMW and Mercedes. Has it got any chance of succeeding?...
Priced from £42,000 (est) Release date January 2018
Given that Kia already sells a four-door saloon in the UK – the Optima – you may wonder what it needs with another one. But the new Kia Stinger GT isn't just another family saloon: it's a svelt, high-style, rear-wheel drive assault on the market territory occupied by the likes of Audi, BMW and Mercedes.
Whether that sounds like merely an ambitious idea or a downright daft one will depend largely on your perception of the Kia brand, of course. But if you're in the latter camp, before you scoff too hard bear in mind that this Korean firm sold several times as many cars last year around the world as Jaguar, Land Rover and Alfa Romeo combined, and has won more design awards over the past decade than you can shake a clay modelling scalpel at. So maybe – just maybe – this isn't such a ridiculous idea.
The Kia Stinger is based on the same mechanicals sister brand Hyundai's Genesis G80 Coupé, and will be powered by a choice of 2.2-litre diesel, 2.0-litre turbo petrol and 3.3-litre turbo petrol engines when it comes to the UK early next year. We won't drive the finished version until later in 2017, but Kia gave us an advanced track-only taste of the range-topping V6 'GT' model to get an idea of exactly what the Europe's premium brand car-makers have to fear.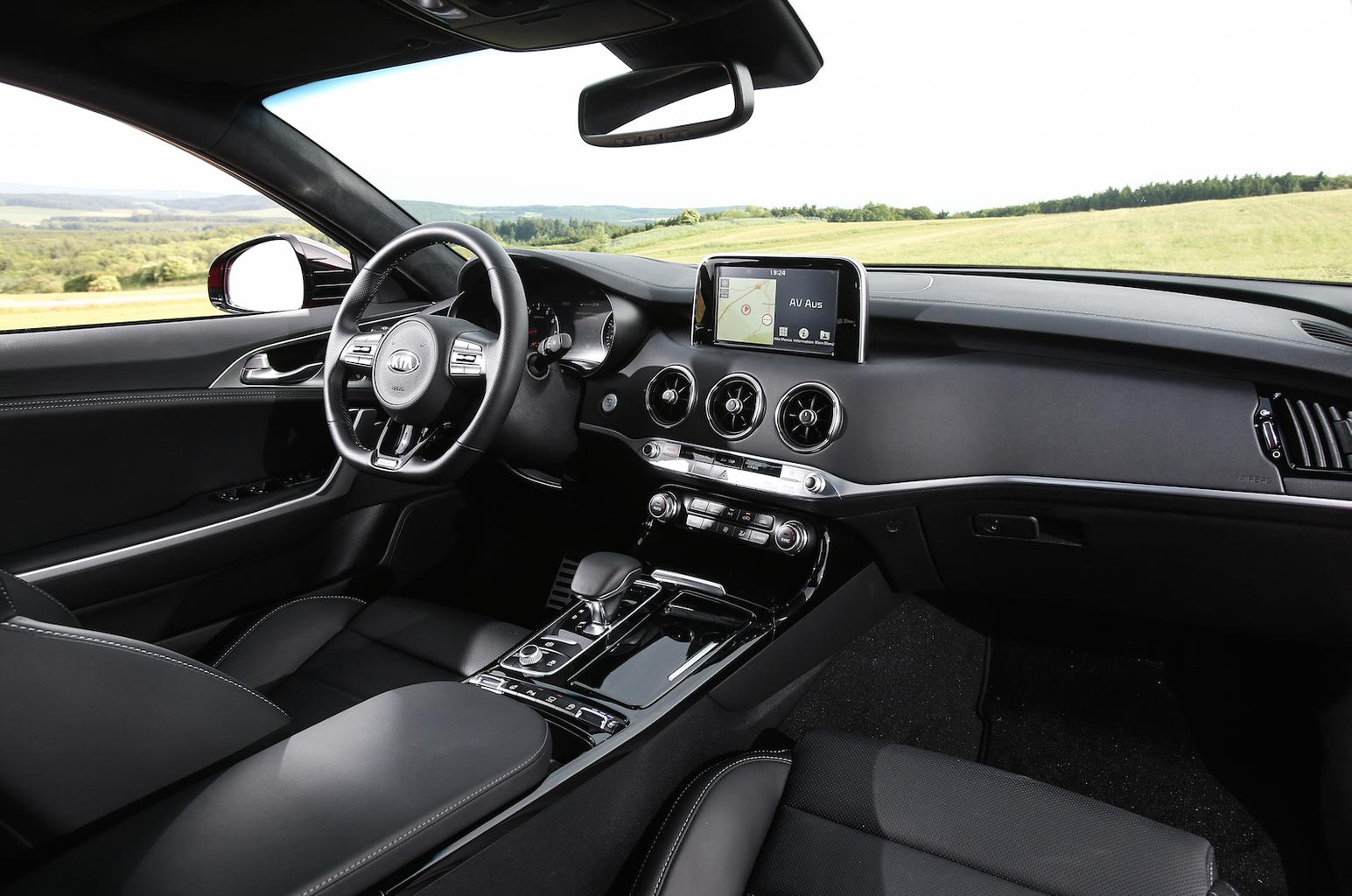 2017 Kia Stinger GT on the road
Kia kept its aims sensible during the development of the way the Stinger drives, seeking not to beat the executive class's best-handling options on its first attempt, but instead to produce a supple-riding and comfortable tourer, at its best over long distances. However, it still wanted it to be a car capable of showing off an entertaining side given the right circumstances.
The verdict on the better part of that equation will obviously have to wait until we've driven the car on the road, at length, and in finished form. But where the addendum is concerned, we can already tell the Stinger has plenty to recommend it.
The V6 engine makes more power and torque than either an Audi S4 or a BMW 440i Gran Coupé, and although the Stinger GT is quite heavy, it accelerates vigorously both at low and high revs.
True, the engine sounds a bit disappointing, its character too obviously enhanced by the car's stereo speakers and with not quite enough authentic V6 warble coming from its four exhaust tailpipes, but it's not annoying. And while the eight-speed automatic gearbox fails to match the quick-reacting shifts of many of its competitors when in manual mode, gearchanges are impressively smooth and well-timed if you leave it to its own devices.
The Stinger has impressive cornering balance. Both faster and slower-speed bends are rounded with an engaging amount of handling poise, while the steering delivers consistent weight through the wheel rim, leading to an effective blend of agility and stability. So, in its finer moments, the Stinger is certainly worth a mention alongside better-handling execs.
On flat surfaces, the car's body control is good. On tougher, uneven ones, it sometimes feels a little too softly sprung to keep its weight under control when driven quickly. However, the GT will get adaptive suspension as standard once it goes on sale and we couldn't sample it in its stiffest of five driving modes during this short drive.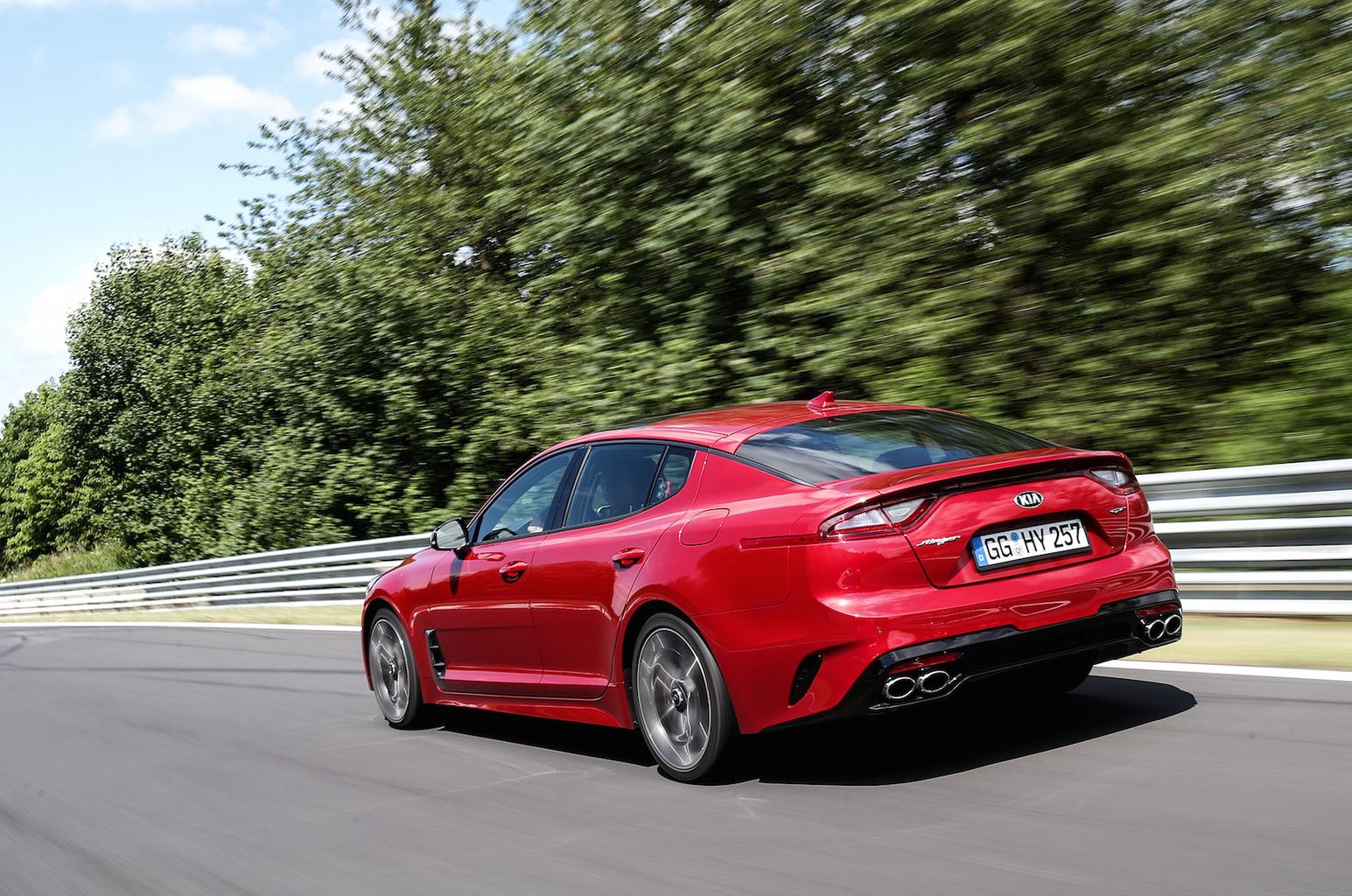 2017 Kia Stinger GT interior
The Stinger is relatively low, wide and long by the standards of the executive saloons it will compete with, and that means it offers plenty of leg room in both rows. The driving position feels quite snug, and your view out of the car, over the long bonnet and out through slim side windows, is equally redolent of a sports car.
Material quality isn't a match for the premium-brand cars that Kia is seeking to emulate, though. While the Stinger's leathers are soft and attractive, there is little richness to the plastics and the switches on the car's dashboard; and while you wouldn't call the overall ambient effect cheap, it's not discernably expensive-feeling either.
Likewise, absent are many of the ritzy infotainment features currently being used to sell the latest German executive options. The Stinger's instruments, while attractive, are conventional analogue dials rather than digital ones; and its central multimedia screen is a respectable size at 8.0in, but it can be tricky to navigate on the move without a BMW-style iDrive rotary-dial controller.
The car's boot is accessed through a 'liftback'-type hatchback rather than a saloon-style bootlid, making the available space inside (more than 500 litres and so nearer to what a BMW 5 Series offers than a 3 Series) easy to access.
Front passengers enjoy generous space, but taller adults sitting in the rear seats will find themselves a little short on head room, and may also find their view out of the car a little restricted by the its rising windowline.