2017 Mercedes-AMG E 63 Estate review – price, specs and release date
The new Mercedes-AMG E 63 Estate promises huge performance and practicality. But it also has a huge price...
Priced from £81,130 Release date On sale now
The Mercedes-AMG E 63 Estate isn't just a new version of the E-Class wagon, but the latest entrant to a space race that has been going on since the early noughties.
It was then that Audi launched its first RS6 Avant, a car that let you shift a wardrobe at supercar speeds and encroached on territory that Mercedes had previously had to itself.
The two German brands have been trying to outdo each other ever since. So, following last year's introduction of a new 597bhp RS6 that could blast to 62mph in 3.7sec, it was just a matter of time before Mercedes responded.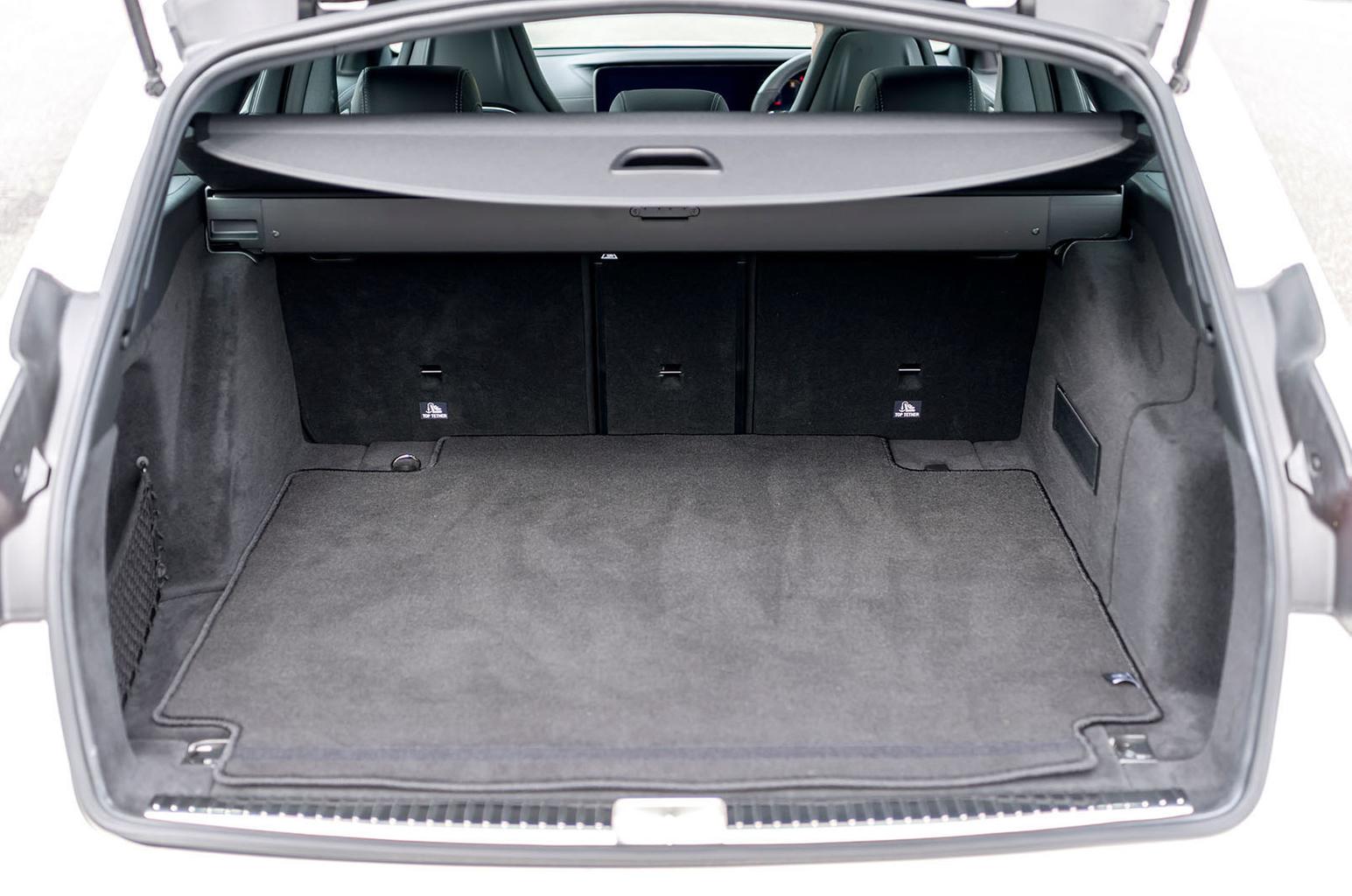 That response is a car that can cover the same sprint in 3.6sec in the 'standard' form that we tried, or 3.5sec if you go for the 604bhp S version. But beyond the headline numbers, what's the new E 63 Estate actually like?
2017 Mercedes-AMG E 63 Estate on the road
Given the performance figures, it's no surprise to find that the 4.0-litre twin-turbo V8 engine dominates the driving experience.
You can select how sensitive you want the accelerator to be but, even in the less angry modes, there's very little discernible turbo lag (that delay between you putting your foot down and the engine picking up and hurling you down the road).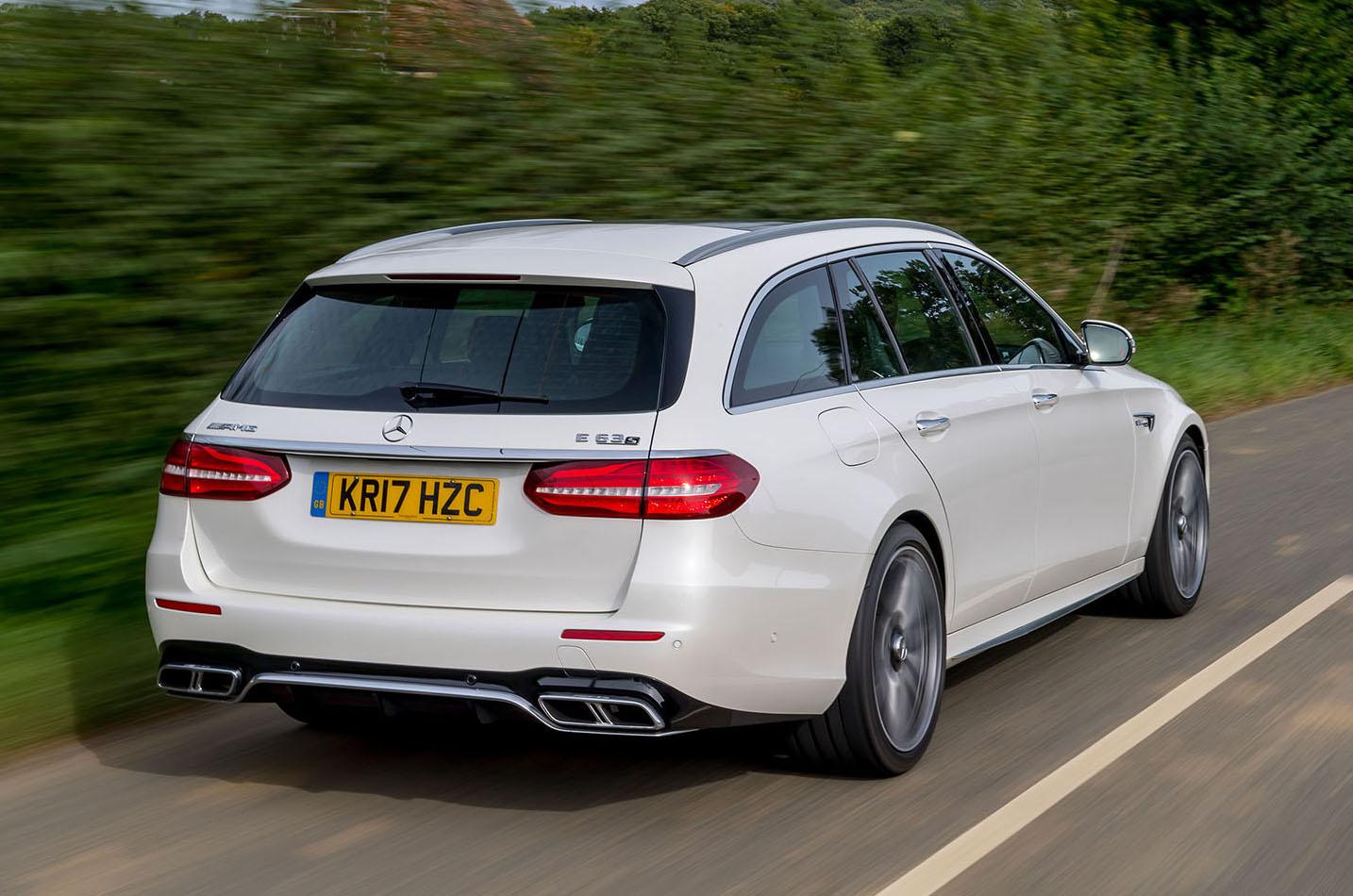 As a bonus, the engine sounds even better than the one in the RS6, grumbling menacingly around town and shaming a Formula 1 car at higher revs.
The only gearbox option is a nine-speed automatic with switchable modes that let you speed up the changes, as well as paddles behind the steering wheel to enable manual control. But while it's very slick when left to its own devices, there are occasions when it feels slightly sluggish compared with the PDK 'box in Porsche's Panamera Sports Turismo.
What's harder to fault is the ride. This is another thing that you can adjust, because air suspension is fitted as standard and, in its softest Comfort setting, the E 63 delivers exactly that.
In fact, even in its tautest mode, the ride isn't bad as long as you're prepared to put up with a few jolts over broken surfaces, and the payoff is superb body control.
Add in precise steering, huge grip through corners and impressive traction on the way out, thanks to Mercedes' 4Matic four-wheel-drive system, and the E 63 Estate is a car that manages to be both exhilarating and easy to live with.
2017 Mercedes-AMG E 63 Estate interior
Like most AMG models, the E 63 Estate has an interior that stays close to that of the regular Mercedes on which it's based. However, details such as a flat-bottomed steering wheel and the fact that the configurable instruments let you make the rev counter the focal point give the car a sportier feel.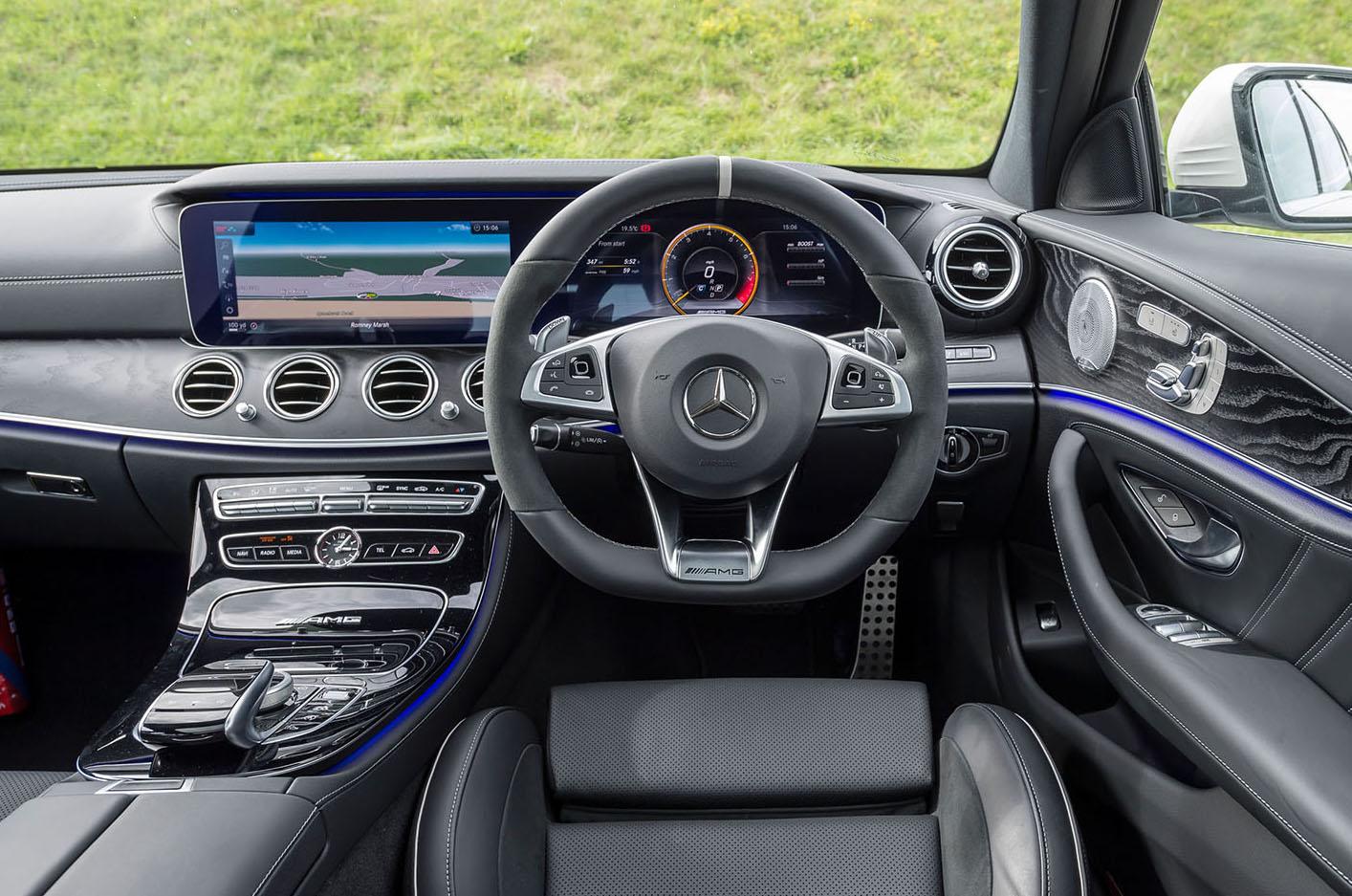 In addition, you get electrically adjustable sports front seats that hold you tightly in place through corners yet remain very comfortable over long distances. And these don't seem to impinge on rear leg room, which is fortunate given that this is merely decent in lesser E-Class variants.
The boot, on the other hand, is class-leading, with enough space for eight carry-on suitcases and a ninth in the deep underfloor storage area. Plus, the rear seats can be positioned at a 10deg steeper angle to create a squarer load space or folded down electronically in a 40/20/40 split.