2017 Nissan Micra review
The all-new Nissan Micra looks distinctive and comes with lots of safety kit, but is it a match for the best superminis?...
Unequivocal. That's not a word you hear often, but it's what we've been about the excellent package the Skoda Fabia offers. That's why it's our current favourite small car. However, we accept that it's not overtly exciting, inside or out, so we're keen to find out if this snazzy-looking new Nissan Micra can equal – or better – the Fabia's strengths.
Now, snazzy isn't a description traditionally associated with the Micra. It was always a no-frills little car, and like the Fabia it was easy to drive and relatively cheap to buy. But as you can see, Nissan has pulled out all the stops to make this new one stylish, much more premium inside, jam-packed with interesting features and, purportedly, sportier to drive.
You can order the new Micra from this month, with deliveries starting next spring, but we've been granted access to this pre-production car for a sneak preview. It has what will be one of the most popular engines: an 89bhp 0.9-litre turbocharged three-cylinder petrol. So is it destined to get to the top of the class?
What's the 2017 Nissan Micra like to drive?
This is the same engine that's used in the current Renault Clio, in which it feels a little sluggish. Not so in the Micra. Put your foot down and it zips along quite happily, giving you the performance you need not only for town driving, but also for comfortable motorway use. A big part of this is due to the solid swell of shove provided from low to mid-way up the rev range. It's also eager to rev and, like most three-cylinder engines, quite vocal when it does, although with an agreeable thrum.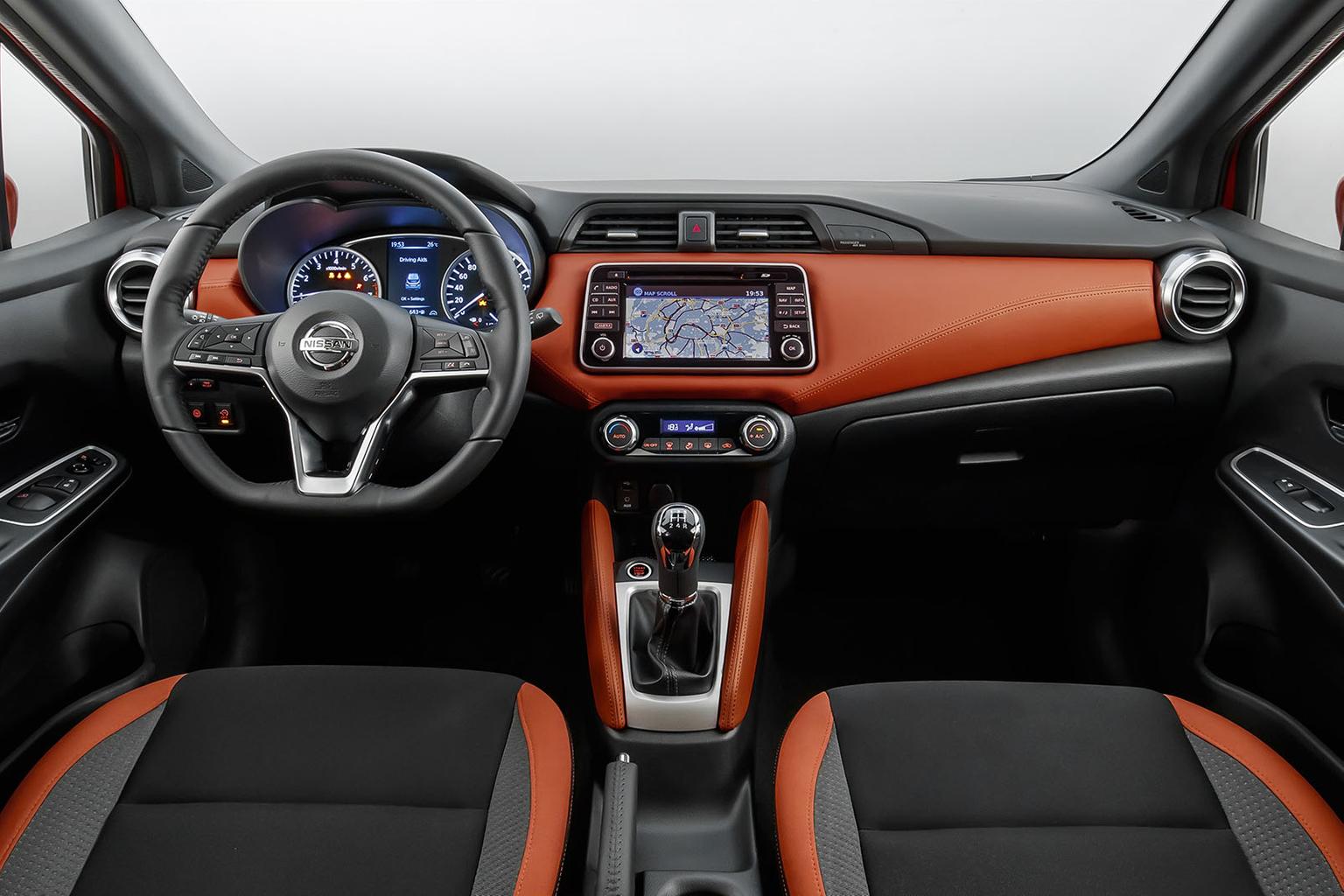 It comes with a manual gearbox and five well-chosen ratios that do a nice job of keeping the engine on song. Sadly, the change isn't so satisfying due to its notchy action. The clutch is fairly light and positive, though, and the brakes progressive, so you can drive the Micra smoothly in snarled-up city traffic.
In these situations the light steering helps keep it undemanding, but out on the open road it doesn't weight up with the consistency that you get in a Ford Fiesta or Clio. Considering that sportier bent trumpeted by Nissan, this is a little disappointing, but not a disaster. It simply means that when pushing on, you can't judge the grip levels or place the car as intuitively as you'd wish.
There is plenty of grip in the dry, but we noticed that, compared with rivals such as the Fiesta, Clio, or even the Fabia, the rear end gets a little twitchy on wet roads. The result is you can't carry the speed through turns that you can in those rivals. But, thanks to fairly stiffly sprung suspension, the body stays well controlled and doesn't suffer from the lean you get in the softer Fabia.
So the Micra is sportier to drive than before, but still isn't the sportiest car in the class, despite being firmer-riding than the Fiesta and Fabia. This is particularly noticeable around town, where it fidgets more and has a tendency to crash over the kind of sharp potholes that those two rivals would cross unobtrusively. Most of the Micra's jitteriness smoothes out once the speed rises, making the it a comfortable motorway cruiser. You do notice some rumble from the tyres at speed, but wind noise is very well supressed.
What's the 2017 Nissan Micra like inside?
There's plenty of space in the front if you are tall – both head and leg room are good – and the driving position is comfortable thanks to the standard height-adjustable driver's seat and good range of steering wheel adjustment.
The dashboard is also clear, with large dials and well-labelled switches. However, rear visibility isn't great due to the thick rear pillars and a shallow rear screen. To help redress that, you'll need to fork out for rear parking sensors and a reversing camera, which are options on what will be the popular, mid-spec Acenta trim.
A nice mix of materials cover the dashboard and interior, making the Micra look and feel cheery to sit in compared with most of its rivals, the Fabia included. You can certainly see Nissan has made an effort, but sadly, unless you choose pricier, higher-grade trims, the steering wheel is plastic and the gearlever rubber, making these key contact points feel cheap.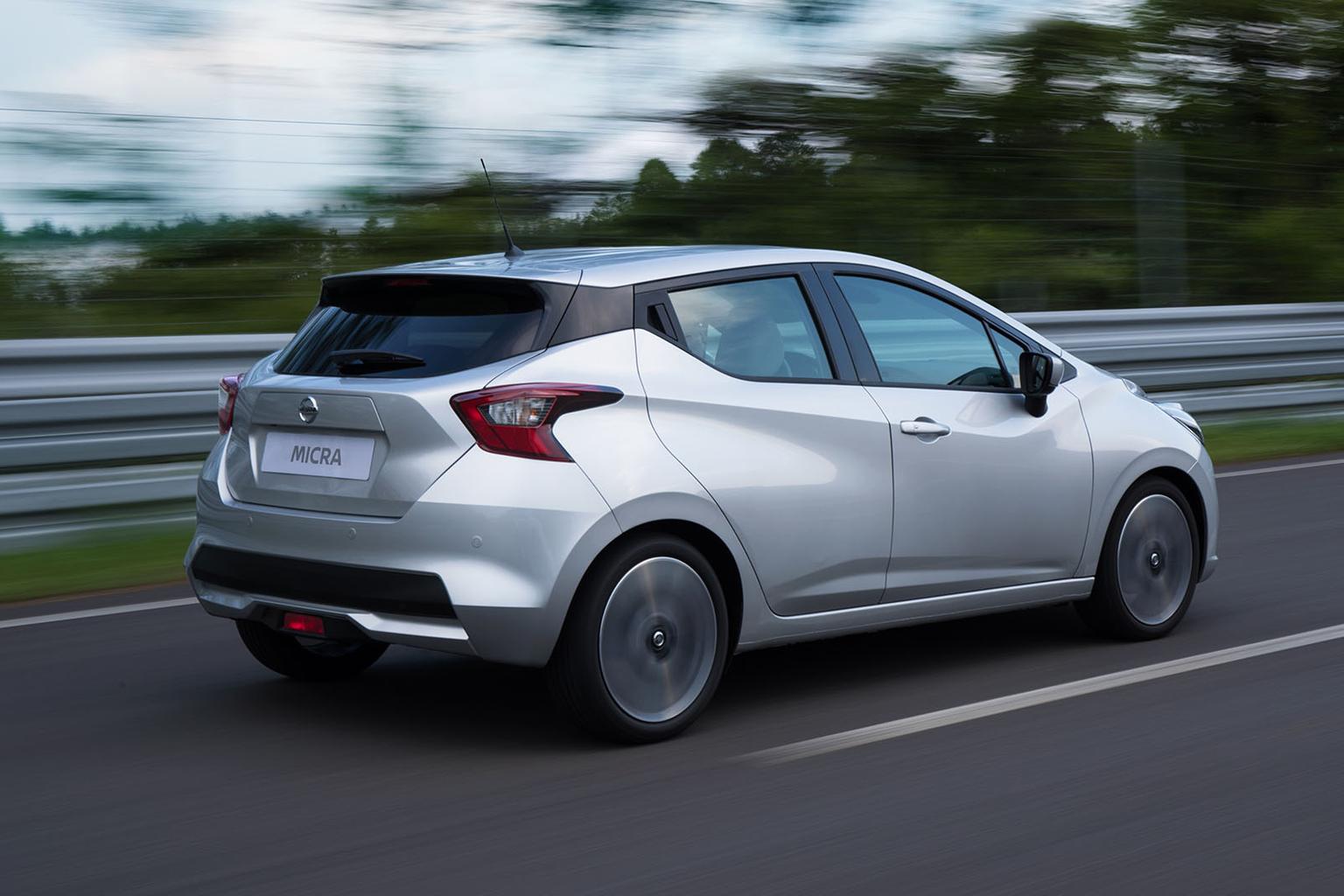 That's a shame, especially when much of the competition applies soft leather in these areas, and overall it weakens the Micra's boast of plushness.
The infotainment system comes with a high-definition 7.0in touchscreen as standard. It works well, too, with intuitive menus that are easy to search, and quick processing. Sat-nav and a DAB radio on the Acenta trim are a pricey £700 option, although that does include the parking sensors and rear camera we mentioned earlier.
You can make use of the standard smartphone mirroring instead. This allows you use your phone's apps, including internet radio and sat-nav, through the car's screen.
Unfortunately, when you move to the rear seats things are disappointingly cramped. Compared with the Fabia, leg room is tight and head room is downright poor, even for those of average height. The boot is a competitive size though, and, like its best rivals, it will take a large weekly shop.