2017 Porsche Cayenne review - price, specs and release date
Updated Porsche Cayenne may look familiar from the outside, but it's all new and much improved under the skin...
Priced from £55,965 Release date April 2018
Fifteen years may not seem that long ago, but they were very different times in the automotive world. In the present day, no one bats an eyelid when a manufacturer of sports cars produces an SUV, whether that be Jaguar, Maserati or even Lamborghini.
Back in 2002, car enthusiasts were virtually catatonic at the thought of their beloved Porsche building a Chelsea tractor. Upset they may have been, but the Cayenne has been a roaring success, with more than 770,000 finding homes around the world so far.
It's therefore one of Porsche's most important cars; like it or not, it's the Cayenne and Macan that make up the majority of the firm's sales. That's why you won't find a half-hearted refresh here, even if the bodywork looks extremely familiar. Look deeper and you'll find new underpinnings, new engines and a totally overhauled interior.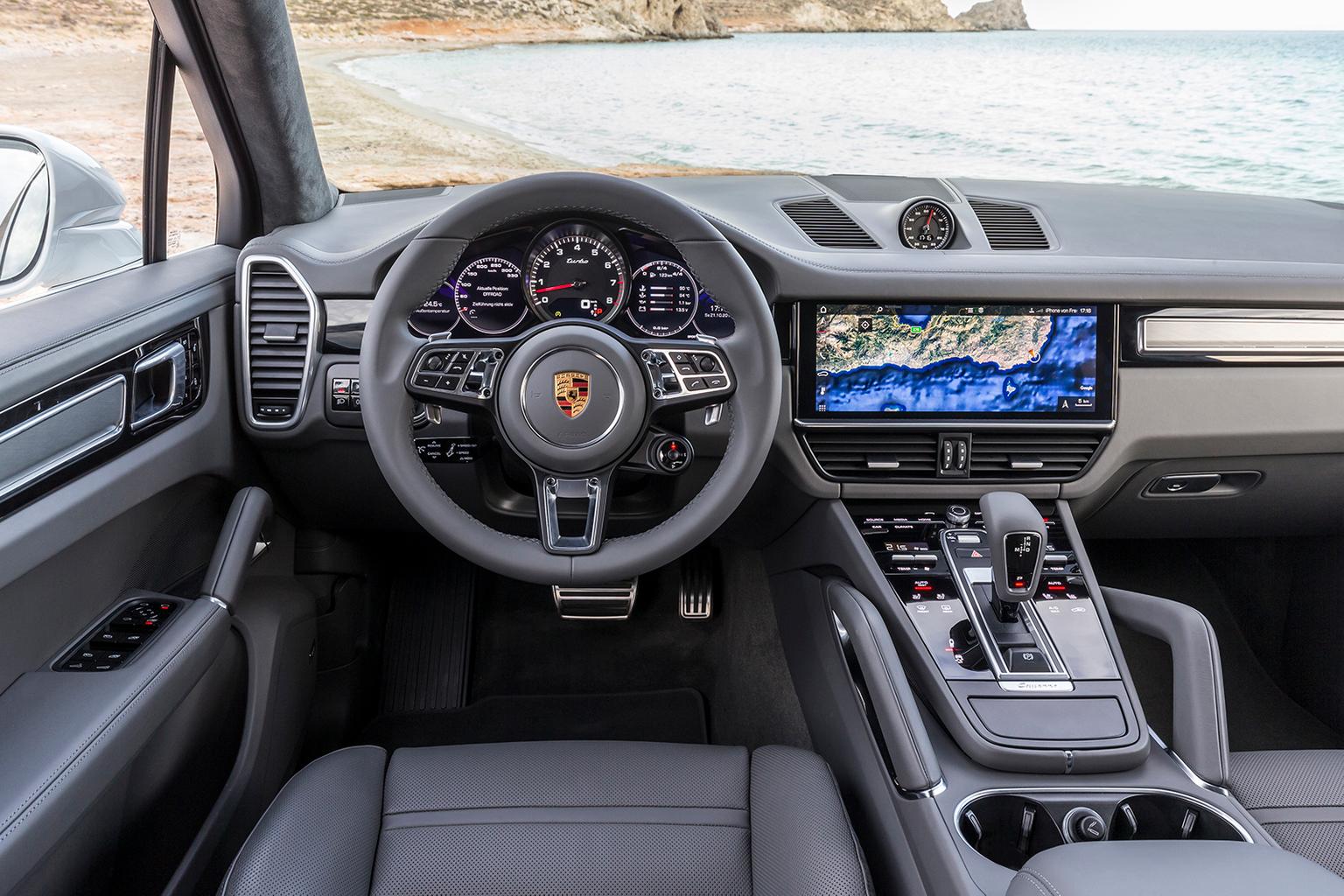 2017 Porsche Cayenne on the road
Initially there's a choice of three petrol engines: a turbo 3.0-litre V6 with 335bhp in the standard Cayenne, a 434bhp 2.9-litre twin-turbo V6 in the S and a 542bhp twin-turbo 4.0-litre V8 in the Turbo. The entry-level V6 is arguably brisk enough, but the more tuneful exhaust and harder shove in the back you get with the S is well worth the extra cash, especially as it shouldn't be much thirstier.
The idea of a hulking great SUV reeling off sub-4.0sec 0-62mph times may appeal to some, but the Turbo is a lot pricier to buy and run and it doesn't handle quite as sweetly. Because the V8 is much heavier, the Turbo isn't quite as keen to turn in to corners and we noticed some inconsistency in the steering weight. The V6 models have more intuitive steering, although no Cayenne's set-up is particularly feelsome.
Four-wheel steering is available as an option to help low-speed manoeuvrability, make the Cayenne turn in more urgently and improve high-speed stability. It certainly does a good job of making the Cayenne shrink around you, but we'll have to try a regular example to see if it's worth the extra.
All of our test cars were also fitted with air suspension and most had clever anti-roll bars that stop the car's body from leaning over in corners. The result is an SUV that stays remarkably upright even when cornering hard yet isn't too uncomfortable over bumpy roads. That said, even without the active anti-roll bars, the Cayenne resists body lean very well.
As you might expect from a Porsche, the Cayenne's ride isn't as cosseting as an Audi Q7 or Range Rover Sport, yet it only really thumps over very nasty ruts and bumps. That said, all examples we tried had massive 21in wheels that won't have helped the ride at all. You can stiffen the suspension further, but while Sport mode brings a useful amount of extra body control, Sport Plus is far too stiff to use on the road.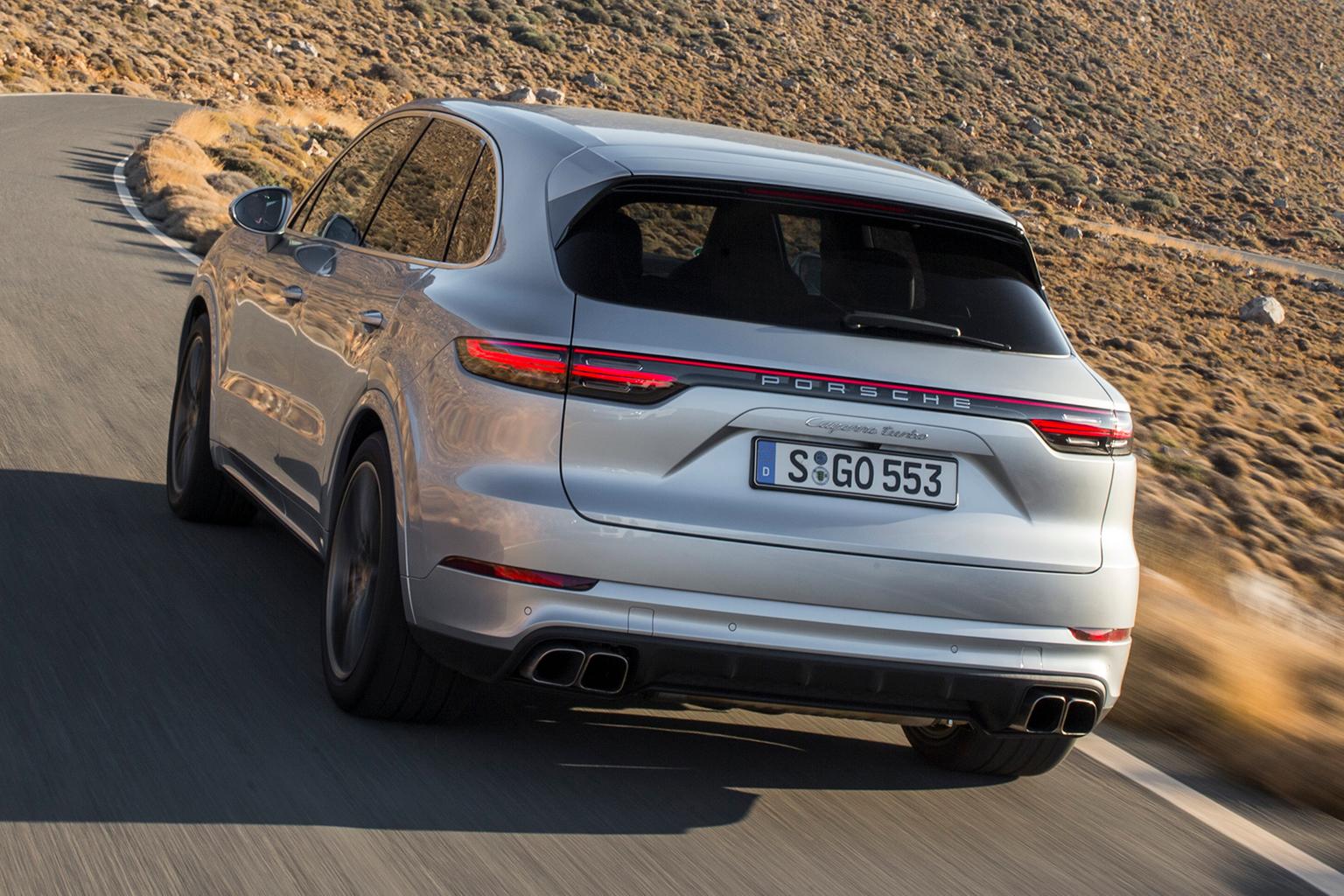 2017 Porsche Cayenne interior
If you've nosed around Porsche's latest Panamera recently, the interior layout will be familiar. The majority of materials feel wonderfully plush and Porsche has reduced the number of buttons greatly by using a touch-sensitive panel around the gear selector and a 12.3in touchscreen for many of the controls.
It works well when you're stationary, but some of the touchscreen icons are too small and you often have to take your eyes off the road to see what you're pressing.
We've no complaints regarding interior space, though. Even with a panoramic roof fitted, a 6ft-plus adult can sit in the back with plenty of head and leg room. You can even slide and recline the rear bench to prioritise boot space or passenger comfort. Regardless of position, the boot is big, although there's no seven-seat option.