2017 Skoda Fabia 1.0 TSI 95 review - price, specs and release date
The Skoda Fabia gets a new 1.0-litre three cylinder petrol engine in place of our previous favourite 1.2. Does it remain one of the best small cars around?...
Priced from £12,905 Release date Now
Look closely at today's Skoda Fabia range and you'll notice there's been some change to its petrol line-up.
Before, there was the choice of either a non-turbocharged 1.0 three-cylinder with 59- or 74bhp, or a turbocharged 1.2 four-cylinder with 89- or 109bhp. Now, though, the four-cylinder engine has gone in the name of downsizing and increased efficiency. In its place: a turbocharged version of the same 1.0 three-cylinder with 94 or 109bhp.
Trouble is, the 89bhp version of the old 1.2 was our pick of the Fabia range, offering punchy performance in and out of town, decent real-world economy and a smooth and quiet driving experience. So, we've driven Skoda's new 94bhp 1.0, its direct replacement, to see whether it is still our favourite engine.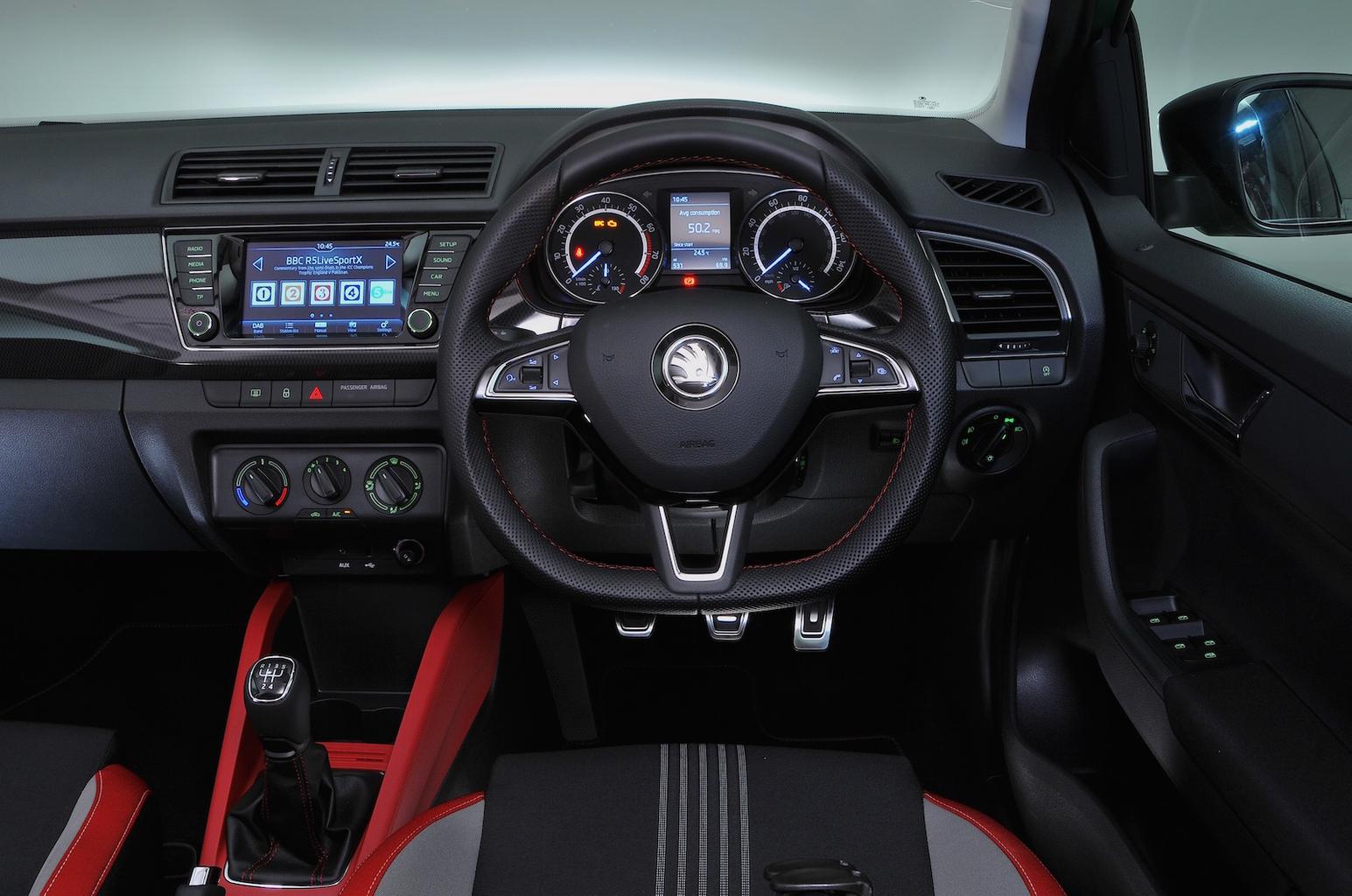 2017 Skoda Fabia 1.0 TSI 95 on the road
Skoda's little 1.0-litre petrol engine is now available in four different power outputs, but there's a noticeable difference in performance between those with and without a turbocharger.
The cheaper units without one suffer more lag between pressing the accelerator and the engine's pull beginning, which means more planning is required when executing overtakes outside of town. However, the turbocharged 94bhp 1.0 we tried is far stronger low down in its rev range, building speed more quickly in all situations and pulling across a usefully wide band of revs. It's actually both faster in a sprint than the old 1.2 and brings a slightly higher top speed but, officially, uses less fuel in the process.
Although the 1.0's peak power is delivered higher up the rev range, it doesn't mind being pushed hard, and even when you do so it remains decently smooth and hushed by three-cylinder engine standards.
Skoda hasn't made any changes to the Fabia's underpinnings or suspension, so it's still one of the sweetest cars in the class to drive - just not quite the best. That honour still goes to the Ford Fiesta, but the Fabia's precise steering and grippy agility make it fun to drive. Only its more pronounced body lean really lets it down.
Ride quality is still a little mixed. Motorway driving is impressively comfortable, but at slower speeds across broken roads in and around town it can struggle to settle, especially on our Monte Carlo model's 16in wheels.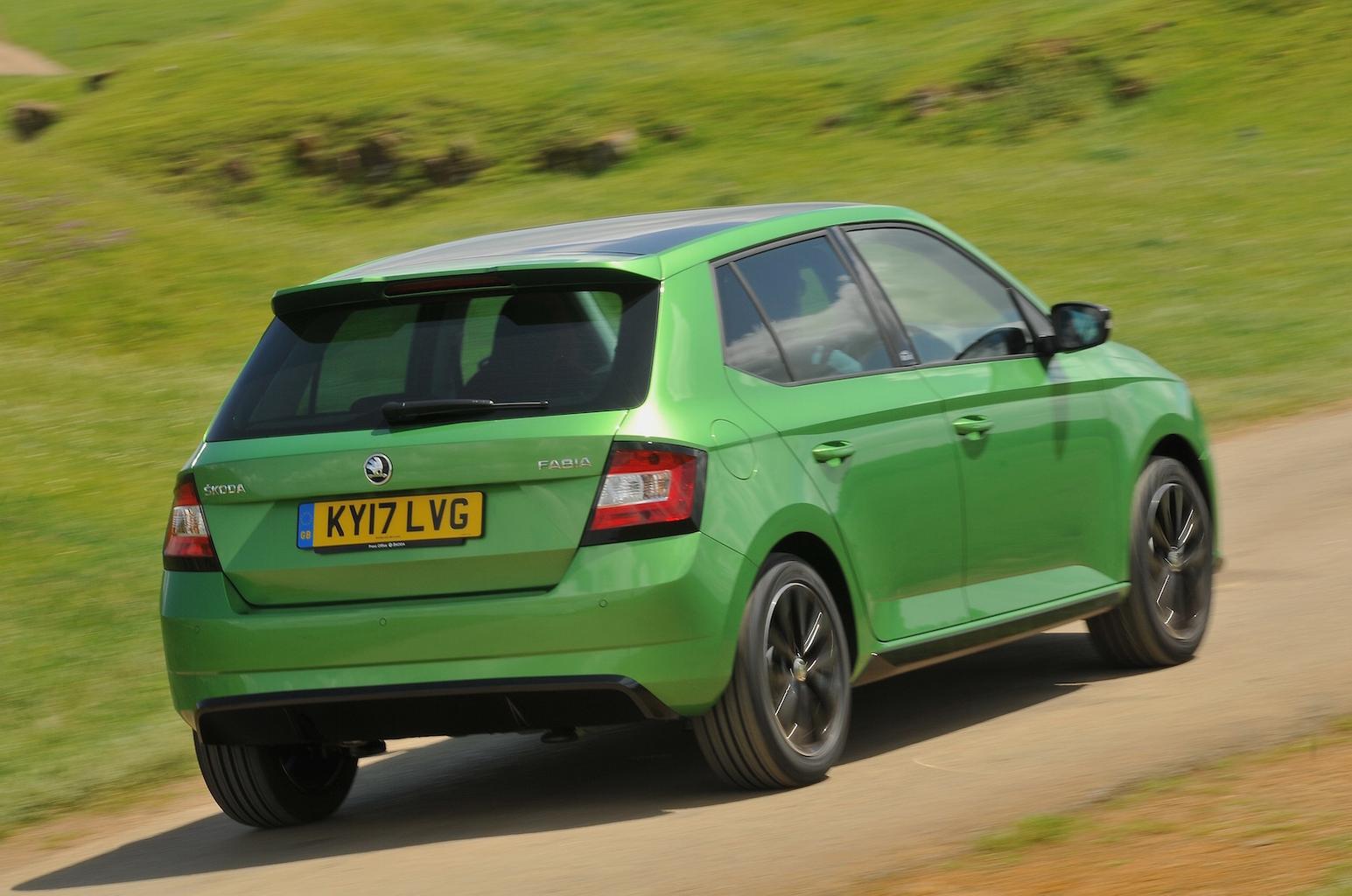 2017 Skoda Fabia 1.0 TSI 95 interior
With no dimension changes to the Fabia, four adults will still sit in comfort, with those in the rear enjoying good head and legroom. The driver also gets a generous amount of both manual seat and steering wheel adjustment to ensure the perfect driving positon.
Yet, while the Fabia used to stand out for its interior space (and still does next to a Fiesta) Seat's latest ibiza has come along and offers even more room for rear passengers. That said, neither is a spacious in the back as the class leading Honda Jazz. The same goes for boot space - the Ibiza'a is slightly better than the Fabia's but the Jazz's exceeds both.
The Seat has pushed the boundaries on interior quality too, sporting more soft touch materials in its cabin, fewer sharp edges and plusher switches than the Fabia. That's not to say the Fabia doesn't feel solidly built, but the Ibiza is now that and more. It's the same story with these cars' infotainment systems, the Ibiza's looking and operating like one that's a generation newer with its slicker graphics and quicker response times.