2017 Volkswagen Arteon review - price, specs and release date
The Volkswagen Arteon is aimed at sleek prestige executive rivals such as the Audi A5 Sportback...
Priced from £38,000 (est) Release date October 2017
It'll be a long time, you suspect, before the sound of popping champagne corks will be heard again within the halls of Volkswagen's German headquarters. The past two years have been tough for the firm, for reasons that hardly need repeating.
But, gradually, the world's biggest car maker is returning to an expansive mood. Next year's new Touareg SUV will be a major part of that recasting process, as will VW's much-previewed ID electric car brand. But it's here, with the new Volkswagen Arteon hatchback, where the story begins.
The Arteon is a new flagship executive five-door for the firm and a bigger brother for the Passat saloon, slotting into the style-centred market niche of the Audi A5 Sportback and BMW 4 Series Gran Coupé. VW UK is yet to decide how broad the Arteon range will be for British buyers, but it'll certainly include a 2.0-litre diesel engine with 237bhp and a 2.0-litre turbo petrol with 276bhp. Both will have a seven-speed automatic gearbox and four-wheel drive as standard.
Beyond an entry-level specification, the car will be offered in Elegance and R-Line trims, the latter being available with lowered sport suspension. It's the diesel Elegance model we've been driving.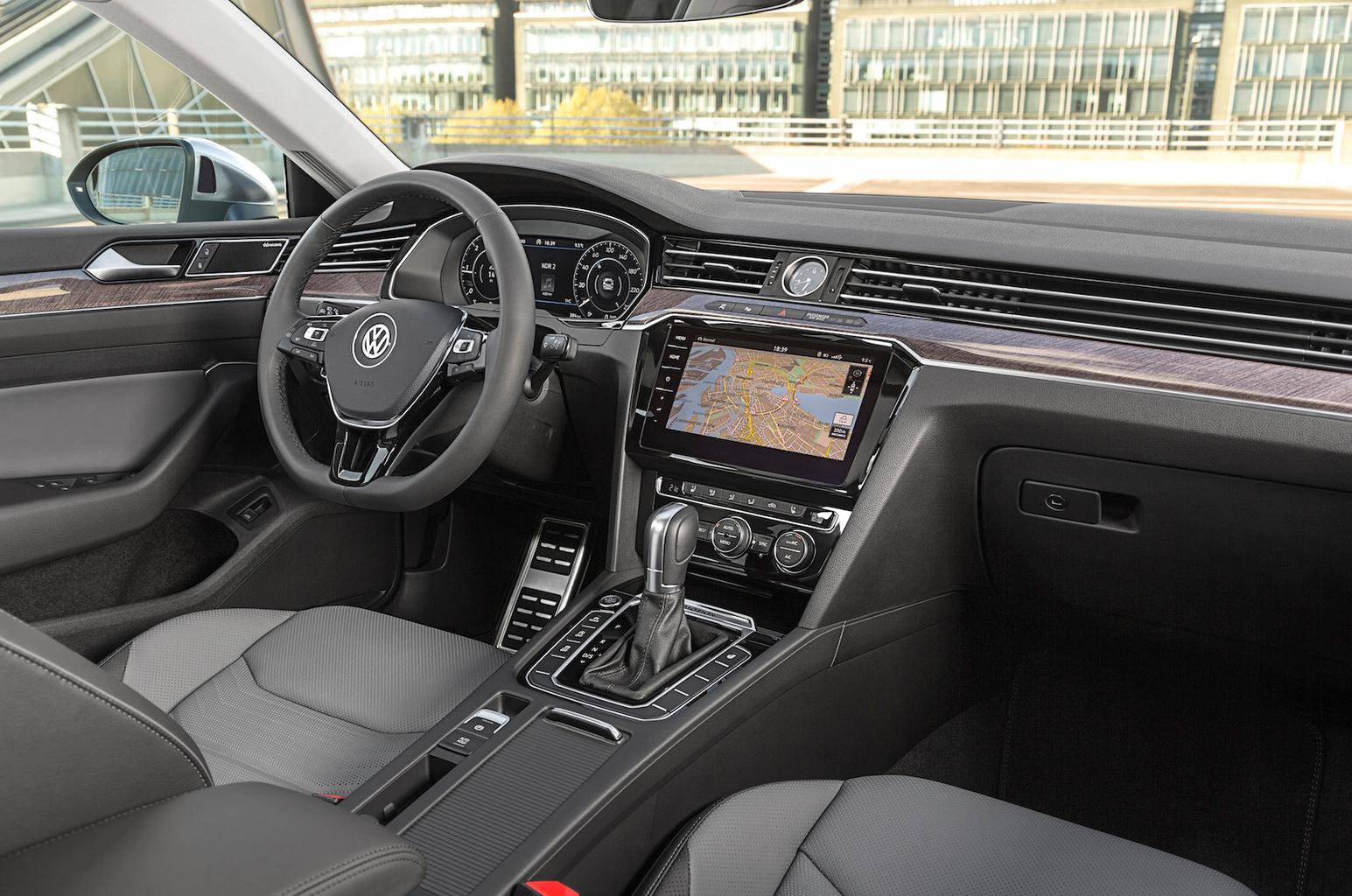 2017 Volkswagen Arteon on the road
Volkswagen is attempting to add sporting flair to the executive segment with the Arteon, but with mixed success. Having made the Arteon lower, wider and longer than the Passat, VW claims to have widely overhauled the car's suspension. It also fits its variable steering rack (which changes the steering's speed dependent on the driving situation) to the car as standard, as well as adaptive dampers and alloy wheels up to 20in in diameter to improve grip.
The Arteon's generally quiet and compliant ride, its well-suppressed engine noise and its consistently light control weights are all typical of VW and all feel like a good fit for the executive class. There are moments, however, when the sense of isolated calm is punctured by a ride that becomes clunky and hard-edged over ruts and sharp ridges - at least on the larger, 20in alloy wheels fitted to our test car.
Sport, Normal and Comfort driving modes are available, but the Arteon can be even more precisely set up when you enter Individual mode, allowing you to set the throttle, steeing and suspension how you want it. Set to its most aggressive Sport mode, the car's ride becomes quite restless, but its steering remains fairly light and is notably short on communication for the driver. Ultimately, the Arteon grips and changes direction hard enough to feel agile, but it's still much better at being a relaxing long-distance car in Comfort mode than a sports saloon.
Performance feels brisk in this diesel form, although VW's 2.0 TDI isn't as strong through the middle of its rev range as the six-cylinder diesel engines from Audi and BMW. The car's seven-speed automatic gearbox is fast-shifting and well mannered and allows you to cover ground quickly without working the engine too hard.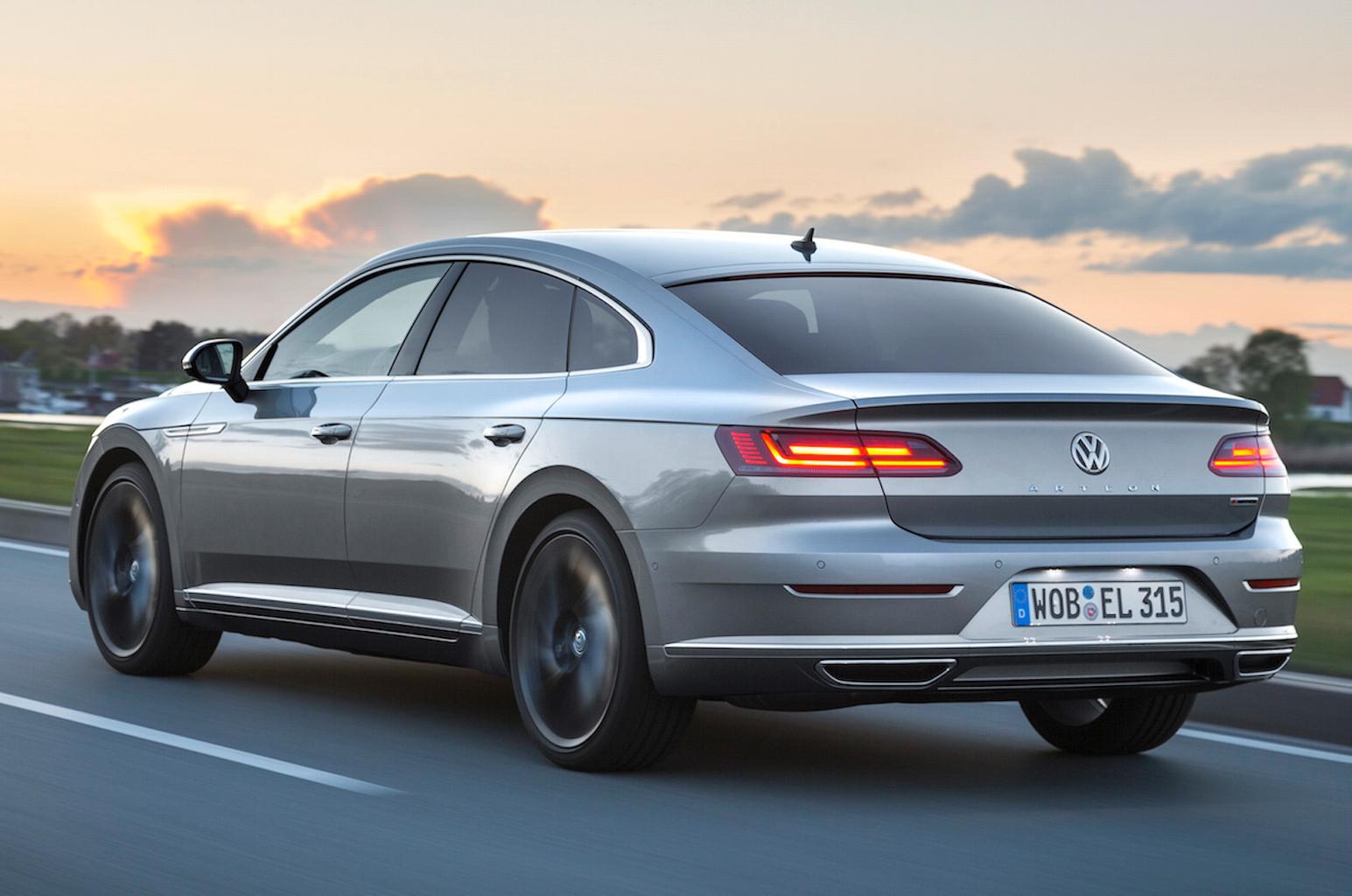 2017 Volkswagen Arteon interior
VW's restrained design philosophy has delivered a typically classy interior that feels solid and substantial. You sit lower within it than you do in the Passat, with a greater sense that you're being enveloped by the car's higher windowline, lower roofline and shorter windows.
The car's material quality levels are very good. Even its harder plastics feel smooth and well-finished and its switches feel robust, albeit perhaps a little more plain-looking in places than in Audis and BMWs. Volkswagen offers its new 9.2in Discover Pro touchscreen infotainment system as an option on the car - as recently included in the Golf range - as well as its Active Info Display digital instruments.
The infotainment system looks appealing, but there's no iDrive-style rotary dial controller; touch, helped by gesture and voice control, is your only way to master it. The gesture control only seems to work some of the time and can only be used to swipe left and right over menus, so it's of limited use. The system's display looks crisp and its navigation mapping is very good, but you do begin to miss VW's old menu shortcut buttons and its zoom and volume knobs.
Practicality levels are good by the standards of the executive class. VW insists you can sit three adults across the back seats, but we wouldn't recommend doing that over long journeys. Still, it's certainly true that there's plenty of second-row leg room and that head room is respectable. Behind, the Arteon gets a deep, wide boot with 563 litres of space and good access, and it expands to more than 1500 litres with the seats down.