2018 Audi A6 review – price, specs and release date
Audi's luxury car gets a raft of updates for its fifth-generation model, including mild hybrid engines and self-driving technology – but has all that made the car more appealing?...
Priced from £38,000 (est) Release date June
The luxury car class seems to have all bases covered. The BMW 5 Series is the compelling all-rounder, the Mercedes-Benz E-Class is the comfortable cruiser, the Jaguar XF is the driver's choice and the Volvo S90 is the respectable alternative choice.
So it's a tough job for the new Audi A6 to muscle back into this segment and stamp its own authority on it.
We liked the previous model, because it was classy and refined, but it lacked a dynamic edge that its best rivals had and, by the end of its life, the interior was feeling quite dated.
To reinvigorate the A6, the fifth generation has had a comprehensive rework, highlights of which are a line-up of mild hybrid engines and the inclusion of A8-inspired technology and styling.
At launch, there are two trims to choose from, Sport and S line, along with three engines – an entry-level 2.0-litre four-cylinder diesel engine (badged 40 TDI), a 3.0-litre V6 diesel (50 TDI) and a 3.0-litre V6 petrol (55 TFSI).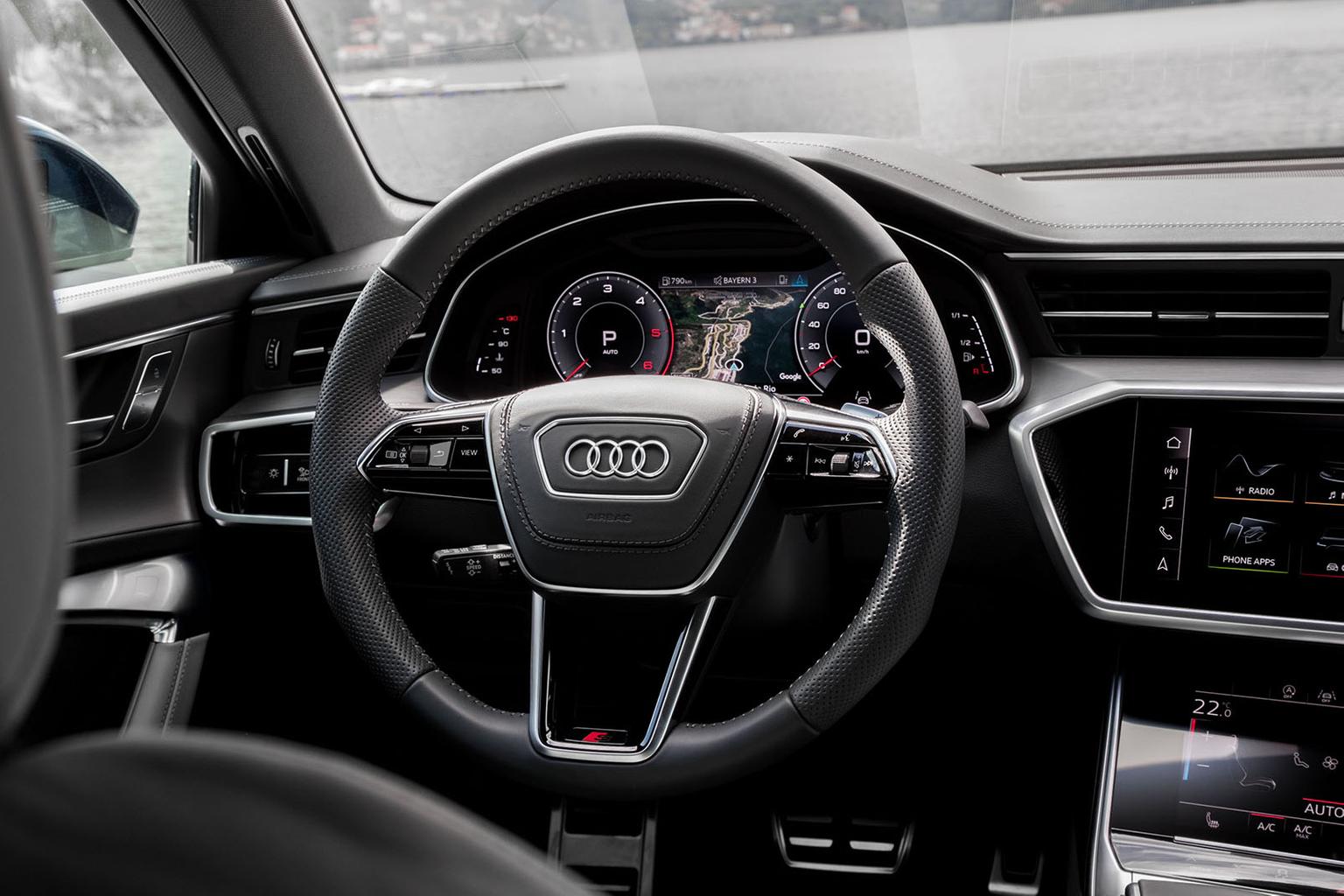 2018 Audi A6 on the road
The smooth and quiet nature of the previous car is present in the new model, meaning all engines are subdued at low revs and it's a generally calming driving experience – exactly what you'd hope from a car in this segment.
The only fly in the ointment is the gearbox. In the 2.0 diesel and 3.0 petrol, you get a seven-speed automatic gearbox as standard, while the 3.0 diesel has an eight-speed unit. In both cases, the shifts aren't anywhere near as razor-sharp as that in the BMW 5 Series' automatic gearbox – which is about as good as you can get. The A6's 'box proves a bit slow to engage at low speeds, while in Dynamic mode it often leaves you hanging onto low gears for longer than you'd like; manual mode via paddle shifters on the steering wheel is one remedy, but the shifts still feel slow.
The control weights frustrate, too. The brake pedal feels especially numb, making smooth stopping at slow speeds difficult to judge, while acceleration suffers from some lag even with the new hybrid set-up. The main benefit of this technology, though, is to increase efficiency. Audi achieves this by enabling the engine to turn off when you lift off the accelerator pedal between 34mph and 99mph. It happens automatically and lasts for a maximum of 40 seconds when the battery is fully charged – or 10 seconds for the 2.0 diesel, which has a less powerful hybrid system – before the engine turns back on again. Audi claims this technology can improve fuel economy by up to 0.7 litres per 62 miles; this isn't an exceptional amount but it's still a benefit, although it is disappointing that CO2 emissions haven't improved much from this new tech.
An advantage of the hybrid tech is the smoothness of the stop-start system; the new set-up means the starts are smoother than those in non-hybrid equivalents, and noticeably so. This hybrid system does mean that the A6 is heavier than before, but the smaller one in the 2.0 diesel makes the 40 TDI a hefty 120kg lighter than others in the line-up. That said, the more powerful cars with bigger hybrid systems do have another two cylinders under their bonnets.
As for performance, the 2.0 diesel unit is brisk enough, but acceleration feels slightly staid when going for an overtake and it's the noisiest at low revs. It's expected to be the best seller in the range, though, and we can see why; although final figures have yet to be announced, it's likely to offer the best blend of performance and fuel economy.
If you want more flexible engine performance, the 3.0 diesel is much more powerful but very smooth in delivery while being impressively hushed, with a good amount of power for hot-footing along country lanes or powering through motorway miles. Bear in mind, though, that fuel economy will be inferior to the lower-powred diesel. The 3.0 petrol, meanwhile, is smoother, quieter and more powerful still, offering the best performance in the line-up so far, but it'll likely command a high price and running costs will be equally high. A lower-powered 3.0-litre diesel badged 45 TDI will join the range at a later date.
The steering doesn't offer the bite and precision of the XF, but it's still predictable and smooth, while body roll is well controlled through corners, even if it doesn't manage its weight through direction changes quite so effortlessly as the 5 Series. You can opt for all-wheel steering in the A6; while it adds a bit of sharpness to turn in at faster speeds, it's hardly noticeable. The far bigger benefit is the reduced turning circle at low speeds (it's around one metre less with all-wheel steering), making awkward manoeuvres in town much easier.
There are four suspension options on offer. Entry-level Sport trim gets standard steel springs and the option of adaptive dampers or air suspension. S line trim, confusingly, gets stiffer sports suspension as standard, with the option of adaptive dampers or air suspension. In our testing, we found the adaptive set-up to offer the best comfort; but, in truth, none of the options offers quite the same level of sophistication and smoothness that you get in a 5 Series. Road imperfections that wouldn't trouble the 5 Series unsettle the A6 more easily and send subtle shudders through the suspension. Even on a motorway cruise, there is a slightly fidgety nature to the ride – but it is still a very comfortable car and perhaps says more about how excellent the 5 Series is.
You can also add an array of autonomous driving features to the A6 that have been borrowed from the A8. However, like the latter, the most advanced self-driving modes aren't able to be used on public roads just yet. So the best autonomous system you can currently get is adaptive cruise control with steer assist – a useful tool for high-mileage motorway drivers.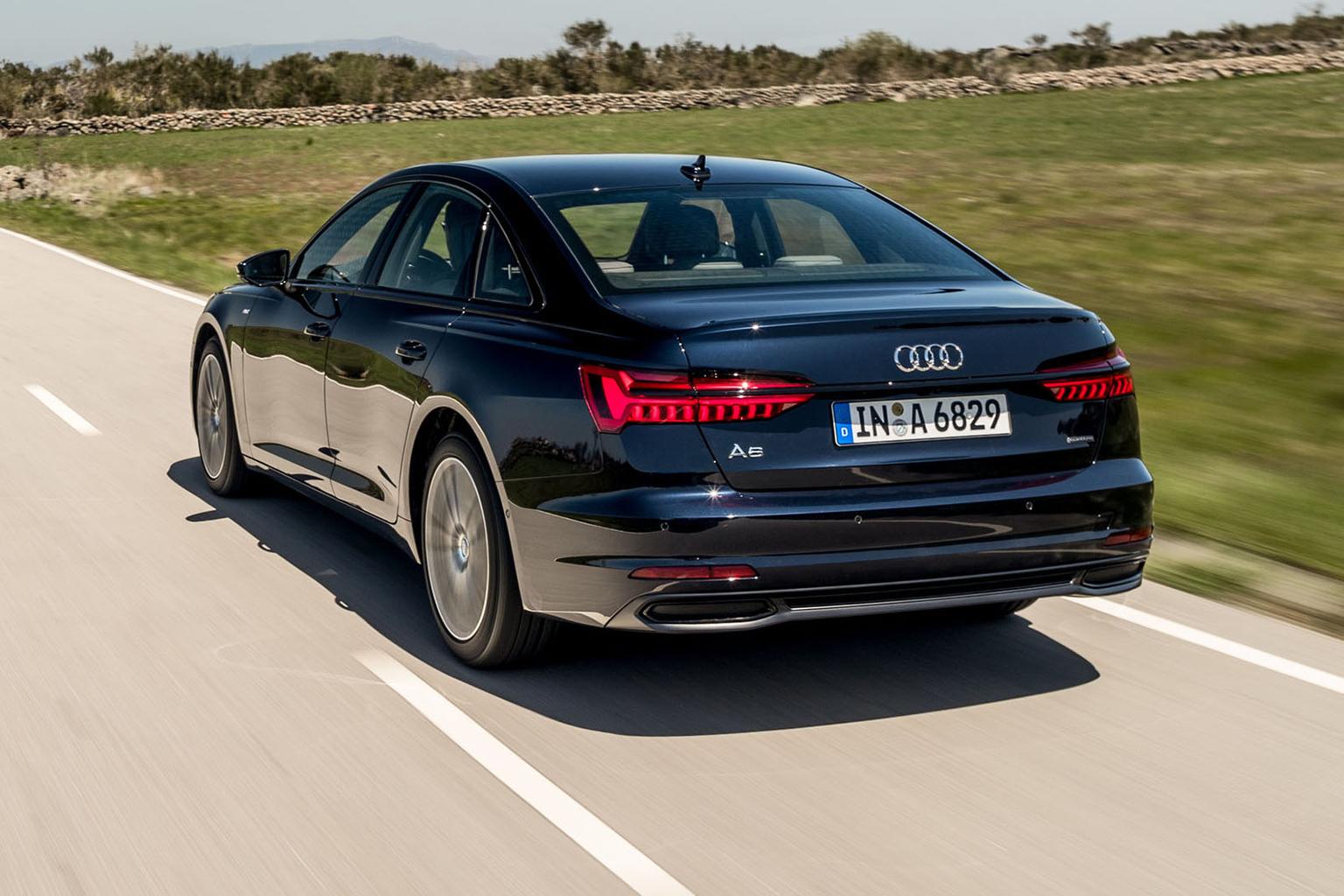 2018 Audi A6 interior
The A6 gets a thorougly refreshed interior that sports Audi's latest MMI dual-screen infotainment system, with two 8.6in screens on the dashboard. A larger 10.1in top screen is on the options list, while a 12.3in digital driver's display can also be added. We weren't particularly impressed with this infotainment system, finding it quite convoluted and challenging to use on the move. Infotainment aside, it's a sleekly designed interior with a tremendously high level of build quality, meaning everything you touch feels very well put together. It's nice to look at, too, even if it does lack a bit of character.
There's lots of adjustment available in the seat and steering wheel for the driver to get comfortable, accompanied by excellent visibility. A slight increase in size for the A6 means there's a tad more room in the back for passengers, so rear space is generous, with a decent amount of head and leg room to put the A6 on a par with most in this class. The boot, meanwhile, has remained the same size as in the previous model, despite the new hybrid battery being stored in the rear, while Audi has given it a bigger opening to help with loading bulky items. The boot is a similar size to that in the 5 Series and E-Class, so you'll be able to squeeze in plenty of luggage. An array of useful storage compartments and cubbyholes increases the A6's practicality.