BMW 5 Series Touring 2017 review
Our reigning Car of the Year is now available as an estate. Does this new BMW 5 Series Touring impress quite as much as the saloon?...
The current BMW 5 Series saloon, introduced last year, is the seventh-generation model, and given that the previous four all included an estate version, it was only ever going to be a matter of time before this latest BMW 5 Series Touring was revealed.
Given that it's based on our reigning Car of The Year, it's starting from a strong position. But estate buyers have unique priorities, so success is by no means guaranteed.
The Touring features many of the same engines as the saloon at the front, the same technology and luxurious interior in the middle and, of course, has a larger, more practical boot at the rear. In fact, the boot is even bigger than the previous Touring's, while self-levelling rear air suspension is now standard so you can carry heavier loads.
But there's plenty of choice for premium estate buyers; the Audi A6 Avant, Mercedes E-Class Estate and Volvo V90 all combine spacious, sumptuous interiors with large luggage capacities. The 5 saloon managed to overcome its rivals from these manufacturers, but will the Touring be able to conquer them too?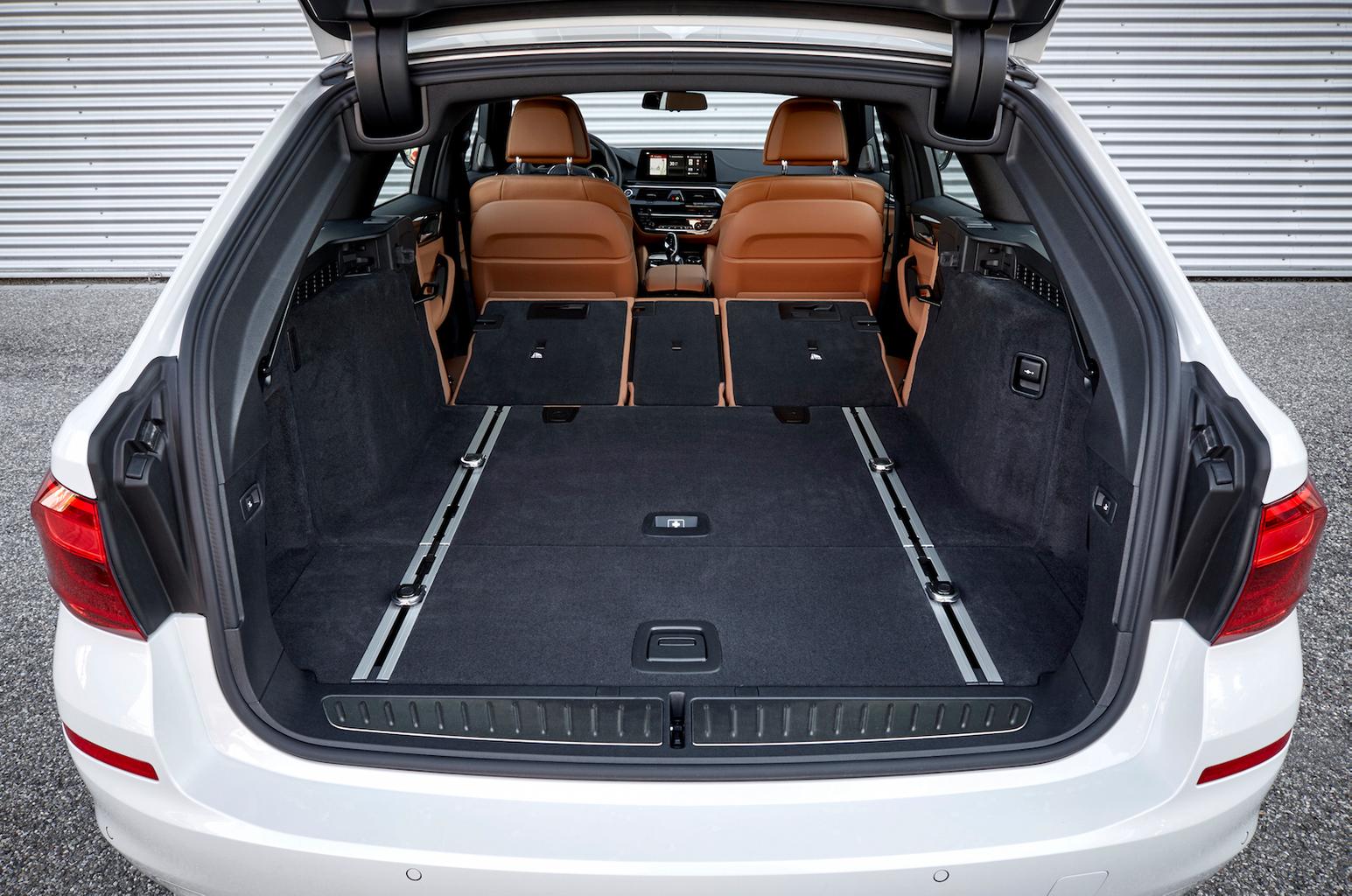 What's the 2017 BMW 5 Series Touring like to drive?
The Touring is every bit as impressive as its saloon stablemate on the road. Even though it weighs more and is fitted with the same four-cylinder 520d diesel engine, it feels no less eager to pull from low revs or sprint from standstill. It remains one of the smoothest and quietest four-cylinder diesels in this class, too, even when pushed hard.
That said, you'll have an even more luxurious experience if you go for the six-cylinder 530d diesel. It's inherently smoother, and displays an instantanious muscularity across its rev range that the lesser 520d can't hope to match. Both engines are paired with BMW's eight-speed automatic gearbox, which flicks between gears intelligently on its own, or responds sharply to manual paddle pulls.
Ride comfort is, if anything, even better than it is in the saloon, even on our test car's larger-than-standard 18in alloy wheels. The standard air suspension at the rear (this isnt even an option on the saloon) provides a typically pillowy high-speed motorway ride in its Comfort mode, yet isn't tripped up by ruts and potholes at town speeds. Overall, it's such a close run thing with the Mercedes E-Class Estate that we'll have to drive them back-to-back before deciding which is the king of comfort.
What we can confirm now is that the Mercedes can't touch the BMW for handling – indeed, few rivals can. Switch to the firmer, more responsive Sport mode and its steering feels more consistently weighted and precise, its front wheels are keen to bite, and there's genuine enjoyment to be had as the Touring flows confidently from corner to corner.
What's the 2017 BMW 5 Series Touring like inside?
The Touring's boot is slightly larger than before, with its 570-litre capacity (with the rear seats in place) making it marginally larger than the A6 Avant's and V90's, but it's still quite a bit smaller than the long-time class-leading Mercedes E-Class's.
However, as mentioned, the introduction of rear air suspension has increased the load weight it can hold, a powered tailgate with automatically retracting tonneau cover is standard, and the space on offer is consistently square with no load lip and very good access. BMW continues to fit its independently-opening rear window, too, a USP within the class and genuinely useful for loading smaller items in tight spaces.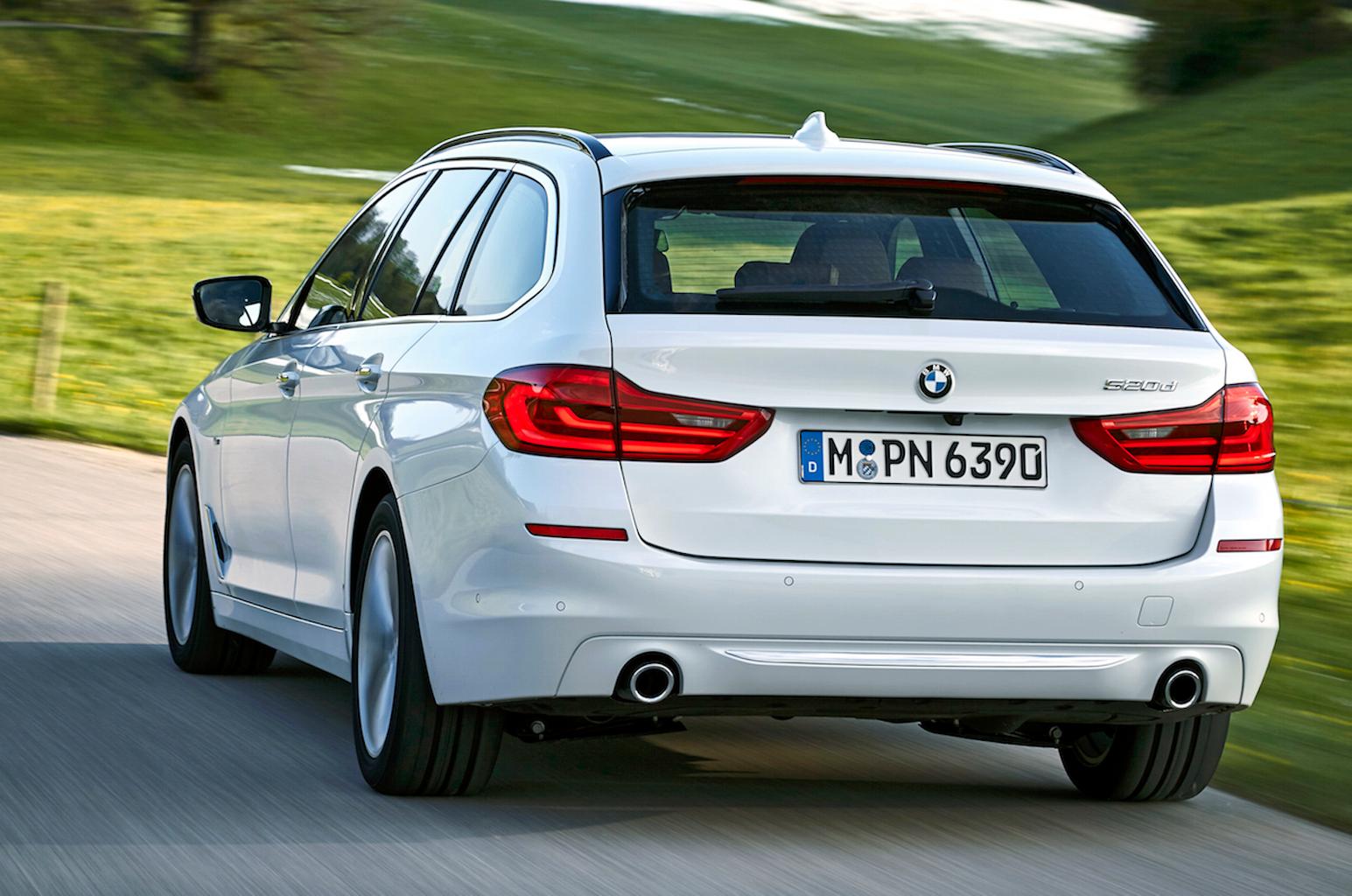 With a push of a button just inside the boot entrance the rear seats flip down electronically and can be split in a 40:20:40 configuration. Lashing hooks, nets and a handy storage compartment for the tonneau cover beneath the boot floor also feature. In short, the 5 Series Touring's boot isn't class leading for room, but no family would feel shortchanged.
And neither would they when it comes to interior space, because like the saloon, the Touring accommodates four adults with ease, and a fifth sat in the middle rear seat won't have too much to complain about, either.
The driver's seat and steering wheel adjust generously, BMW's latest and class-leading iDrive infotainment system with a 10.2in colour touchscreen is standard – although disappointgly Apple CarPlay smartphone-mirroring technology isn't – and interior quality is up there with the likes of Audi. Collectively, these strengths mean there are few better places to spend a long journey.