Dacia Sandero long-term test review
It's not the headline-grabbing £5995-spec Sandero, but hopefully our 0.9 TCe Ambiance-trim car should prove easy to live with...
Need a valuation?
Obtain a FREE used car valuation for any vehicle.
The car: Dacia Sandero 0.9 TCe 90 Ambiance
Run by: Jimi Beckwith, special contributor
Why it's here: Britain's cheapest car has received a mid-life facelift. It's here to show us just how much it's improved, and if cheap can be cheerful.
Needs to: Have a far-reaching appeal, and impress a wide range of people without the archetypal budget car lack of dignity. Big practicality, and small running costs a must.
---
List price: £7995, Price as tested: £8640 Miles covered: 1000, Official economy: 57.6 Test economy: 42.6mpg Options fitted: Height adjustment pack (£50), Metallic paint (£495), Emergency spare wheel (£100)
---
18 July 2017 – The Dacia Sandero joins our fleet
It's not easy being a budget carmaker; there's pressure from all sides to be practical, functional, good value and appealing to a wide audience, all while being desirable enough to accrue sales.
Lucky, then, that Dacia seems to have got it right with the Sandero, and the others in its range; they've passed 100,000 registrations in the UK since Dacia's UK launch, with no signs of slowing.
We're not off to a good start, though, the Sandero and I, having driven one a few years ago - in £5995 Access trim - I disliked it from the off, for its spartan interior and weird, lumpy clutch.
In the years since, a facelift has brought the Sandero into 2017, and good news; they've sorted the clutch. It's disconcertingly light, but gone is the weird lumpiness responsible for my ire, and several embarrassing stalls in traffic, the first time around. Again, so far so good. We've also got a mid-range Ambiance-spec car, so it's more just-about-enough than holiday-rental-spec, so there's no fretting about the lack of creature comforts, for one.
So what do we have, if not in the headline-grabbing poverty-spec Access? Well, in Ambiance trim, there's most notably, remote central locking, air conditioning, electric front windows, a DAB radio and Bluetooth, aux and USB connectivity. We've also got the £100 height adjustment pack - for the driver's seat, steering wheel and front seatbelt - although the former is barely needed; there's oodles of headroom in the upright supermini. We've also gone for the attractive Cosmos Blue paint (£495) which in Ambiance spec, also covers the bumpers. On Access-spec, it doesn't.
More surprising, given Dacia's reputation as the go-to budget brand, are the automatic emergency braking, hill start assist, front fog lights, LED daytime running lights, tinted windows, gloss black interior trim, and an ECO driving mode with Stop-Start. For a car which costs in such a well-equipped state, a full £1000 less than the entry-level Citröen C1; a much smaller car, I was impressed. The Sandero Ambiance genuinely feels like you get more than you're paying for. Sadly, so often it feels the opposite in modern cars.
That said, some of the included equipment is decidedly average. Despite a slick, quick USB connection, easy Bluetooth connectivity and logical ergonomics, the speakers in the Sandero aren't up to much. Rich sound quality, it seems, is reserved for the rich. On top of this, our recent summer heatwave has had me reaching for the air-con button much more than usual. It's pretty pointless, though; the air-con isn't particularly cold, and on the stronger fan settings, it's noisy.
As expected, the interior of the Sandero isn't plush or luxurious, but feels well screwed together, and the seats are some of the most comfortable I've sat in - on a car of any price. So comfortable are they, that I didn't notice my keys in my back pocket at any point of a 90-minute journey from one side of London to another.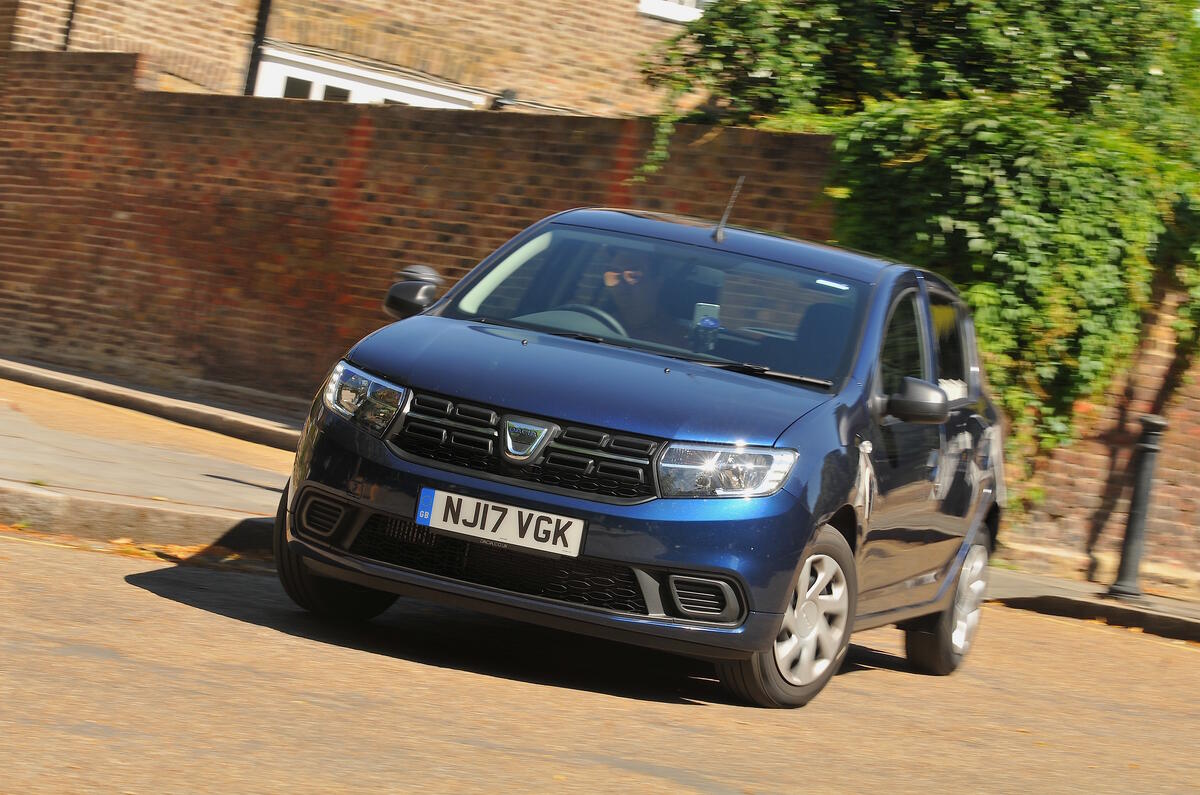 Another surprise was the amount of character instilled into the car; I've driven cars at five times this price with not an ounce of the personality. There's a pluckiness and cheer to the Sandero, with its supple ride, light weight and nippiness with the 0.9-litre turbocharged three-cylinder engine, once the turbo delivers the power it's supposed to after a moment's hesitation. It's no Mazda MX-5 for being fun to drive, but it's far more chirpy than you'd expect.
So what's the mission for the months to come with the Sandero? Well, in exactly this spec we've given it a What Car? Award - for the fifth year running - as the Best Small Car under £12,000. It's clear that at this price point, in this segment, that the Sandero is cheap. Remarkably cheap, in fact. So I'm going to set about and find out if it's got the cheer to go with it, while seeing how easily it fits into my life, with a little help from those around me. The Sandero, as a large supermini eyeing up bigger players with a smaller price tag, can't just be cheap; it's got to be good. Think small running costs, big practicality, flexibility and ease of use. It'll have to please many; from young, first-time drivers to those in need of a runaround to the shops and back in their retirement.
So, why buy one, over a second-hand, better-equipped supermini with a couple of thousand on the clock? That's precisely what I intend to find out, by any means possible. It's already won over a former critic who wouldn't have recommended one to anyone, but it's not quite convinced me yet to recommend it outright.
---
Got a motoring question? Our experts are standing by to help, just tweet us your question using #askwhatcar
For all the latest reviews, advice and new car deals, sign up to the What Car? newsletter here