New Audi RS3 Sportback 2017 review
A new Audi RS3 has arrived. It's faster and promises better handling than before, but does it make a more convincing case for itself next to the cheaper VW Golf R and scintillating BMW M140i?...
In a quest to remain at the pointy end of the hot hatch horsepower pyramid, both Audi and Mercedes have been locked in an intense battle of numbers for more than half a decade. First the Audi RS3 took the honors of being the most powerful hot hatchback when it first appeared back in 2011, only for it to be edged out by the monstrously powerful 355bhp A45 AMG just two years later.
This back and forth between has continued to rumble along, with both cars now closing in on 400bhp. And yet, despite their monumental straight-line performance, neither has, so far at least, delivered the grin-inducing driving experience of the very best hot hatches. Where less expensive machinery such as the BMW M140i and Ford Focus RS offer a real sense of playfulness, the Audi and Merc have always felt heavier footed and less fluid in their movements.
But has that been enough to stop Audi searching for more power? No, of course not. With the 2017 model packing 33bhp more than the previous RS3 hatchback, giving a total of 394bhp, Audi is clearly back to playing Top Trumps. However, the updated RS3 also has a wider stance and a lighter engine (from the TT RS), plus its four-wheel drive system has been fettled in the hope of making the handling a little more entertaining.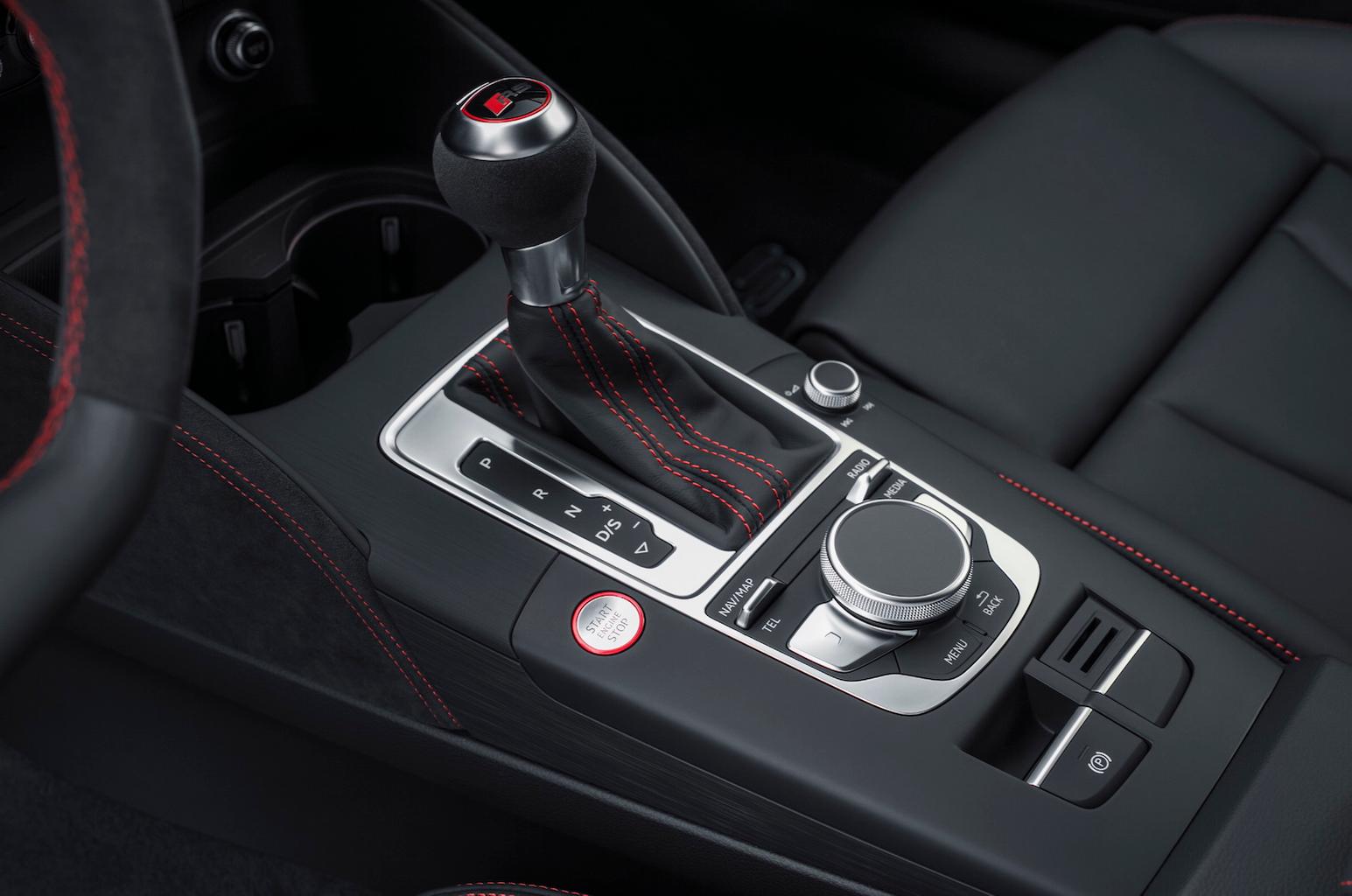 What's the Audi RS3 2017 like to drive?
With a montrous 354lb ft of pulling power available from just 1700rpm, the RS3 is seriously quick off the mark. 62mph comes and goes in a claimed 4.1 seconds – a figure that feels entirely believable from behind the wheel. Combined with a slick shifting automatic gearbox, there are few cars on sale in any class that are capable of delivering such effortless performance.
That said, once up and running, the RS3 doesn't deliver the same high rev rush that you get from a BMW M140i or a Honda Civic Type R. The fact the engine is so strong at low revs means there's little reward for revving it hard, and the automatic gearbox also tends to dither a bit when you ask for a sudden burst of acceleration.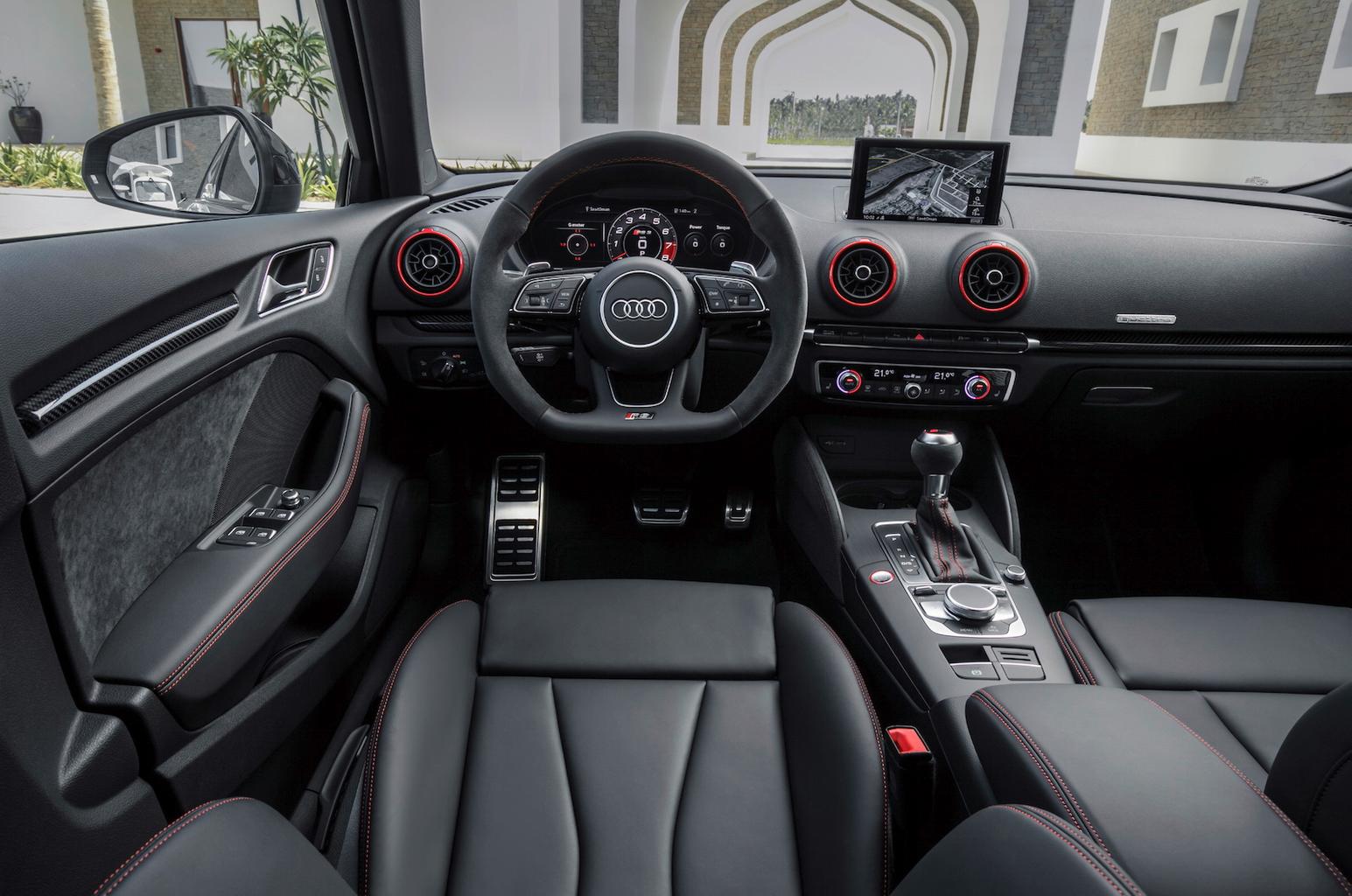 Happily, the lighter engine does benefit the car when it comes to handling. With less weight over the front end, the RS3 turns into corners with more zest than the car it replaces. Where the old car would wash wide during quicker cornering, the new car stays locked onto your chosen line. And with (optional) adaptive dampers fitted, body control is exceptional, with the car resisting lean even when cornering at high speeds.
Aside from some tyre roar up at motorway speeds, the RS3 is quiet enough at the legal limit, too. There's very little wind noise, and switching to Comfort mode keeps exhaust drone to a minimum. In fact, we'd be very tempted to tick the sports exhaust option box, as Audi's five-cylinder sounds superb in this configuration.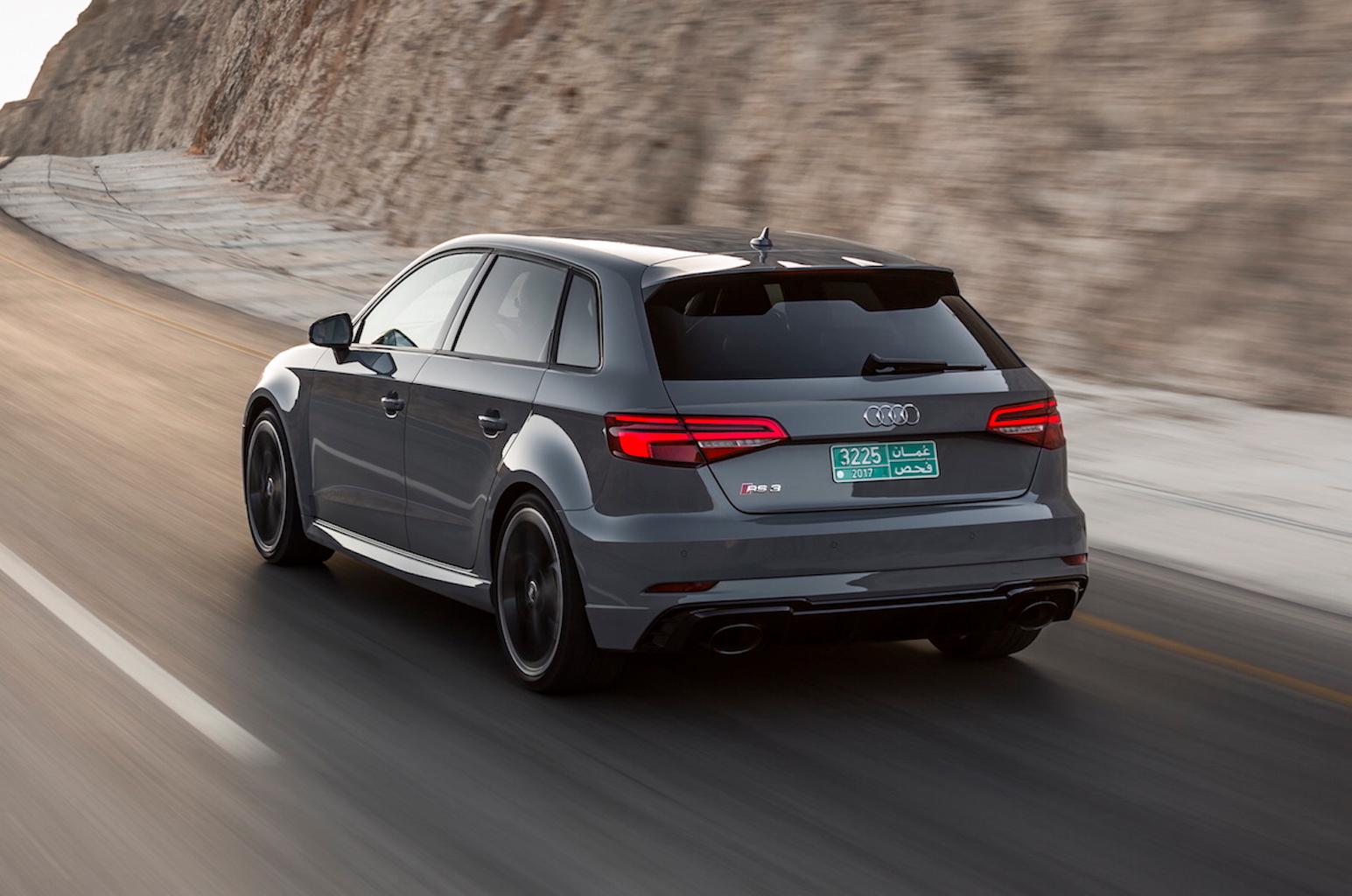 What's the Audi RS3 2017 like inside?
The regular Audi A3 is impressive enough inside thanks to lots of soft plastics, well-damped switches and beautiful chrome accents – and it's more of the same in the RS3. The minimalist design is head and shoulders above both BMW and Volkswagen for quality.
Some might find the predominantly dark grey cabin a little too restrained, but there are enough bepoke touches to indicate that you've forked out for an RS model. The flat-bottomed steering wheel is a lovely thing to hold, embossed RS logos on the cross-stitched leather seats add a touch of class and, in line with the rest of the facelifted A3 line-up, the interior of the RS3 can be enhanced with Audi's Virtual Cockpit – a digital display the sits behind the steering wheel in place of conventional instrument dials.
There's generous room for two adults in the front, and the standard heated electric sports seats (with adjustable lumbar support) are surprisingly comfortable, yet also supportive when corning hard.