New Kia Picanto 2017 review
The Kia Picanto receives a new look, a new engine and improved handling for 2017. Is it enough to place it at the top of the city car class?...
The Kia Picanto's funky looks, competitive prices and long standard warranty have always won it fans, but in a city car class that features extremely strong rivals, such as the Hyundai i10 and Volkswagen Up, it has failed to rise to the top in our tests. But that could be about to change, because although the Picanto's overall dimensions remain the same for 2017, there have been comprehensive changes elsewhere.
Firstly, it has been treated to a fresh new exterior look, followed by an upgraded interior and a new infotainment system on the inside. Kia has also moved the Picanto's front and rear wheels farther apart to improve its ride and interior space, as well as revised and stiffened its suspension and quickened its steering for a sportier drive. Increased soundproofing should ensure it's a quieter place to wile away the miles, too.
Perhaps the biggest news, though, is the addition of a new 98bhp turbocharged three-cylinder 1.0-litre petrol engine, which joins the non-turbo three-cylinder 1.0 and four-cylinder 1.2 petrols carried over from the previous model. Each engine gets a five-speed manual gearbox as standard, or the 1.2 can be specified with a four-speed auto.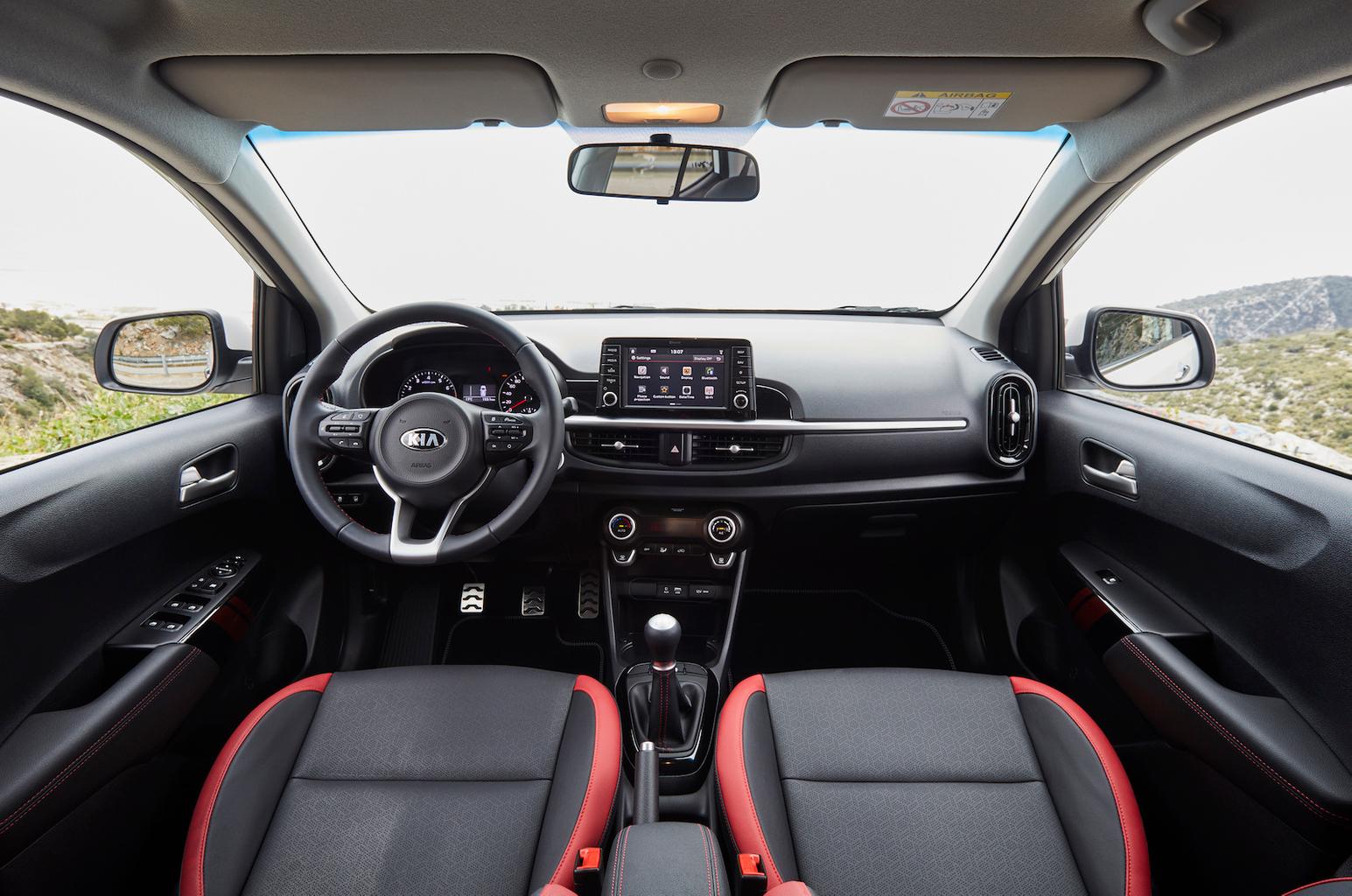 What's the 2017 Kia Picanto like to drive?
Unfortunately, the new turbo engine doesn't arrive until later this year and so far we've only had a chance to try the other two options. The 83bhp 1.2 is the smoother engine, has the better throttle response and can deliver a fair pace if pushed hard, but begins to get pretty vocal when you do so.
It's the preferable engine if you live in a hilly area, though, because the 66bhp 1.0 can feel decidedly flat in such circumstances - it had to be thrashed hard in the manual gearbox's lower gears around our undulating test route to maintain momentum. However, it doesn't feel out of its depth bumbling through town, and will probably find more buyers with its better fuel economy and CO2 emissions.
We tried models with 15 and 16in wheels, and while the larger set did bring a little more jostle over ruts, in both instances the Picanto proved comfortable. And with stiffer anti-roll bars, a more rigid body structure and quicker steering, it feels more agile than the old model.
It doesn't quite rival a VW Up for driving enjoyment, but that quicker steering - while a little vague around the straight-ahead - weights up nicely and is pleasingly precise. Once settled into a bend, the Picanto also grips well and its body remains well composed. Most importantly, all this helps make nippy urban driving a cinch.
Completing an impressive display is a noticeable improvement in noise on the move. No city car can claim to be truly luxurious in this regard, but with its added sound deadening, even at high speeds, the Picanto suffers no frustrating tyre, engine or wind noise.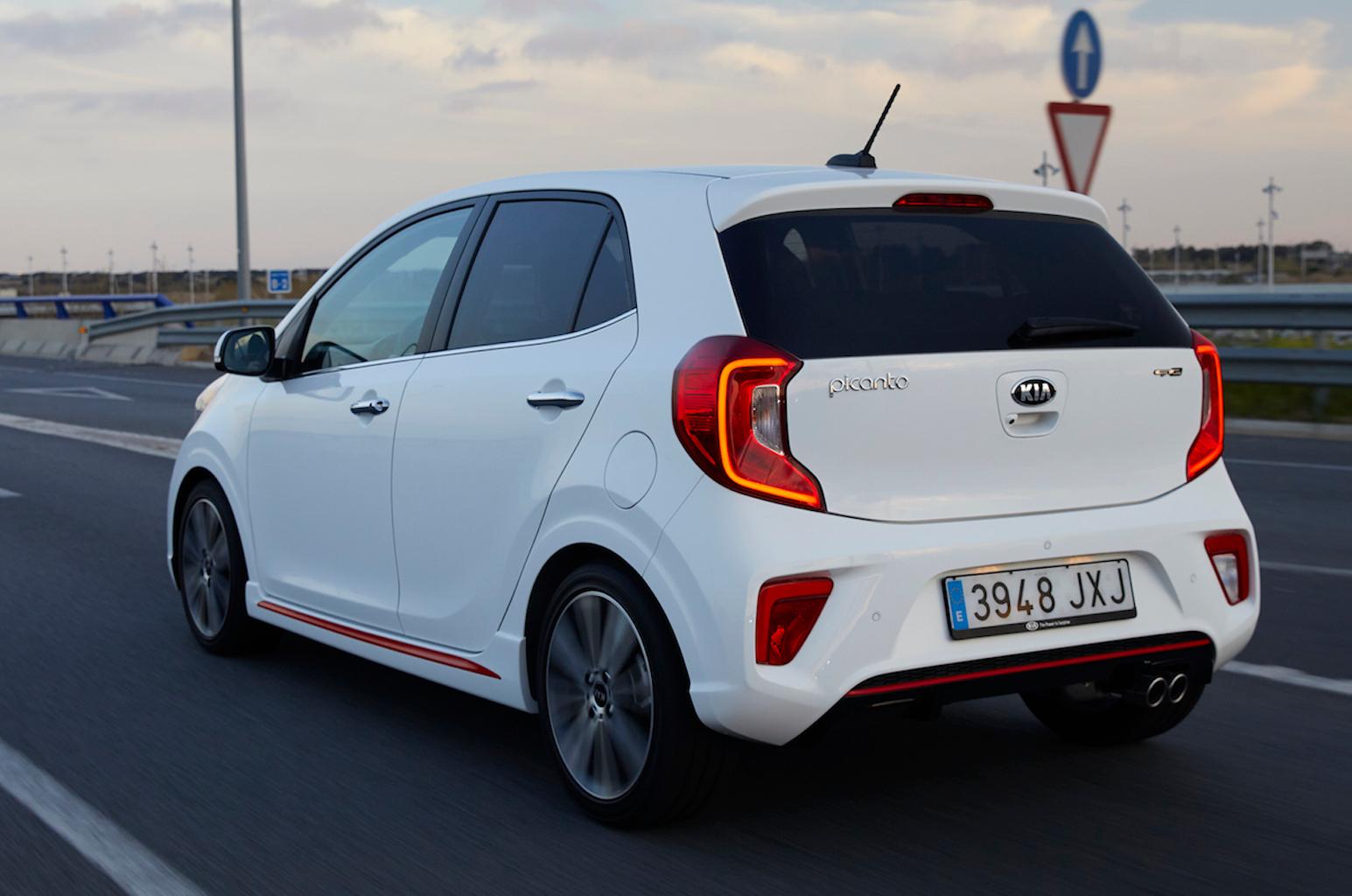 What's the 2017 Kia Picanto like inside?
For this new generation, Kia has done away with the three-door version of the Picanto, leaving only the more practical five-door option instead. And inside, by stretching the Picanto's wheelbase, there should be slightly more room for passengers to stretch out.
There's certainly a decent amount of space for two adults in the front seats, especially now that the Picanto's dash has been raised slightly to allow more knee room. A new armrest between the front seats adds more comfort to an already impressive driving position, which is widely accommodating thanks to both a manually adjustable driver's seat and steering wheel. However, the rear space, although improved over the old model, is still some way short of a Hyundai's i10's - adults will find their knees pressed into the back of the front seats.
The Picanto's boot is a more positive tale. At an improved 255 litres, with a height-adjustable boot floor and good access through a wide opening, as well as 60:40 split-folding rear seats, it makes for a more practical load-lugger than both the VW Up and Hyundai i10.
Kia has made an effort to bring more personalisation to the Picanto, which now offers five different interior colour packs, as well as the option of cloth or artificial leather trim. Overall, the design and materials used bring a more up-market feel than in the old car, but the Picanto is still some way behind the efforts of VW and its Up.
That said, it competes more closely on infotainment. Our test cars all featured Kia's new 7.0in colour touchscreen with sat-nav, Apple CarPlay and Android Auto. However, UK trims are yet to be announced, and it's very unlikely every trim will get this version. Regardless, the new system is high-resolution, nicely responsive and its menus easily navigable.
.