New Suzuki Swift 2017 review
Fresh looks and an all-new platform for Suzuki's stylish hatchback. Is it enough to beat its established small car rivals?...
If you're interested in the Suzuki Swift, you're probably also considering one of its rivals, and in this regard you're spoilt for choice. Want something fun to drive? There's the Ford Fiesta. After a classy feeling interior? That'll be the Mini. Alternatively, if you want a consummate all-rounder, the Skoda Fabia is our choice.
And while the outgoing Swift looks fairly funky, it's cramped inside, has a low-rent interior and engines that are some way behind the best turbocharged units out there. Clearly it's time for a reboot.
That leads us to this new Swift, a car that takes inspiration from its predecessors but improves on them in almost every area.
Underneath its cutsey body is the latest lightweight platform that's shared with the Suzuki's Baleno and Ignis.
It's slightly shorter than before but has its wheels pushed further out to the corners of the car and is wider overall too. Combined, this gives more room inside for people and increases boot capacity by a significant amount. Impressively, the Swift is also up to 120kg lighter than its predecessor - the equivalent of not giving your burly rugby-playing mate a lift.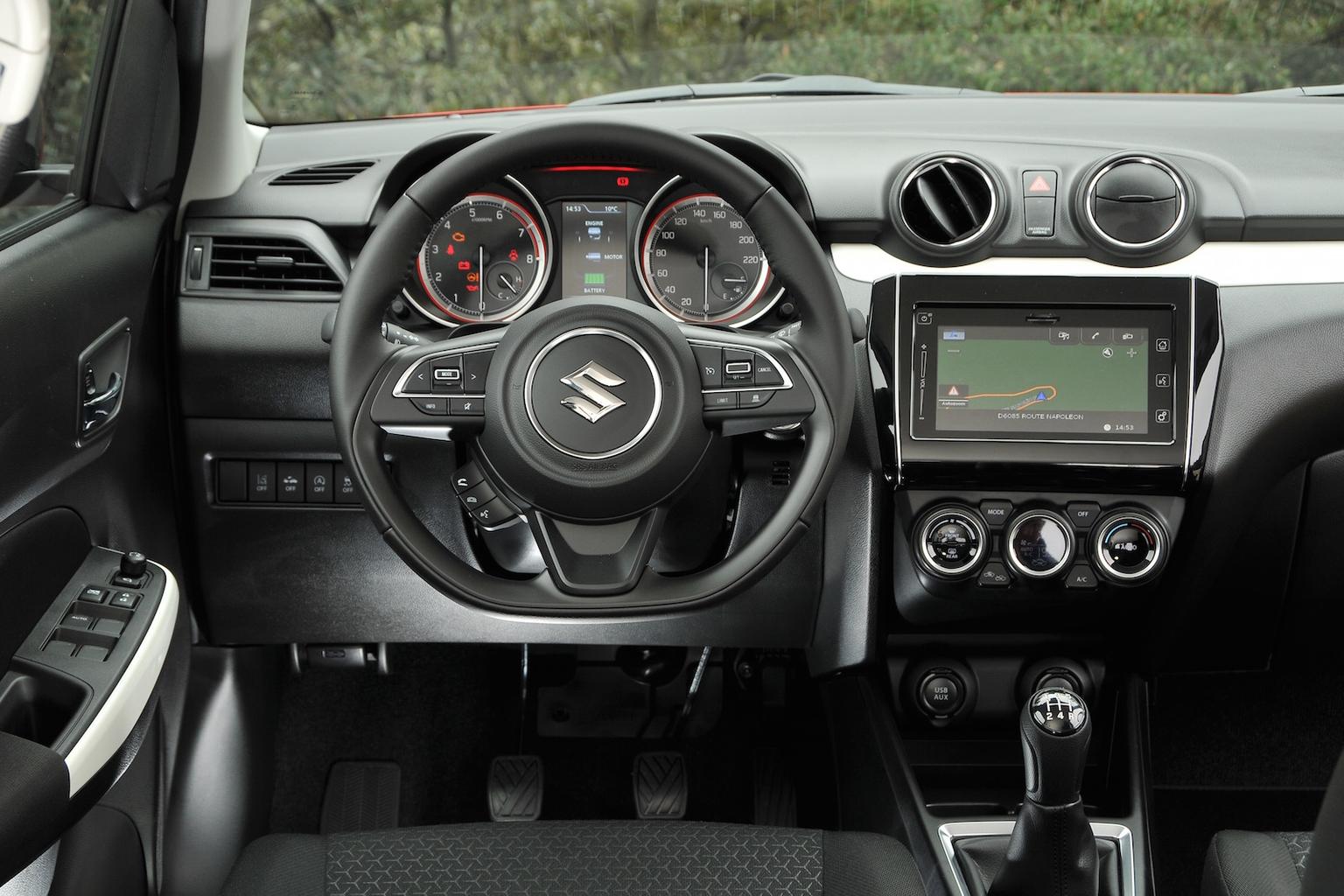 Plus, Suzuki has upgraded the engines on offer. The entry-level 1.2-litre petrol motor may be a familiar, frugal face, but the 1.0-litre 'Boosterjet' turbo engines (with or without mild hybrid assistance) are new to the Swift. You can even get a version with four-wheel drive for all-weather grip. If you're after a diesel, though, you're out of luck.
What's the 2017 Suzuki Swift 1.0 Boosterjet SHVS like to drive?
So far, we've only driven the 1.0-litre SHVS (Smart Hybrid Vehicle by Suzuki), an engine only available in top-spec SZ5 trim. This takes the 109bhp turbocharged three-cylinder petrol Boosterjet engine then adds a small electric battery and a combined motor/generator unit. This is able to recover energy when you decelerate and then reuse it to increase pulling power from low revs.
While you can't run on electric power alone like proper hybrids, this system does make the engine feel like a far bigger unit. You really don't have to rev the motor hard to get it to pull you up to speed. This doesn't just help drivability, it also improves fuel efficiency.
Not only is the engine flexible and powerful enough to get you up to motorway speeds without fuss, it's also smooth. The start/stop system works quietly and sends very few vibrations through the pedals and steering wheel. The typical three-cylinder thrum is well contained and the noise fades into the background at speed.
That said, you still hear a fair amount of road noise and plenty of whistling from around the door mirrors at speed. Comfort is also spoilt by the ride - drive over rough roads and the suspension quickly gets upset, noisily sending jolts through the base of your seat.
The upshot of this is keen handling. Throw the Swift into a few twists and turns and you'll find the steering is nicely weighted, quick and makes placing the nose of the car easy. There's not much in the way of body lean and there's plenty of grip, too. Even so, it's never quite as much fun as the Fiesta.
What's the 2017 Suzuki Swift 1.0 Boosterjet SHVS like inside?
At first glance, it appears that the Swift's interior has taken a noticeable step forward. The cowled instrument dials and centre console twisted towards the driver set the scene, while the flat bottomed wheel adds to the sporty flavour.
Start prodding and poking, and you'll soon find that while things may look nicer, they don't feel it. Yes, the leather-wrapped wheel, tactile gearlever and other soft-touch materials are welcome, but there's still far too much cheap-feeling plastic. Of course we're not expecting Rolls-Royce levels of quality, but rivals such as the Fabia prove that you can use hard plastic and still make an attractive yet substantial feeling interior.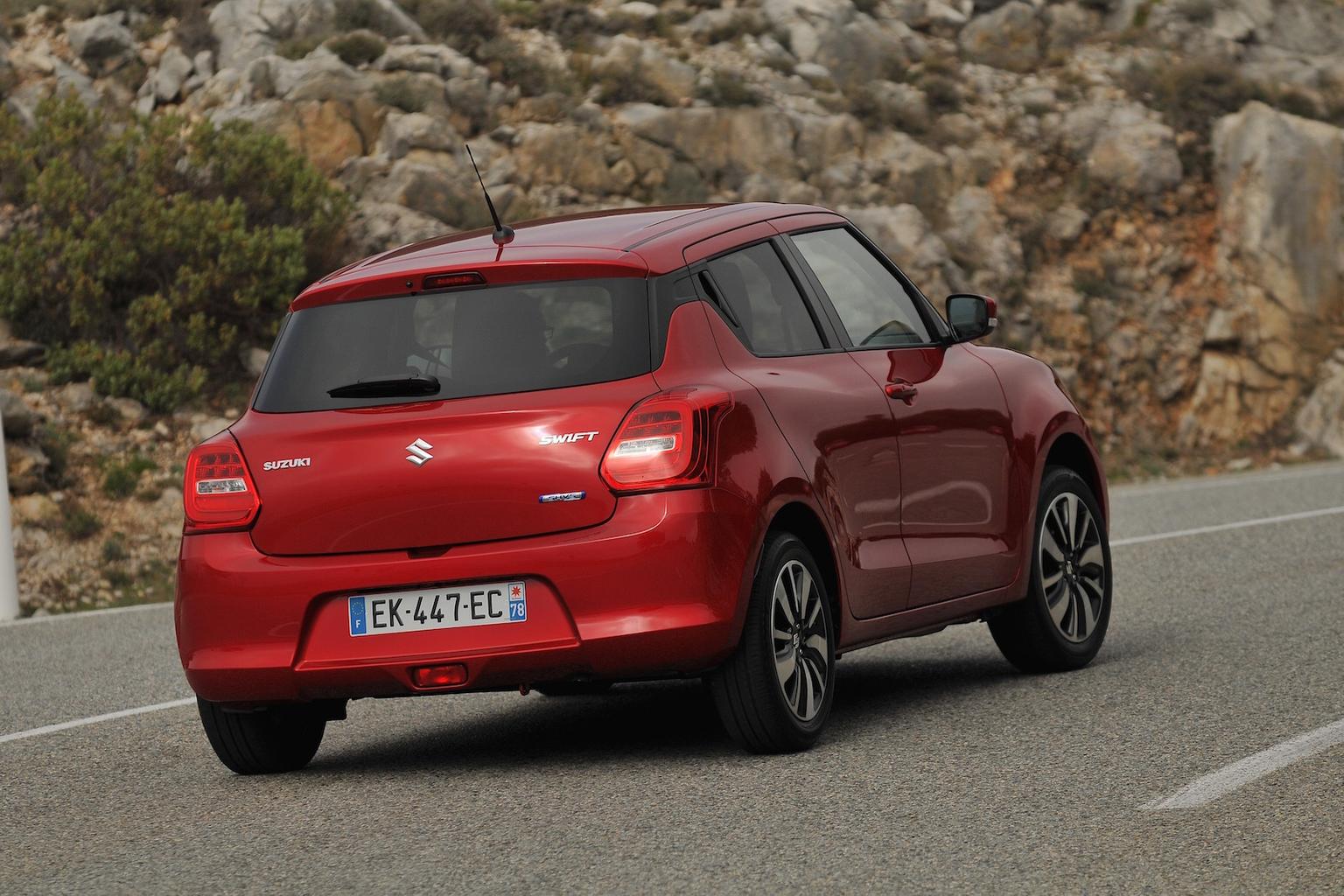 The Swift's infotainment also feels off the pace. It's certainly easy enough to use, with big icons and a simple menu layout, but we found it to be laggy at times and with graphics that looked a bit Windows 98. That said, we appreciate the addition of Apple CarPlay and Android Auto on mid-spec SZ-T models and above.
So, what about the extra interior space? There's certainly far less chance you'll be rubbing elbows with your front-seat passenger and you'll both have plenty of head and leg room. It is a shame that only top-spec SZ5 models get fore-and-aft adjustment for the steering wheel, though.
In the back seats you'll find reasonable leg room but a roof that curves heavily at the sides. That means you don't have to be that tall to find the side of your head rubbing against the roof. At least there's (technically) room for three adults on the rear bench, unlike in some rivals.
The Swift's boot is significantly bigger than before, up from a pokey 211 litres to 265. That makes it better than the Mini, but worse than the Fiesta and significantly down on the cavernous Fabia. Even so, there's enough room for an average family's weekly shopping, although you'd probably need to fold the seats down to get a large pushchair back there.
.