Seat Ibiza 2017 review
We try the new 2017 Seat Ibiza for the very first time ahead of the car's launch in July. Should the class-leading Skoda Fabia be worried?...
As any football fan will tell you, Barcelona is used to being the best. But the city has yet to achieve quite the same success in the world of motoring, with its local car maker Seat more often hovering around mid-table rather than challenging at the top of the league.
But that finally seems to be changing. Last year, the Seat Ateca small SUV took on, and beat, the mighty Nissan Qashqai, while the recently revised Seat Leon picked up a price point nomination at What Car?'s 2017 Car of the Year Awards. All of which means expectations are unusually high for the brand new, fifth-generation Seat Ibiza.
The new Ibiza is based on an all-new platform that will also soon underpin the next Volkswagen Polo and the 2018 Skoda Fabia, and it's taller, wider and has more space between its front and rear wheels than the car it replaces. That should, in theory at least, give it a roomier interior, and this time around you get five doors as standard – the sleeker-looking three-door Ibiza SC has been dropped due to poor sales.
The engine range kicks off with a 74bhp 1.0-litre petrol, while a gutsier turbocharged version of the same engine (packing 94bhp) is expected to be the most popular choice. There's also a 113bhp version of the 1.0 turbo engine, while a hotter 148bhp 1.5 petrol will arrive later in the year, along with a 1.6-litre diesel.
What's the 2017 Seat Ibiza like to drive?
Perhaps the most impressive thing about the new Ibiza is how much more substantial it feels than its predecessor. We don't mean in width, length or height; rather how grown-up and generally composed it is to drive.
Take the steering. In the old Ibiza, there was barely any build-up of weight when you turned into corners, and while that was fine when you were parking or winding your way up a multi-storey car park, it definitely wasn't when you were trying to gauge how well the front tyres were gripping on a slippery B-road. In the new Ibiza, the steering works well both in town and at faster speeds, streaming enough of feedback to your fingertips in all situations.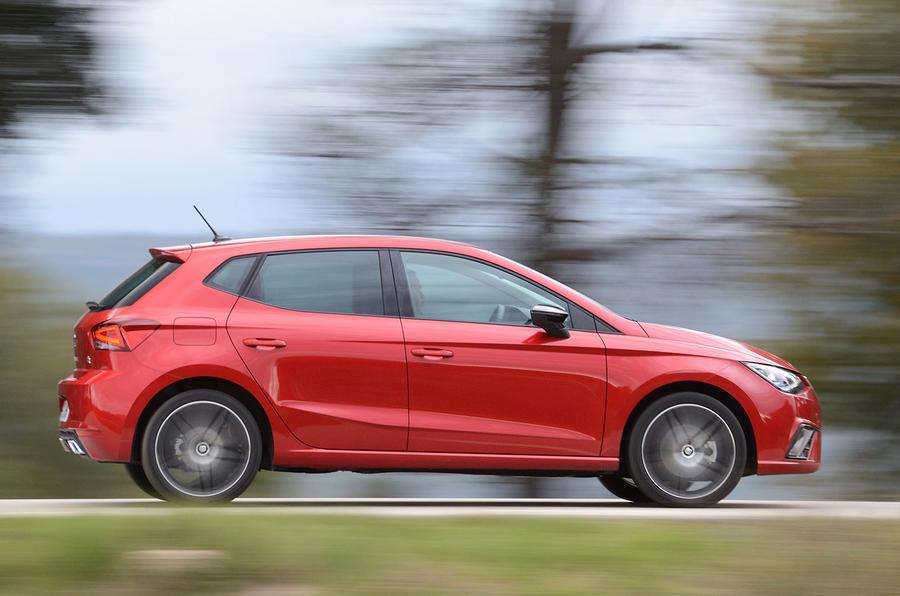 Granted, the Ford Fiesta stays flatter through corners, but the Ibiza is far from wallowy, and it rides bumps better than the Fabia, too. Our only real criticism of the new Ibiza is that there's quite a lot of road noise on the motorway.
We've only tried the 113bhp 1.0-litre petrol, an engine carried over from the previous Ibiza – but it's all you really need. A turbocharger means you don't need lots of revs to get up to speed quickly, and the engine is quieter and smoother than the similarly powerful 1.2-litre petrol motor in the Fabia.
What's the 2017 Seat Ibiza like inside?
If you're more than six feet tall, you'll probably wish the driver's seat dropped a little lower down. Otherwise, the Ibiza's driving position is tough to fault: there's a good range of steering wheel adjustment and the seat holds you in place securely through corners, while still being comfortable on longer journeys.
The controls for the air conditioning (standard on all trims) are positioned a bit lower on the dashboard than we'd like, although are at least easy to fathom once you've reached down to use them. Elsewhere, the dashboard is logically arranged, and all-round visibility isn't too bad, if not quite as impressive as it is in the boxier Fabia.
All trims come with a touchscreen infotainment system, which changes from black and white to colour when you upgrade from S to SE trim. Go for SE Technology – expected to be the most popular trim – and the touchscreen grows from 5.0in to 8.0in and also gains a sat-nav. It's just a pity you still have to fork out £150 extra if you want Apple CarPlay and Android Auto to mirror your phone's display on the car's screen.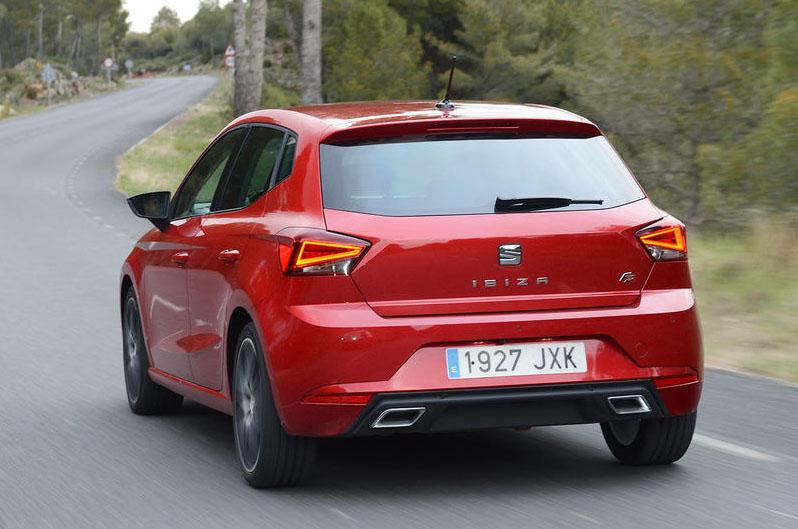 As for interior quality? Well, it's definitely more in line with the Fabia than the Polo. That is to say there's precious little in the way of soft-touch plastic, no matter where you go feeling for it. Mind you, everything feels sturdily assembled and a big slab of body-coloured plastic across the dashboard does at least brighten things up – as long as you've made a bold choice with exterior paint colour.
A couple of six-footers sitting in the back will enjoy more head room than they would in the new Nissan Micra but less than in the Fabia, while all three cars are roughly on a par for rear leg room.
Seat claims the new Ibiza has a bigger boot than the larger Ford Focus, and while that seems a bit optimistic to us, luggage space is similar to that of the Fabia. All Ibizas apart from the entry-level S model come with split-folding rear seats, while a height-adjustable boot floor is a £133 option.
.