Skoda Rapid Spaceback 2017 review
The Skoda Rapid Spaceback might be cheap, well equipped and spacious, but is far from the best in terms of handling and interior quality...
One of the What Car? team attempted a highly unscientific experiment last weekend - asking as many friends as possible to name some Skoda models. All the old favourites cropped up, it was reported: 'Fabia', they said, 'Octavia' and 'Superb'. One clever clogs even mentioned 'the new Kodiaq SUV'. That was just showing off. Still, here is the point: not one mentioned the Skoda Rapid, which is odd, because in its current form it's been around since 2013. It has just been updated, too, so what is this little-known Skoda, and what's new about the 2017 version?
Firstly, think of it as an Octavia 'lite'; smaller and cheaper than the Octavia, whose main competitors are the Vauxhall Astra and Ford Focus, but larger than the Ford Fiesta-rivalling Fabia. In effect, it's there to mop up the sales that its bigger, and smaller brothers, miss out on. But there's more, because you have the Rapid, which looks like a saloon but is actually a hatchback, and the Rapid Spaceback, which looks like a hatchback, and is, well, a hatchback. The latter is slightly cheaper, and accounts for the bulk of Rapid sales.
What's new is not very much. For 2017, the Rapid gets some mild styling tweaks, namely different lights and bumpers - front and rear. Inside, a new optional infotainment system adds Apple CarPlay, Android Auto and Mirror Link, so you can pair and use your smartphone via the touchscreen. It also adds Skoda Connect that provides online connectivity for live traffic, weather, parking-space availability and news reports.
The biggest change is that Skoda's three-cylinder 1.0-litre petrol engine replaces the old 1.2, and this, in 109bhp Spaceback form, is the model we've been driving.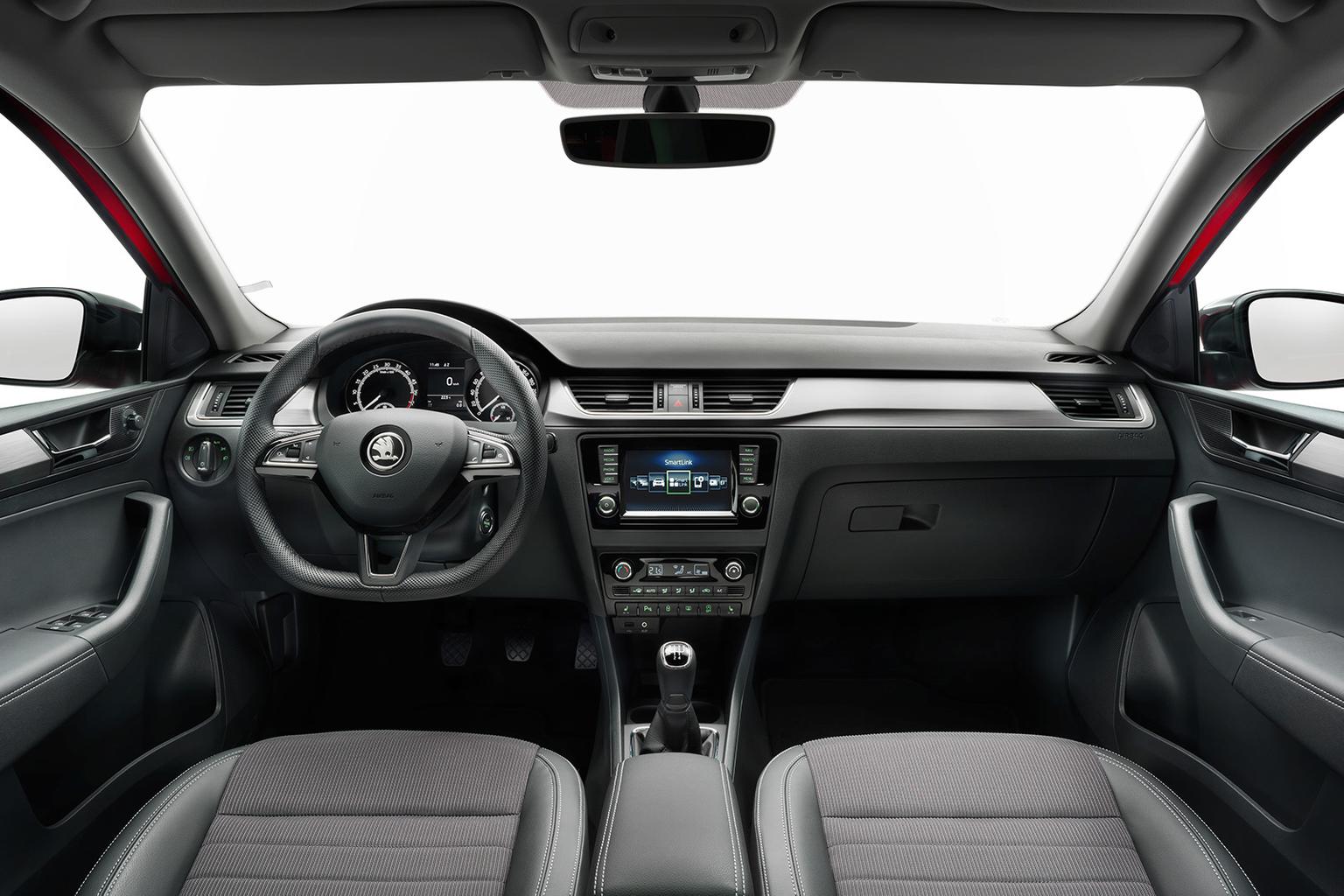 What's the 2017 Skoda Rapid Spaceback 1.0 TSI 110 like to drive?
The new engine's a belter, but we knew that from experiencing it in other Skodas. It pulls gamely from low revs and keeps going until the red line. The power and torque characteristics are best suited to town driving. It's not flat-out fast but is brisk enough to haul you up to 70mph without any problems when venturing farther afield.
You feel some engine vibrations filtering into the interior, but the standard six-speed manual gearbox is light, while the clutch positive. Road and wind noise are bones of contention at motorway speeds, though.
The ride isn't a highlight, either. It fails to smooth over sharp-edged intrusions like a Focus would, and there's too much suspension noise to make the Rapid an overtly relaxing drive. Or exciting, thanks to the decidedly lacklustre steering feel that leaves you guessing what the front wheels are up to, although the body control is neat and tidy.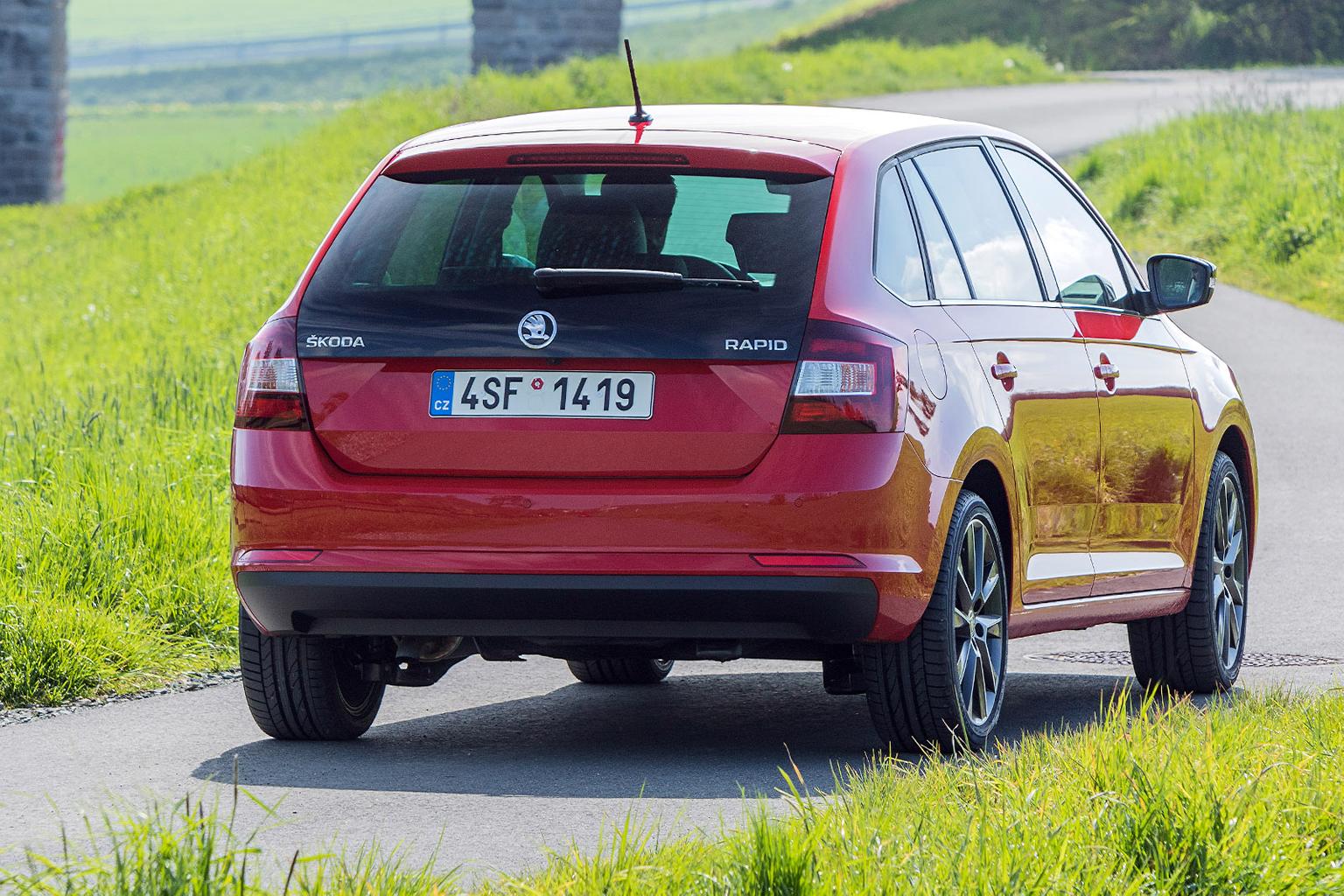 What's the 2017 Skoda Rapid Spaceback 1.0 TSI 110 like inside?
Here's where the Rapid scores well: it'll seat four tall adults with at least the ease of an Astra, and better than a Focus. The boot is bigger than that of those rivals, too.
The dashboard looks low-rent in the context of its peers, with unyielding, hard plastics everywhere, but it is at least well screwed together and logically laid out.
Meanwhile, the optional infotainment fitted to our car has a low-resolution screen that feels old-hat next to those featured in the new Octavia and current Astra. On the plus side, it's pretty straightforward to use.