Volkswagen Golf GTI long-term test review
It was one of the original hot hatches, but is the Volkswagen Golf GTI still one of the best? We're living with one to find out...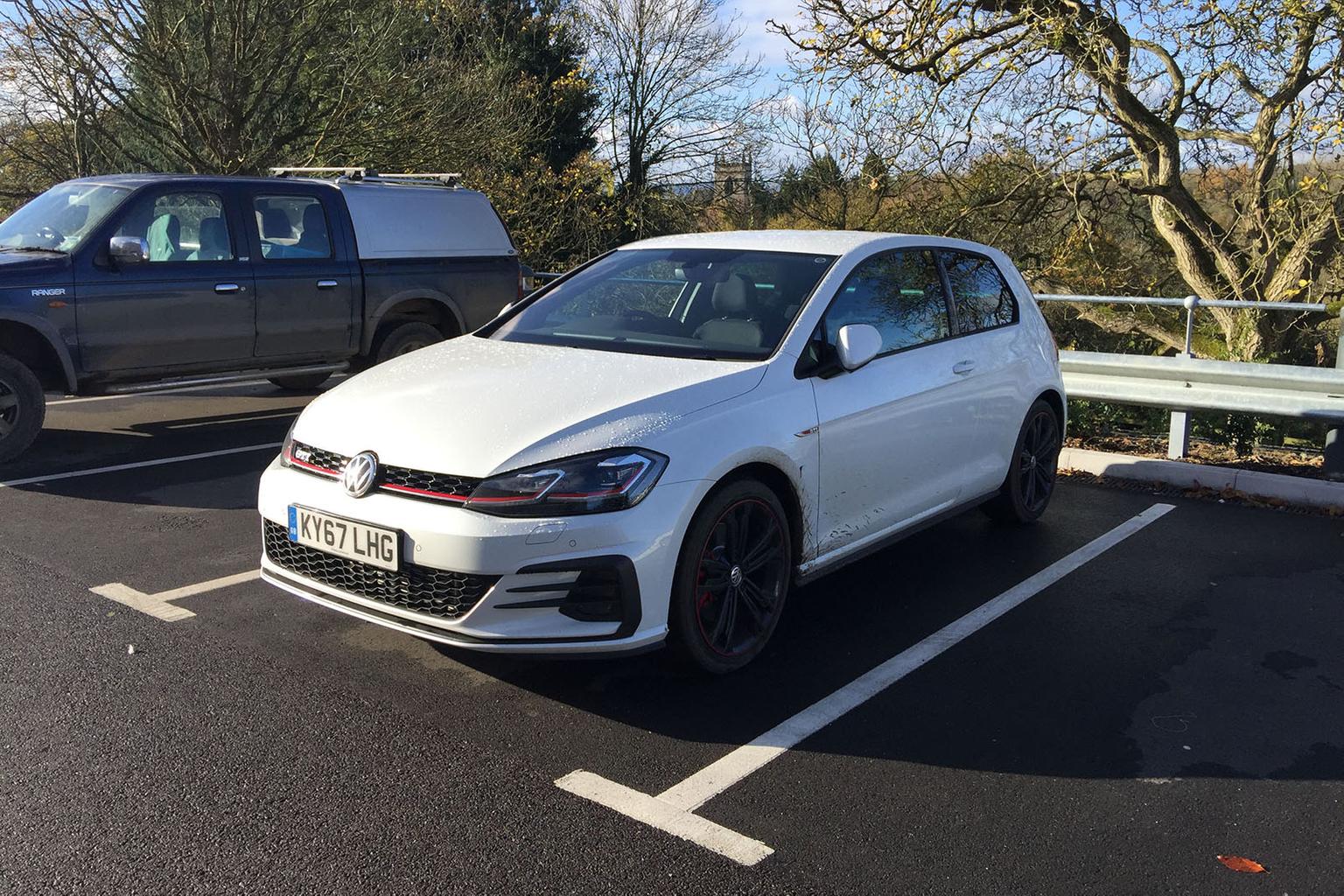 The car Volkswagen Golf GTI
Run by Mark Tisshaw, special contributor
Why it's here In the face of newer, better-value and often more powerful competition, let's see if the case can still be made for the original hot hatch
Needs to Be the consummate all-rounder, living up to both the 'hot' and 'hatch' part of its job description
---
Price £28,320 Price as tested £32,520 Miles covered 5122 Official fuel economy 44.1mpg Test economy 42mpg CO2 148g/km Options Discover Navigation Pro (£1325), climate windscreen (£295), Dynamic Chassis Control (£830), rear-view camera (£265), Seville Dark Graphite alloy wheels (£495), Onyx White Premium Signature paint (£990)
---
21 February 2018 – the Golf GTI joins our fleet
In the highs and lows of 41 years of Volkswagen Golf GTIs, the original hot hatch (well, it wasn't the first, but it was the one that made the breed famous) is currently basking in an Indian summer.
Now seven and a half generations old, the car with the tartan seats and golf ball gearknob is as good a car as it has ever been, playing the Golf's role as a brilliant everyday car as well as living up to the GTI half of its badge as a fun hot hatch.
But now, more than ever, the opposition can state the same. Most recently, the diversification of Hyundai has continued with the launch of the i30N, a car as closely matched to the Golf GTI on power and positioning as we've seen for a long while – and all for a lower price. A new version of the Ford Focus ST, the Golf GTI's long-standing foe, will be seen within a year, too.
The Golf's price premium has always been one to pay out of convenience and a fine reputation created over many years with good reason. You pay it because it's a Golf, because it'll be a breeze to live with and there will be no surprises. We shall find out if that's still the case over the next few months.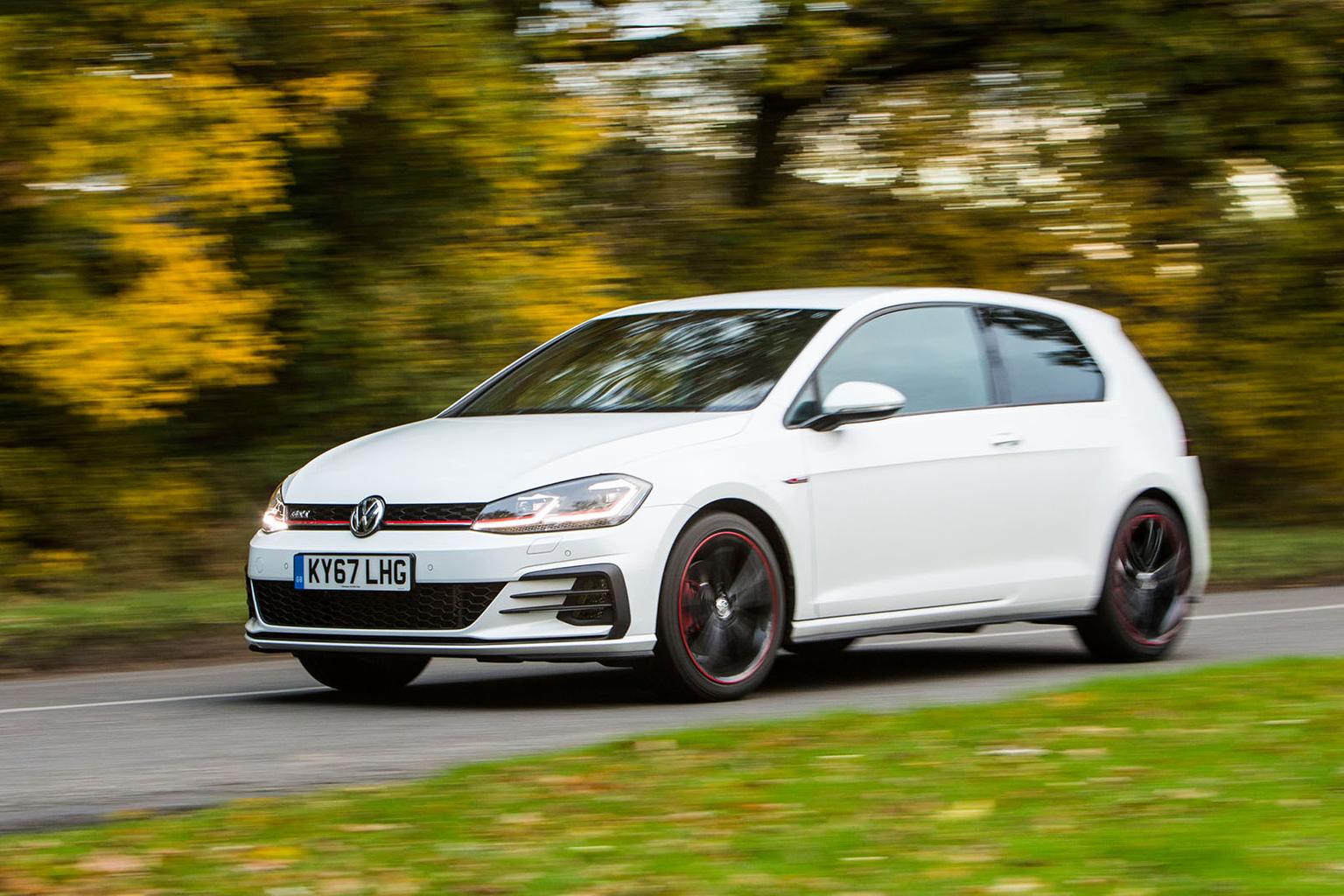 What's new, then? It's been a year since we first drove this lightly updated version of the Golf GTI, the chief change of which was a bit more power for its 2.0-litre turbocharged petrol engine, which now makes 227bhp.
The exterior styling tweaks were minor, so it's inside where the major changes took place, specifically around infotainment. Opt for the range-topping Discover Navigation Pro system, as we have, and you get VW's latest 9.2in touchscreen that dominates the centre console. Controversially, it removes almost all physical switches and buttons save for the climate controls below it, making even the volume function for the stereo touch-controlled. It's taking some getting used to.
You don't need to put too many options on a Golf GTI, since the standard spec is very generous. Included is cruise control, dual-zone climate control, LED headlights, VW's 12.3in Active Info Display (a digital and configurable widescreen instrument panel similar to Audi's Virtual Cockpit), a DAB radio, sat-nav, Bluetooth and an 8.0in touchscreen infotainment system if you want to save yourself £1325 and avoid the range-topping Discover Navigation Pro system.
The GTI flavouring over a standard Golf comes from 18in alloys, lowered sports suspension, GTI bodykit and badging and, of course, those famous tartan-trimmed seats and that golf ball gearknob. You can lose the tartan seats if you wish, and the golf ball is only on cars equipped with the six-speed manual gearbox, but drop either and you take away some of the Golf GTI's character. CO2 emissions are marginally improved on the automatic-equipped car, down from 148g/km in our manual to 145g/km.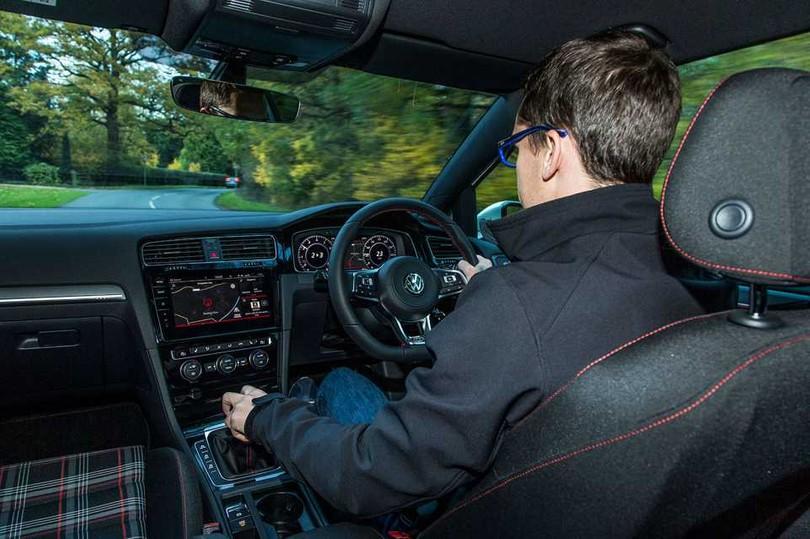 We have treated ourselves to a few options, though. The Dynamic Chassis Control system seems to be a must-have at £830, with its brief of increasing driver involvement – one of the areas where the Golf GTI has fallen short in the past. The £295 climate windscreen (a heated screen) has already proven handy on cold mornings, while the £265 rear-view camera is a very personal choice due to the tight underground spaces I have to park in each night. The 18in alloys (a £495 option) are somewhat of an indulgence, yet their dark colour contrasts nicely with the £990 Onyx White Premium Signature paint and red trim flourishes of the Golf GTI.
A few eyebrows were raised around the office with the selection of three doors instead of five when speccing our Golf GTI. That's because this is a long-term test more of the GTI half of the car's name than the Golf half; we ran a seventh-generation Golf for the best part of three years, so are well versed in its everyday practicality and usability credentials. So what's the it like in its purest, sportiest form?
And, besides, the three-door hatchback is a rare breed these days, with seemingly every new family hatchback arriving in five-door-only form. This could well be a last hurrah for a three-door hatchback, then. So is their race run, or does it still make sense for some buyers?
Three doors on the Golf GTI certainly lends the car a racier look, but what will define this car is just how racy it is to live with. An intriguing few months lie ahead.
---
Got a motoring question? Our experts are standing by to help, just tweet us your question using #askwhatcar
For all the latest reviews, advice and new car deals, sign up to the What Car? newsletter here