Volvo XC60 review 2017
The new Volvo XC60 is a relaxing, rather than sporty, take on the prestige SUV, and is all the better for it...
We don't like to dwell on a car's predecessor when we review a new one, but in the case of the Volvo XC60 we hope you'll forgive a small exception. In 2016, the 'old' XC60's ninth year on sale, Volvo sold more of them than in any previous year. That's almost unheard of; usually when a car is launched, it achieves peak sales a year or two later.
So, when you look at this new model, it's perhaps not surprising that its exterior not only adopts some of Volvo's current design themes, but also looks reassuringly familiar. It's a stylish, if conservative, SUV among some much more aggressively designed cars such as the Mercedes-Benz GLC and, our current class leader, the Audi Q5.
Volvo has based the new XC60 on what it calls its Product Scalable Architecture, which ultimately means that under the skin – particularly from the nose back to where the driver sits – the XC60 is very similar to the S90, V90 and latest XC90. This bit of the car is where all the expensive, difficult to engineer stuff sits – engines, electronics and the crash structure.
So, what applies to the '90' series cars applies here. Volvo is no longer fitting any car with anything bigger than a 2.0-litre engine, nor with more than four-cylinders. Our test car is a diesel making 232bhp, badged D5. There's a lower-powered D4 diesel, too, with 187bhp, as well as a 250bhp petrol badged T6 and a 401bhp T8 petrol-electric hybrid.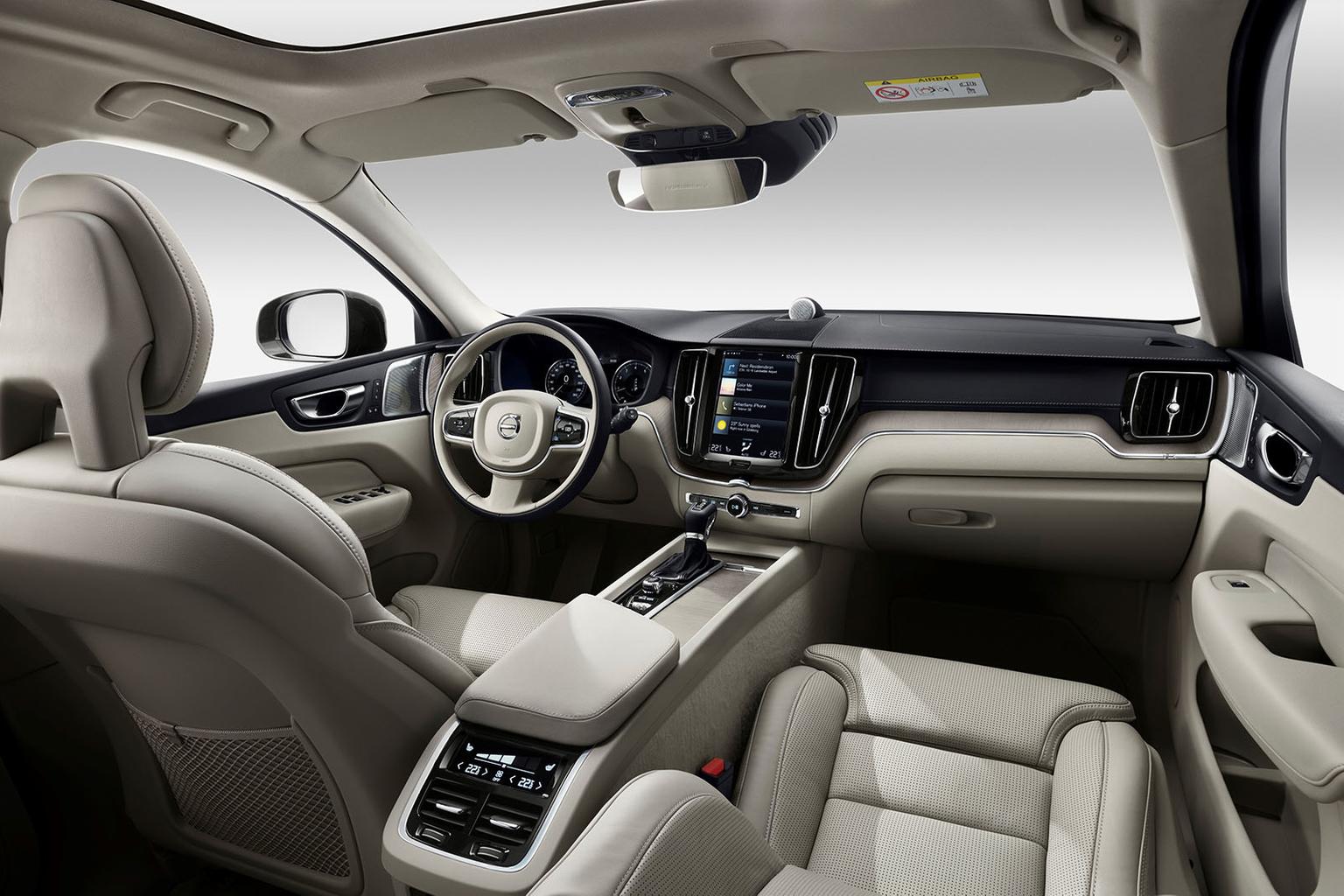 The D5 diesel has two turbos – one smaller, one larger, because a small turbo gives better low-rev response. But there's also a system that fires compressed air into the turbocharger when you first come on the accelerator (the car recharges the small cylinder it as it goes) to cut turbo lag yet further.
In the UK, four-wheel drive is standard on XC60s, while air suspension is optional, and was fitted to our test car – as were 20in wheels.
What's the 2017 Volvo XC60 like to drive?
The XC60 is one of the most relaxing cars in the class to drive. Volvo talks of its '90' series models as being the relaxed ones, while the 60 range, which the XC60 spearheads, is meant to leave you feeling 'inspired', but that's only really accurate if by 'inspired' you mean pretty much as chilled as any car on sale will leave you.
The XC60 D5's engine note is refined, more so than in other recent Volvos, although it'll need a back-to-back test against its best rivals to really know for sure if some of the D5's earlier grumbliness has finally been hushed.
It drives through an eight-speed automatic gearbox to all four wheels, and while the 'box shifts impeccably cleanly and smoothly, sometimes it's a little hesitant to kick-down and leaves the XC60 lugging it out in too high a gear – if you want to enter a roundabout briskly, for example. You can take control via the gearlever, but standard steering wheel paddles would be an advantage. Still, once at higher speeds the 232bhp D5 is all but inaudible and the XC60 adopts a very relaxed cruising stance.
So far we've only tried the XC60 on the optional air suspension, but the ride quality seemed excellent. There are different drive modes, so if you wanted you can firm up the dampers for back road driving, but it seems unlikely that you'll ever find the need.
The XC60 has a pleasing mix of absorbance and body control, geared towards the more comfortable end of the scale in this class. Don't think that this makes it boring to drive as a result, mind. All of the control weights are soundly matched, and the XC60 is responsive moderately to its accurate steering. The most pleasing thing about it, in fact, is that you tend to get back what you put in – you're never surprised that it responds in a way you haven't asked. As a result, it's actually still quite satisfying to drive.
And there are options coming to relieve you of some of the boredom and tiredness of driving, too, with semi-autonomous features such as Pilot Assist, which combines active cruise control with lane-keep assist. You're still in control of the XC60 – in fact, it won't work if you don't' keep a hand on the wheel – but it does make it more relaxing and less draining to drive over a big motorway distance.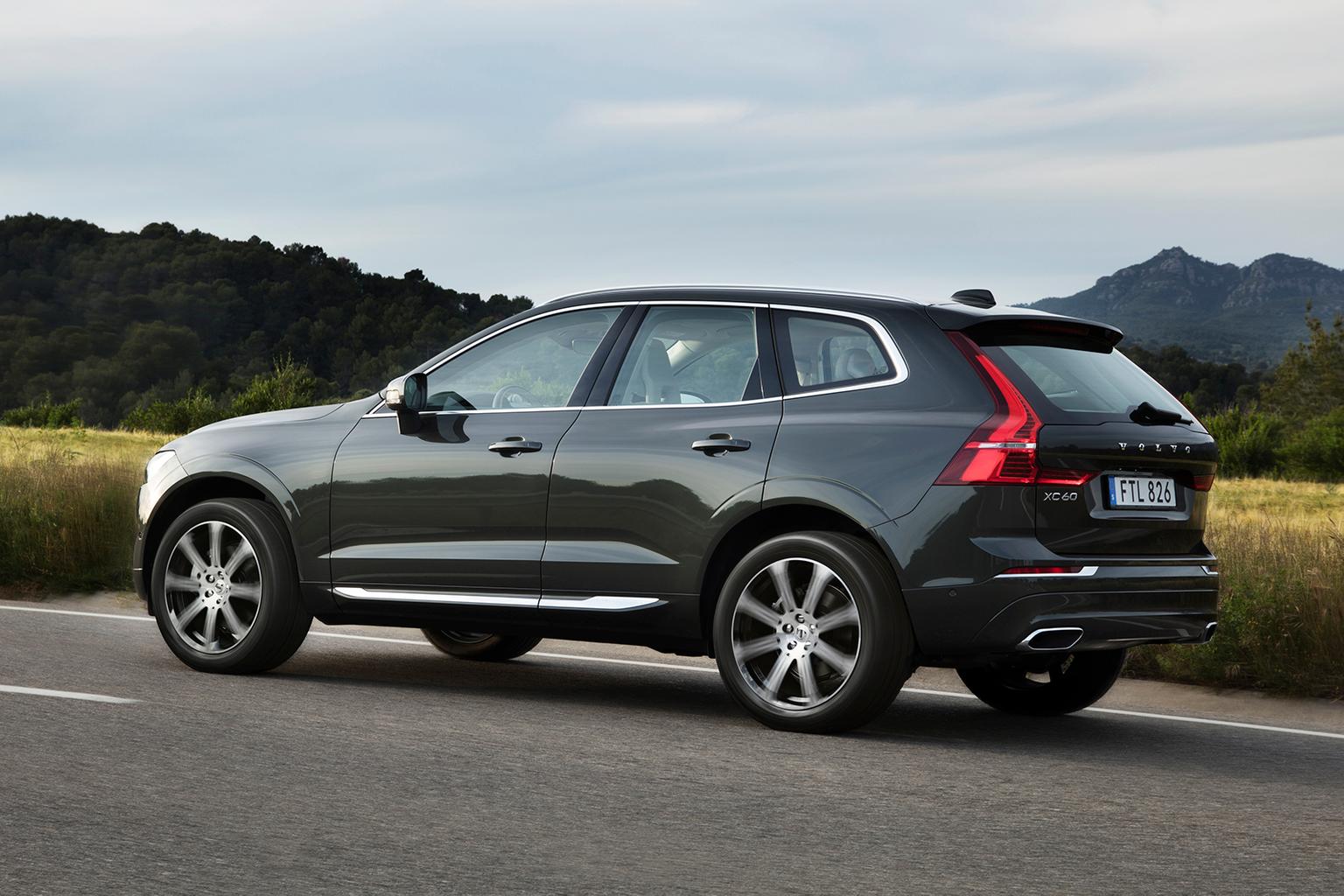 What's the 2017 Volvo XC60 like inside?
Volvo claims that the current XC60 feels quite 'car like' inside, seating its occupants lower and with a more cocooned feel than it would usually give SUV buyers. It says it has angled the side windows and windscreen inwards at the top more than it usually would, too, but certainly inside this doesn't leave the XC60 feeling any less airy and welcoming than we'd have hoped for a Volvo.
The window line is only moderately high, and the materials and their finish is absolutely first class. Volvo has been putting great-feeling interiors together recently and the XC60 is no exception. It's light and classy; while some manufacturers like an interior to feel really cockpit-like, by using vast quantities of black plastics, Volvo keeps buttons to a minimum and values light metals and woods.
Not that the absence of buttons is all good news, mind. Volvo's 'Sensus' communications and entertainment system still uses a large, portrait touchscreen on the centre console and, while a few elements have been redesigned and better smartphone integration is now included, flicking through its menus can be harder than it might be if you just had a supplementary controller or some shortcuts, as BMW and Audi give you.
Nonetheless, ergonomically the XC60 is pretty good. The driving position is brilliant, with a hugely adjustable steering wheel and clear dials. There's plenty of oddments storage in the front, too, along with generous head and leg room for rear passengers. Presumably prioritising rear passengers over luggage was a deliberate decision on Volvo's behalf, because the boot offers only 505-litres of volume; about 50 litres down on the class norm and by 145-litres over the Jaguar F-Pace.