Seat Arona long-term test review
The Seat Arona is our reigning Small SUV of the Year. We've added one to our long-term test fleet to see if it's as impressive when you live with it every day...
The car: Seat Arona 1.0 TSI 95 SE Technology
Run by: Kris Culmer, sub-editor
Why it's here: To validate its position as head of the burgeoning small SUV class
Needs to: Prove practical enough for a family, display the pleasant driving characteristics of its relatives and be economical to run
---
Price £17,545 Price as tested £17,545 Miles 6942 Official economy 57.6mpg Test economy 39.8mpg Options fitted None
---
3 May 2018 – award-winning credentials
Without wishing to make a sweeping statement, I think it's fair to say that most small SUVs – which we classify as those measuring less than 4.3 metres in length – don't major on driving fun.
I mean that primarily in the sense that they don't handle very nimbly, and that's because these models, tall yet not very long as they are, face a losing battle with physics. The Renault Captur, for example, is essentially an inflated Renault Clio, and the latter is considerably defter.
However, while the Arona isn't quite as enjoyable as its hatchback relative, the Ibiza, it is closer than most, and I've thus found it pleasant in all aspects to drive.
Let's start with the steering. It has a very natural weight to it, and there's feedback through the wheel, so you always know what the front wheels are up to, giving you more confidence. There was a nasty traffic jam on my usual route home the other day, so I resorted to the serpentine, tree-lined country roads of the South Downs and soon found myself delighting in nailing every apex. I've never previously felt inclined to do that in any SUV, even supposedly sporting ones.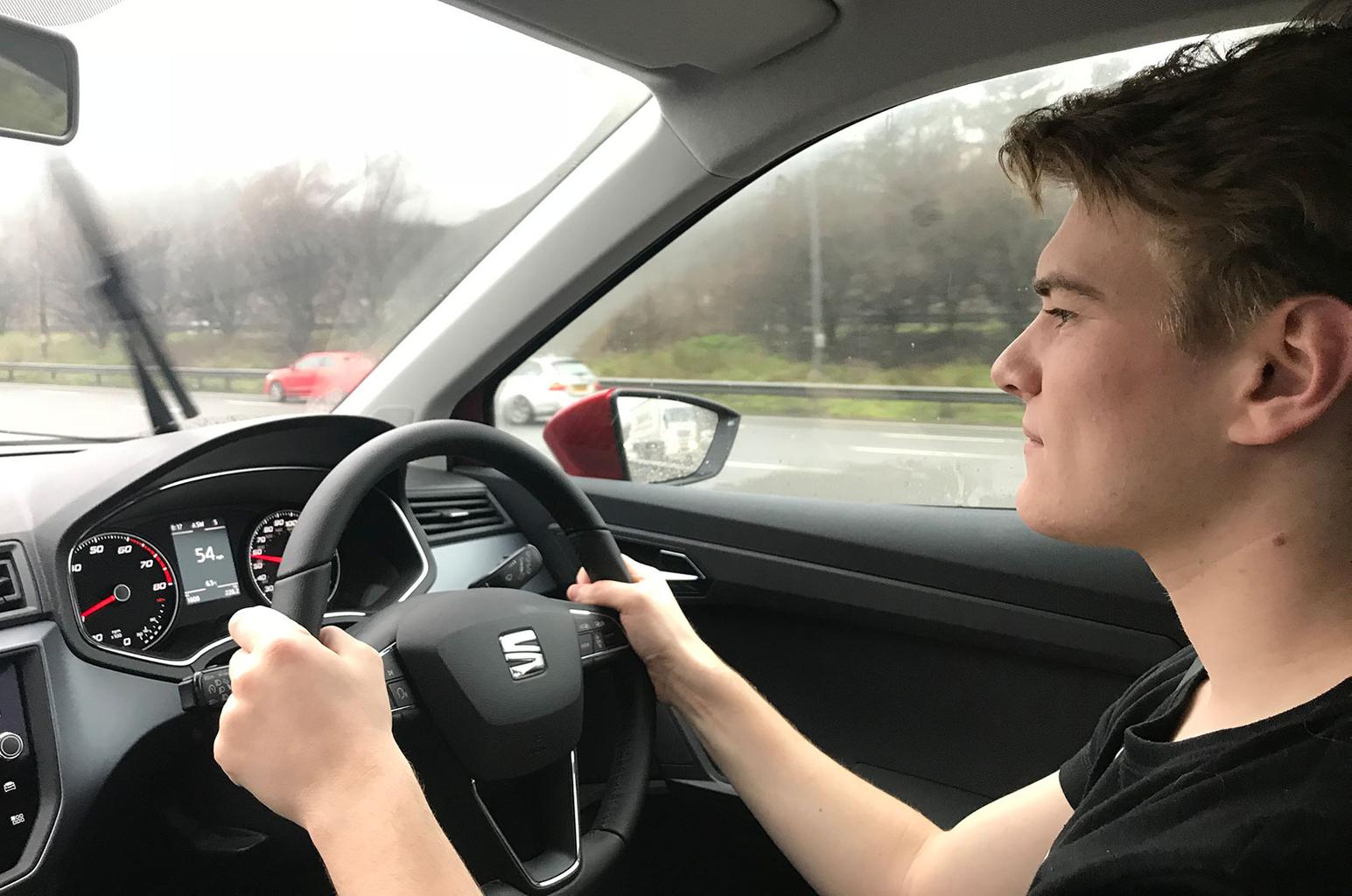 The Arona doesn't require you to continually twitch your hands to keep as the crow flies down the motorway, either – a trait that is admittedly of more practical benefit to me.
The 1.0 TSI 95 petrol engine is also a winner. I still can't quite get over the performance of the little turbocharged three-cylinder engines now common in smaller cars. Seat coaxes 94bhp out of this one, and thanks to the turbo, its punch comes in from just 1800rpm, meaning 62mph can be reached from rest in 10.0sec.
The engine in my first car, a small hatchback 14 years the Arona's senior, had an extra 0.1 litres and another cylinder, yet it managed only a pathetic 60bhp and took 16.8sec to sprint from 0-62mph.
The Arona's five-speed manual gearbox is pretty neat, too. Its lever is positioned so that it falls very easily to hand, and there's a solid feel as you enter each gate, whereas some rivals' feel frighteningly flimsy and/or vague.
I have no complaints about the ride, either. I'd say it's not quite as compliant as the Ibiza's, jittering over really roughed-up roads, but it's generally comfortable, albeit on the firm side of.
Based on my daily experience up to now, then, I would say the Arona makes many of its contemporaries rather laggard. After all, it takes a lot for a car to win a What Car? Car of the Year Award.
For all the latest reviews, advice and new car deals, sign up to the What Car? newsletter here